'Never has it been more important for disabled people to have a voice'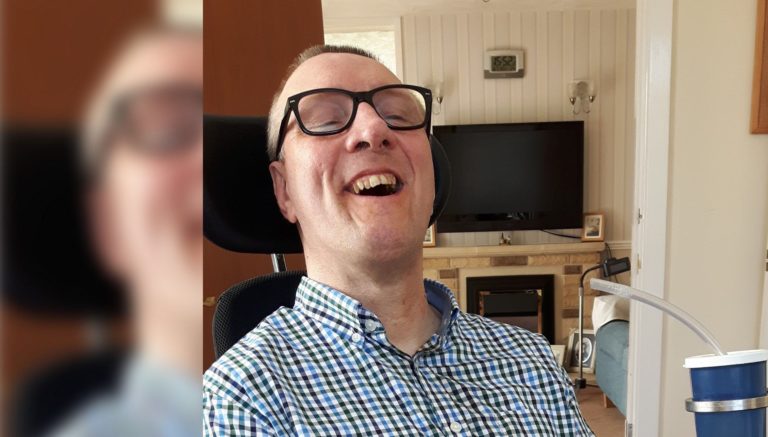 Bristol disability rights activist Mark Williams co-founded Bristol Reclaim Independent Living (BRIL) last year to keep disabled people's rights at the forefront of public policy. He's just successfully campaigned for NHS England to change their coronavirus visitation policy to allow disabled people with communication impairments to bring their personal assistants to hospital with them.
The equality advisor, trainer and consultant has been campaigning for disabled people's rights since the 1980s over concerns that the principles of independent living, developed and fought for by disabled people, are endangered.
I spoke to Mark about his experiences, the problems faced by disabled people in Bristol and beyond and his recent campaign for disabled patients in hospital during coronavirus.
Can you tell me about your history in activism and why you founded BRIL?
Throughout my life I have battled against the barriers put up by society that prevent disabled people from living a full and active life. As part of the Direct Action Network, I handcuffed myself to trains at Parkway and buses in Westminster, which in part led to the 1995 Disability Discrimination Act being introduced.
I was heavily involved in the West of England Coalition of Disabled People, campaigning for access issues such as at the Arnolfini. I was one of the founding members of the West of England Centre for Inclusive Living, which was instrumental in setting up an Independent Living Scheme in Bristol.
The Disabled People's Movement in Bristol has moved on from independent living and presently seems to be more involved in just surviving. BRIL wants to reclaim the true meaning of 'independent living' – not what the local authority is telling us it means – and aims to monitor any policies that they may introduce that will affect Disabled people's choice and control.
With cutbacks in funding due to Government and local authority policies, those disabled people who may not be personally facing cuts in funding themselves at the moment always have the threat of it happening hanging over them.
How did you get the trusts to change their visitor guidelines?
BRIL members had expressed concerns at the lack of guidance by NHS England regarding Disabled people with communication impairments who needed their personal assistants (PA) to interpret their wants and needs during the pandemic.
After talking to BRIL members, I put forward my name as a test case in confronting NHS England and my two local NHS trusts regarding my rights to take a PA into hospital with me during the current crisis. After being threatened with a legal case, my local trusts and NHS England agreed to update their guidelines.
Two Bristol trust responded to you: how would you assess them?
North Bristol NHS Trust said that I would be able to have support from my PA in the event that inpatient care was required. They have invited me to visit them once the current risks have passed so they can be updated on my current care needs. They also confirmed that once NHS England had updated the national guidance, they would formally review the contents of their Visitor Policy generally. University Hospitals Bristol and Weston NHS Foundation Trust were not so forthcoming, saying that although my PA would be able to support me, it would prefer to wait for the new national guidance.
How is this impacting disabled people both locally and nationally?
We have had many positive responses from other disabled people all over the country who were concerned about their own situations, including parents crying over the phone to me with relief and thanking me for pushing to get the guidelines changed. However, we are still concerned that NHS England have not consulted with disabled people's organisations over their policies.
BRIL are asking people to sign a petition and write to the media and consult MPs over NHS England's failure to consult with Disabled people over any changes to their hospital policies.
What are some of the short and long term goals of BRIL, and what has the organisation done so far?
In the short-term, we want to reclaim the true meaning of independent living, and how it defines disabled people. As for the long term, we want to look for resources for BRIL to enable us to fight for the rights of disabled people.
We can support other organisations, like the National Independent Living Support Service (NILSS) and carry on monitoring local authority policies. We will keep an eye on national policies that affect local authorities.
So far, we've had meetings and have been talking to Bristol City Council officers (like social care) and through SWAN (Social Worker Action Network) we have a table on the independent living strategy group. We have also also been working with other local organisations like WECIL to promote independent living.
Why is BRIL necessary?
As BRIL, we will not be restricted by local authority funding, we will criticise Bristol City Council if we believe they are not carrying out their legal or moral duties – unlike those receiving funding who may have different priorities.
Never has it been more important for disabled people to have a voice and they can be involved in BRIL to have that voice.