Why what happened in Minneapolis matters in Bristol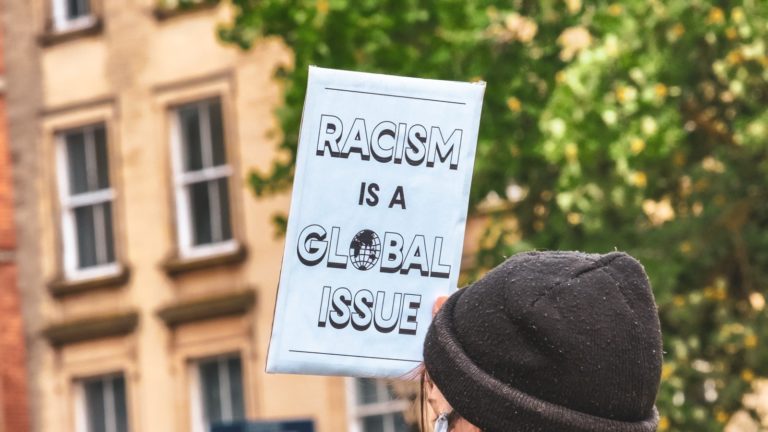 A video of police officers violently arresting a black man after an alleged assault on an officer last Friday in St Pauls went viral in Bristol and beyond. The events leading up to the arrest of the 30-year-old man have been reviewed by Bristol Mayor Marvin Rees, Deputy Mayor Asher Craig, Police Superintendent Andy Bennett, with the police declaring today that the response had been "correct and proportionate".
Nevertheless, with the impact of George Floyd's killing by police in Minneapolis rocking many communities around the world, the past and present of policing in BAME communities in Bristol was raised again, not least in shouts of bystanders in the videos screaming "Don't kill him."
Along with protests in Bristol and the UK this week in solidarity with those facing systematic racism in the US, the hashtag #theUKisnotinnocent is a common sight on social media and at marches. And though the issue has burst onto our screens and conversations, it is nothing new. In Bristol, the living memory of the St Pauls riots, the tasering of community elder Ras Judah, consistent discrimination in stop and search practises and Bristol's history of slavery, to name a few examples, continue to cast a long shadow over policing and community relations in certain parts of the city.
Desmond Brown, activist and Safer Options community consultant at Bristol City Council told the BBC there were "race tensions" and that "more conversations need to be had between people in the community and the police force."
"This is not new," says Amirah Cole, Labour Councillor candidate for Ashley ward. Amirah is a lifelong resident of Bristol and the Ashley Down area. She speaks with a voice wearied by experience: "People don't understand how bad it is for young black boys in Bristol, they're just trying to get through walking down the street!"
Countless black men she says, her own sons included, have frequently been stopped and searched by the police without reason. All too often, Amirah says, black young people get trapped in a vicious cycle: "It's the criminalisation of our young people, it knocks their confidence, they might go on the wrong road and end up in and out of the criminal justice system or mental institutions. Even our old people get treated like criminals, look at Ras Judah!"
Covid-19 is not a 'great leveller' affecting all equally
It is well documented that Covid-19 is having a disproportionate effect on BAME people, exposing deep racial inequalities in this country. Added to this are allegations that the government attempted to delay publishing the report into BAME deaths during coronavirus in order not to ignite racial tensions.
But "coronavirus is an economic virus too," says Sibusiso Tshabalala, Labour's Ethnic Minority Officer for Bristol West. The disparity in Covid deaths between BAME communities is "not a surprise", Sibusiso adds.
Bristol organisation the Black South West Network released a report assessing the impact of Covid-19 on BAME businesses, organisations and self-employed individuals. It shows and that the virus and social distancing rules have worsened pre-existing racial, socio-economic inequalities.
Stirred to action
I sit on a Zoom call, with Heba Tabidi and Simone Cashmiro on one side of the screen, Yvonne Muringi on the other. Heba and Cashmiro are the organisers of the Worldwide Kneel that took place at 12pm on College Green today. Yvonne is also part of the team who is organsing Bristol's Black Lives Matter protest march this weekend.
"I couldn't watch the video," Yvonne says of George Floyd's killing. "By this point we have seen so much of these kind of murders. But this time I felt empowered, I got on social media, got involved with organising the protest and I just thought, we have to speak, we have to make sure we are heard."
Similarly Heba says: "When I heard about George Floyd, a part of me thought, I just can't engage with it this time. But in this particular incident people are starting to make noise and getting really angry so I started to engage with it. I realised I couldn't allow myself to be immobilised this time."
But the known impact on BAME communities and the need to protest injustice has thrown up dilemmas for organisers. Prominent black Bristolians have voiced serious concerns about Sunday's planned protest, which is expected to draw thousands. Poet and community organiser, Laurence Hoo, said: "The risk is that they [protestors] could spread coronavirus to the very people who are most at risk from this virus."
"If there is a second wave of this virus in Bristol, and even if it is nothing to do with this march, there will be a lot of people who won't need an excuse to point the finger at black people and the Black Lives Matter campaign."
Beyond a march and 'looking at the bigger picture'
"We need to look at the bigger picture," says Heba. "It's not just about these horrifying examples that we've seen, it's about everything that it encompasses, it's about addressing structural racism. This is a moment to reflect and deconstruct and really understand why these things are happening."
"Now we need community galvanisation and spirit: minority participation in minority awareness," Sibusiso Tshabalala says.
For Amirah, the next steps as a city are clear, and mustn't stop with demonstrations alone. Bristolians must find a practical way to meaningfully effect change in the wake of such tragedy, she says. This means keeping spaces such as the Malcolm X Centre and the Kuumba Centre. "Support the organisations who have been fighting this for years – Afrikan ConneXions Consortium, Black South West network, people advocating for reparations," she says.
"Learn black history – from the Bacon laws that took black people's rights away to the present day. The history is not pretty and it's uncomfortable, and that's why it matters."
Sunday's Black Lives Matter demonstration will begin on College Green at 1pm with speakers and information stations. The event description reads: "in alignment with the protests in the USA and the London BLM protest, we want to hold a protest in Bristol for the vile killings of black people and those harmed by the police. This is a peaceful protest – we will not condone or participate in violence. Please bring masks, gloves, food, water, non-recognisable clothes and anything to keep yourself safe."
We will be covering the protest and wider issues of racial inequalities over the coming weeks.