Editorial: After Colston, now to tear down structures of racism, including in the media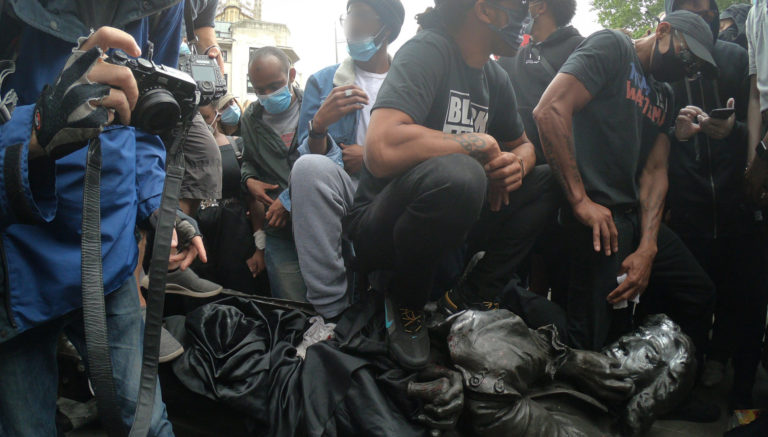 Photo: Colin Moody
With the statue coming down, the calls for effectively tearing down the other visible and invisible structures of inequality and racism have grown louder. They've always been there, and we all must hear it, and act on it.
As a media organisation, the Cable operates in an industry overwhelmingly dominated by educational and social privilege. As part and parcel of our commitment to a new vision of journalism must come genuine efforts to struggle for racial justice.
Internally for the Cable, this means interrogating what being proactively anti-racist means and looks like. We've done training programmes, workshops on diversity in media, published investigations and history features, amplified voices and backed community initiatives. These are not enough. Too often they have been limited to promoting diversity, but stopped short of going further and challenging the structures and cultures that perpetuate inequality – inside and outside of the Cable.
In working on this, in our journalism and more, we expect to be held to account, as we hold others to account. We also welcome contributions on how to do so, and we will listen. But we know those of us who suffer the impact of racism must not also be expected to solve it.
Our view of the past shapes how history is made today
"Erected by citizens of Bristol as a memorial of one of the most virtuous and wise sons of their city," reads the plaque on the statue of brutal slave trader and MP Edward Colston. The statue was in fact put up by members of Bristol's elite in 1895, many of whose wealth and power came from the trade in African people. The so-called 'citizens of Bristol' would have had no say in the matter, as voting and other democratic rights had not yet been seized by protest, picket and patient organising from those that dominated the city and country.
Fast forward to 7 June 2020 – Bristolians had for decades campaigned and had their petitions blocked by apologists for Colston and slavery itself. But in a moment marked by jubilance and anger, citizens of Bristol tore down this symbol of past and present systemic racism. Thousands celebrated as the videos went viral around the world.
There have been howls for the "perpetrators" to be prosecuted, by the council's Conservative party leader Mark Weston and Home Secretary Priti Patel. But the destruction of the statue and its depositing in the river where ships, used to transport slaves and wealth taken from the America's by Colston's Royal Africa Company, would have docked was itself an act of history, and a much more democratic one than the statue's origins. The hypocrisy is breathtaking, and they would do well to remember that only two years ago, another Conservative councillor said that the theft or vandalism of a proposed second plaque to acknowledge the victims of Colston's slave trading "might be justified".
As the great African-American abolitionist and former slave Fredrick Douglass wrote, "Power concedes nothing without a demand. It never did and it never will. Find out just what any people will quietly submit to and you have found out the exact measure of injustice and wrong which will be imposed upon them, and these will continue till they are resisted with either words or blows, or with both." In this case, there were no blows or violence, as the police maintained a low-key presence. Just an act of property damage to protest the ongoing celebration of a man, and a system, who treated people as property. Words of rage and hope did ring out, as young people clambered the statue's plinth.
Complaints that the tearing down of Colston 'erases history' miss that such a statue is a grotesque and wholly inaccurate version of history. But more so, the fact that systemic racism is not something of the past. The image of a young black man kneeling on the neck of Colston, reminiscent of the killing of George Floyd, is a striking testament to that.
And because symbols like the statue itself and its destruction matter, the debate has now begun on what to do with it next. Whatever happens, the process this time should be democratic, led by communities of colour, transparent and unequivocal in rejecting slavery and racism of the past, and that Black Lives Matter, today and forever.
Beyond the statue, that work is with ourselves, families, friends, workplaces and movements.
As Roy Hackett, legendary Bristol campaigner and leading member of the Bristol Bus Boycott says, "you have to be in it, to change it".
Some resources to find out more and get involved in Bristol. Get in touch or comment below to add to this list.