Bristol Dry Gin: 'You can always issue an apology in the local paper…'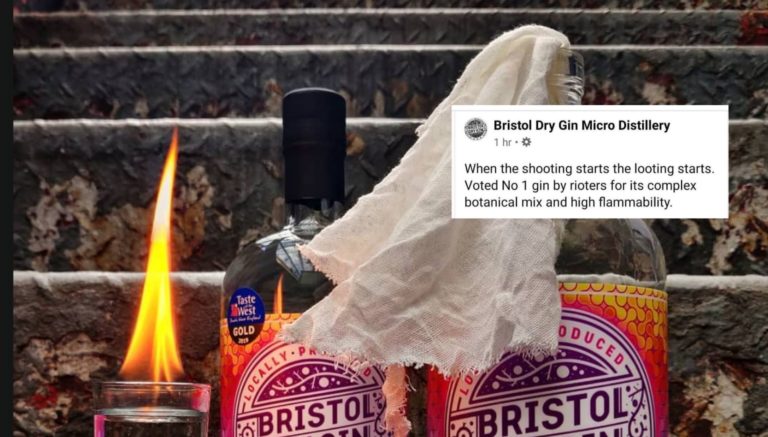 George Floyd's death at the hands of police officers sent shock waves across the world and sparked protests and riots across the US. Bristol is one of the many cities around the world preparing for a Black Lives Matter protest this weekend and anti-racism campaigners have asked people to kneel on their doorsteps this evening (3 June) in solidarity with the protests in the US.
Social media was filled with messages of support for the protesters. But one Bristol business went for a somewhat different approach. Micro distillery, Bristol Dry Gin, which was founded in 2017, used the media attention the killing had got to launch their latest gin.
"When the shooting starts the looting starts. Voted No 1 by rioters for its complex botanical mix and high flammability," read their post, accompanied with a photo of bottles of their gin prepared for use as a molotov cocktail. The post, since deleted, was a play on Trump's controversial tweet that 'looting leads to shooting' – itself originally a quote from a racist police chief in the 1960s.
Bristol Dry Gin has since been dropped by several outlets amid calls to #boycottbristoldrygin. We spoke to the Tom Quarrelle, one of the landlords of Easton pub the Plough, who are running a community food service since closing because of coronavirus in March. They announced they wouldn't be stocking them either. "Sometimes it feels like our only real power is where we spend our money," he told me.
He says that Trump's rhetoric has done nothing but escalate tensions and that "seeing a local company co-opting those words as an edgy joke to shock people and gain attention for their brand pissed me off."
'Wannabe hipster edge lords'
Bristol Dry Gin said in a later apology that they hadn't expected the backlash they got, but Quarelle thinks they knew exactly what they were doing.
"I think that the campaign was click bait to generate controversy, traffic and ultimately sell more gin. They quoted Trump's rhetoric in response to the protests, to racism and the brutal killing of a black man as a marketing campaign. If you use shock tactics, be prepared for people to be shocked."
Tell your friends…
"It's not the first time they have courted controversy as a marketing strategy," says Quarelle. He's referring to their Novichok vodka, which they also had to apologise for after launching it the same week that a mum-of-three died from the nerve agent and a man was in critical care. On their since deleted About page, they brag that they also sent some bottles to the emergency crews and military personnel involved in the clean-up in. You know. As a joke.
Edginess is clearly their shtick. Their website and social media are peppered with off-colour jokes and they seem to have built a marketing strategy on being offensive, or as one person on social media put it, "wannabe hipster edge lords". So far, their gins have "poked fun" at things like murder, civil unrest, sexuality and homelessness. The 75% Turbo Island gin, which this marketing campaign was created for, "was tailored for the burgeoning homeless population of the city".
"It's pure 'bants', the like of which I haven't heard since my 80's Somerset youth," says Quarelle, of their 'Big Gay Mike' campaign. "Maybe I live in a bubble where I don't hear the terms 'uphill gardening' or 'brown eye' outside of the locker room, but it was pretty shocking seeing it used to sell gin.
'The campaign still may pay off – They've got huge national coverage in the past few days'
Their most recent apology, released this morning through a spokesperson, said that it was "not a calculated publicity stunt" and did not expect the tweet to have so much impact.
A spokesperson for Bristol Dry Gin said: "We are genuinely sorry for causing offence with our insensitive tweet earlier this week. It was a misjudged attempt to make a joke about a serious situation. We got it very badly wrong. We fully understand that the events and outrage, following George Floyd's death, are momentous and far reaching.
"Bristol Dry Gin is a small local company. We did not foresee that something we Tweeted – no matter how poorly chosen – would have such an impact. We are extremely sorry to have upset people so far and wide, and also apologise to other businesses with associations to our brand which have also had to deal with the fallout of our mistake."
Quarelle says he's not convinced the fallout of this will damage them beyond Bristol, and may even get them more sales.
"The campaign still may pay off – Bristol Dry Gin has got huge national coverage in the past few days. Whether it was intended or not, I suspect Britain First and Make America Great Again supporters would love a drop and enjoy sticking it to the snowflakes. I'd like to believe that the campaign did not work. Time will tell."
"I'd like to believe that we make mistakes and we can learn from them," he adds.
They may learn from their mistakes. But their About page, since deleted but viewable here, suggests that their apology may be as calculated as the initial campaign: "Our ideology is essentially that if more than twenty people tell you not to do something, and you think it is probably illegal, that doesn't necessarily mean that you shouldn't crack on and do it anyway. You can always issue an apology in the local paper…"