Green homes investment can benefit everyone in a post-Covid world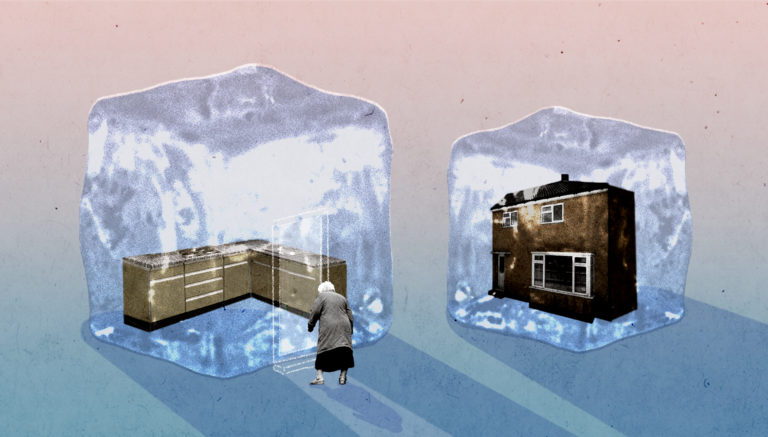 The coronavirus has frozen much of the economy, and nearly all our attention, since it hit the UK. But some things are clear as we tentatively, hopefully emerge over the next year.
First, we still need urgent climate action. Second, parts of the economy are likely to have shrunk dramatically and many people will find themselves unemployed.
On the positive side, we have experienced a lot of cooperation, and community and workplace self-organisation, together with a desire not to go back to 'business as usual'.
Many people are calling for a 'Green New Deal' addressing both climate action and the post-coronavirus world. With 14% of all UK carbon emissions coming from housing, retrofitting homes, to tackle fuel poverty and energy waste, is one brilliant example of how this can work.
Schemes and aspirations
When it was in power prior to 2010, Labour introduced subsidised schemes for individual homeowners to do the 'easy' things such as loft and cavity-wall insulation. These initiatives live on in the diluted form of loan schemes, with different criteria for certain categories of need.
Read more: How to heat your home, save cash and the planet
Locally, Bristol City Council upgraded 24,000 of its homes between 2008 and 2016, but only 1,790 between May 2016 and the end of 2018. Since 2010 there have been massive cuts to local authority funding, and environmental standards have been frozen or removed.
The council reported last July an aspiration to retrofit 7,000 homes each year, which gives a sense of the scale of the problem. What is actually planned or budgeted for currently is much smaller in scale, and there are more than 200,000 homes in Bristol – most of them inadequate.
Yet there are hundreds of engineers, designers and self-builders in Bristol who know what is needed. There is evidence that building workers, too, would be interested in learning and implementing better standards.
Looking to Covid-19's potential fallout, workers including redundant aircraft engineers could adapt their skills to producing and installing heat pumps, solar panels and wind turbines. The Green councillor for Redland, Martin Fodor recently secured a budget to start reskilling people "to ensure progress towards carbon neutral housing stock".
Technically, it would be possible with current knowledge to upgrade, for example, Victorian terraces in groups of five to 10. Careful planning, allowing the build to progress along the street, would minimise the need for anyone to move out. Scaling up to be doing this for 10-15% of Bristol's older houses at any given time could see all of them, including the many 1930s homes, upgraded by 2050.
This could provide employment, and boost local industry more widely. Some groups of houses could potentially even be joined together to create community living models that might work better for our post-Covid, climate emergency needs.
Barriers to overcome
Most older houses, though, are privately owned – and many are rented out. With housing in high demand, owners have little incentive to upgrade cold, damp homes, with renters lacking power to push the issue, and there is no meaningful funding with which to do so. Effectively retrofitting Victorian and Georgian houses can also require either extensive stripping back and rebuilding, or fitting external insulation that can fall foul of conservation rules or create new problems if done wrong.
Meanwhile local authorities, as well as handling huge budget cuts are hemmed in by legal restrictions. Bristol has recently built some superb new council houses after campaigning reversed government restrictions; it also has a past track record of upgrading its own homes, but mostly before 2016.
However, Cabinet member for housing Paul Smith said that, now free to borrow more, the council is currently reviewing the condition of its 28,770 homes, with a view to starting some major improvement programmes. But looking at the cabinet report from 3 March 2020 describing this, there seems to be no firm commitment yet.
Tackling the full-scale problem – including for private homes – will require money from taxation, and this issue will be joining a long queue of spending needs. But the council could in principle finance a pilot scheme, by a combination of grants, borrowing and using council tax income.
People in the areas of Ashley, Easton and Lawrence Hill in Bristol are trialling new technologies to help them save energy and money, and explore new ways of travelling, as part of the EU-funded research project REPLICATE.
This kind of scheme could be used to bring homeowners together to create street schemes, allowing assets like community boreholes to exploit the earth as a heat source.
Vision for renewal
There are rumblings of political support. The Committee On Climate Change tasked with advising the government says the 29 million existing homes across the UK must be made "low-carbon, low-energy and resilient to a changing climate", adding that this is an infrastructure priority that should be supported by the Treasury.
A pilot scheme, with a volunteer group of residents recruited – and the work done for free – could show the way. The skills we have in Bristol can help with planning, organisation design and construction.
Moreover, if the process is filmed, made into a case study and promoted, it can become a popular idea which people can rally round – and demand funding for.
There are already examples where a process like this is being scaled up.
Everyone stands to gain
Getting all this to happen relies on the council as using its powers as an 'instrument' of planning and change. But it will only work if it's supported, and will work best if people who are involved – builders, experts, owners and residents, are actively involved in planning it. The council can promote existing and new local forums, and facilitate others formed at a grassroots level.
If the ideas discussed here – already out there in documents like the Campaign against Climate Change's One Million Climate Jobs (backed by eight major unions) and Labour for a Green New Deal can be popularised, and gain support from politicians, they can be spread, and no doubt improved. The Green Party has a full policy on this already.
Making this happen means having a clear message explaining the advantages of street retrofit, including skilled and meaningful jobs, a boost for local industry, addressing the health and social impacts of cold homes and critically achieving our carbon reduction goals and helping to avert climate catastrophe
History shows that if enough people think something should be done, and if they are actually talking about it, change can happen. Not without conflict perhaps, but a conflict where most people can be won over, and nearly everyone stands to gain.
Just some examples of retrofit technical expertise in Bristol:
For individual householder advice, see also: