Reflections on the All Lives Matter protest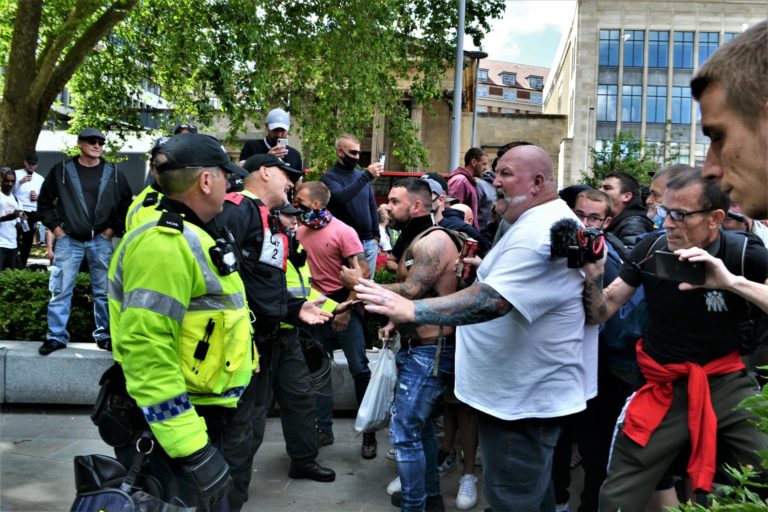 It's Saturday afternoon and about 300 people have gathered to 'defend' Bristol's cenotaph from apparent fears of vandalism, amid rumours of nationalists coming to clash with anti-racists across the UK.
They stand, 30m from the plinth where Edward Colston's bronze likeness gazed over the harbour for 125 years, before being rolled unceremoniously into it during the Black Lives Matter protest six days previously.
The protestors are flanked by leather-clad bikers: Hells Angels, Wiltshire Force and The Sodbury Crew are among those present. Football supporters in attendance have put aside traditional rivalries for the day.
A white van filled with cans of Thatchers and Stella arrives. It may be a cloudy afternoon but there are many bare chests on display among the predominantly white, male crowd.
But speaking to the people gathered, it's evident there's no single cause that unites those assembled.
A group of army veterans on the scene tell me they just want to protect the cenotaph, and are in full support of Black Lives Matter – with some even having attended last week's protest.
Others though are openly racist and give a fierce defence of why 'All Lives Matter'. There are rants about the prevalence of the "left wing – Marxist – snowflake" generation.
Early in the day, scuffles break out as a demonstrator starts clearing away BLM signs left in a bin bag by Colston's vacant plinth. Some urge him to discuss and de-escalate the situation, and to refocus the attention on the cenotaph.
But that's far from the day's only nasty incident. At one point, bottles and cans are thrown at a black driver passing by. Over at the nearby Tuk Tuck cafe, a girl of Caribbean heritage tells me she's received racist remarks from customers, leading to the manager closing the doors early.
Then, the sign of a Black Power fist is grabbed, taken into the middle of the crowd and aggressively stomped on and torn up.
Again, some people cheer and join in, while others call for them to stop, saying it is derailing their reason for being there. As the police step in, one protestor yells, "Why are you stopping this when you let the Colston statue be taken down?"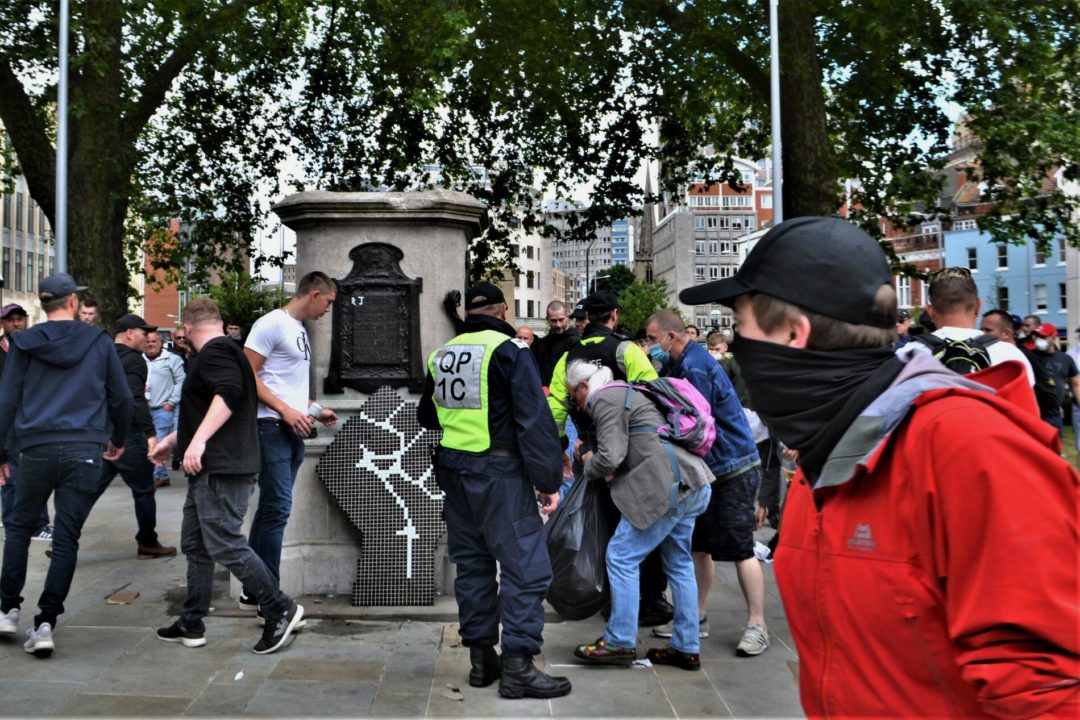 'Stop filming now'
The scuffle after the sign is torn up turns things more volatile. On three separate occasions, men attempt to grab my phone and I have to wrestle it back. One, who I've been speaking to, warns his friend, "She's only going to edit it and put what she wants to!"
Shortly afterwards, I find myself behind the police line, accidentally kettled in with protestors. Someone sarcastically yells, "Got what you want did you?" and "snowflake cunt", while others call out "slag".
A photographer, more clearly distinguishable due to her camera, gets an even greater torrent of abuse. As she rushes to photograph the sign being torn up, there are shouts of, "Stop taking photos!" and several attempts to rip her camera away.
The beer previously meant to keep up crowd morale is soon weaponised, with cans thrown in her direction – along with another freelance videographer present – and Stella poured on her lens. A Bristol Post reporter is reportedly spat at.
Paranoia about being misrepresented, distrust of being demonised by the media, hangs in the air.
"These guys have taken photos of you and will hunt you down and find you, so you should stop filming now," the photographer is told. It's unclear whether the tone was threatening or if he was looking out for her.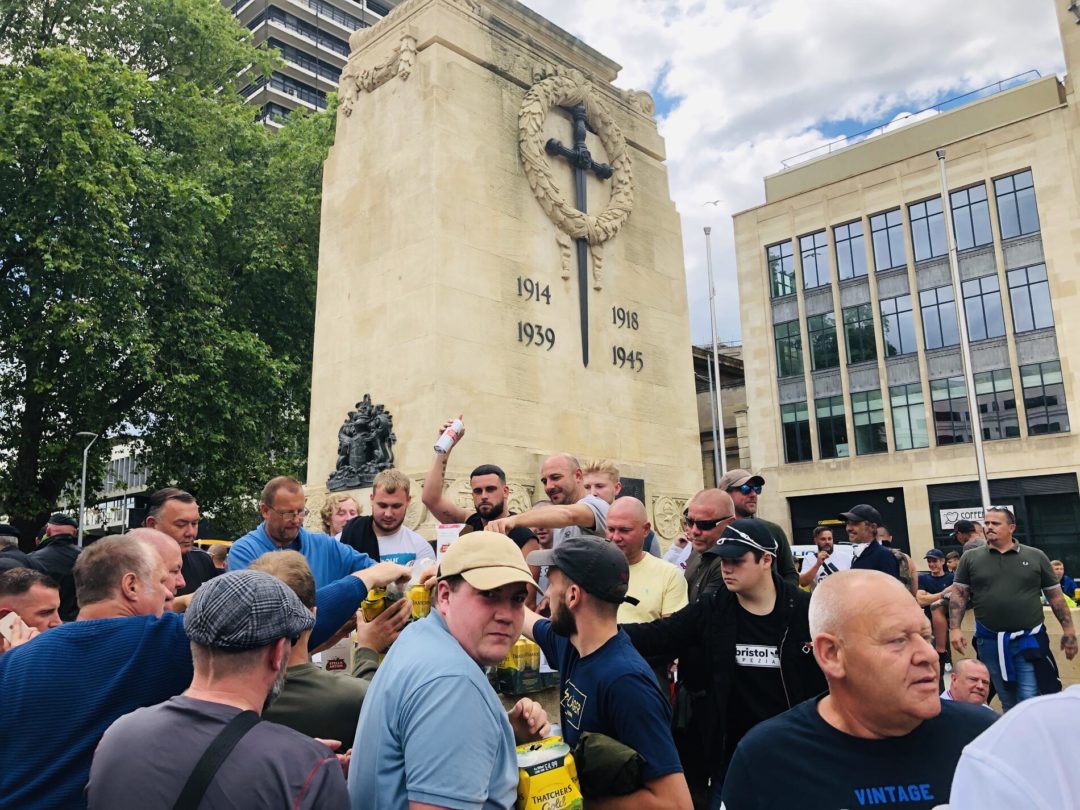 'Normal people protecting our heritage'
I single out one of the few women in the crowd to ask why she is here today.
"To be honest, I'm just here for the cenotaph, I haven't got nothing against Black Lives Matter – my father is mixed race," she says. "I think we just want to do our patriotic duty and protect the cenotaph."
Patriotism is a common reason given to me from those I spoke to. "Normal people protecting our heritage," one tells me.
When I push people on the topic, that history is based very much around a glorified idea of Britain winning the war. But when I pose a counter-perspective – what about Empire or slavery – I'm derided for bringing up the past.
"Have you seen white poverty?" asks another man. "If you have then All Lives Matter!"
He's echoed by another, "I went to the same shit school as a black person."
It's another trend of the day's conversation: we have it hard too, so why are black people given special treatment?
Across the divides
Over the road and across the police line, a young, multicultural group stands in opposition – a visual representation of divides that exist in our city. Saturday's crowd at the cenotaph may be far from the scale of the Black Lives Matter protest a week earlier, but it still offers a sharp challenge to lazy stereotypes that hold up Bristol as a liberal-left utopia.
"It reminds me of the days of the National Front when I moved to the UK in the 70's," an unsettled woman of Indian origin told me afterwards.
I left rattled, but not wholly unsurprised. At school, my history lessons portrayed exactly the one-sided version of history that was parroted back to me today. A glorious portrayal of Britain's heroic involvement in the World War, a noticeable omission of the manifold atrocities that took place under the British Empire. Naturally, such a cherry picked version of history left unchallenged would lead to this misguided sense of patriotism.
Meanwhile, a 2017 Runnymede Trust report showed that Bristol's ethnic minorities experience much greater disadvantages in education and employment than the national average, with the city ranking seventh-worst of England and Wales' 348 districts on the report's Index of Multiple Inequality. That said, it's undeniable that economic hardship is rife among some white communities too. It seems important to understand the protest today bearing in mind Bristol's socio-economic context.
Former Brexit Party leader Nigel Farage has claimed that "a new form of Taliban" was formed in the UK over the BLM weekend, adding that "full-on race riots are now possible". That's sensationalist scaremongering. But as I leave the protest, hearing abuse as I do so, I can't help but feel it's essential we shift conversations – ideally less tense ones than those I snatch during the afternoon – to how we bridge our divides, not entrench divisions.
Or perhaps what I'm trying to express is best summed up by the new statue that has appeared yesterday beside the empty Colston plinth.
A bald man in a string vest on top of a bin with the words: "Spoiler: St George was Turkish" on it. In one hand he holds a globe, a mobile in the other. The screen reads "England for the English" – a parody I assume of the Orb and Sceptre symbols of monarchy.
Statues and cenotaphs it seems, have become the battle sites on which race relations are contested in Bristol. This latest iteration seems to poke fun at Saturday's demonstration at the cenotaph.