Losing myself: my experiences of psychiatric hospitals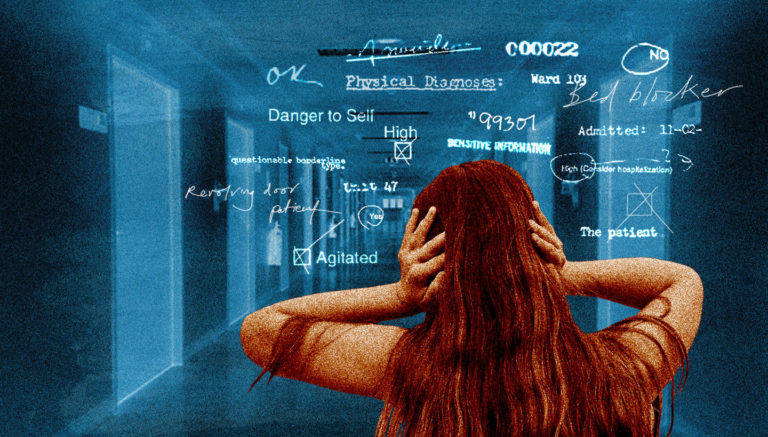 It's easy to forget who you are in a psychiatric hospital. Against the soundtrack of keys jangling, alarms screaming and other people's distress almost as loud as your own. There's a lot of slamming doors for a place with so many locks.
I lost myself along with everything else that was taken away from me: my freedom, my privacy, my shoelaces. It's easy to forget who you are when your identity is buried so deeply beneath every way you've been told that you're broken. Each day I felt less and less like a person, merging with the diagnoses I'd been branded with – more than I can count on one hand. Every conversation was about me but without me and in a language I didn't know how to speak. My illness took a lot from me and my treatment took the rest.
For a long time I lived in a place of darkness, trapped in spirals of self-destruction and the kind of pain I don't have words for. I wanted to disappear and did my best to do so. I let myself shrink inwards, losing more than just weight as I starved myself into numbness and hurt myself just to feel something. So entrenched in this torment, with no hope for the future, I felt the world would be better off without me.
During this time I spent more time in hospital than out, never staying in one place for long enough to feel I belonged anywhere. My time in hospital kept me alive when I was unable to do that for myself. But it came with its own set of wounds that I had to heal from.
80 miles from home
I was 18 years old, handcuffed in a hospital bed with fingertip shaped bruises on each arm. Detained by police, I had now been waiting 12 hours to hear where they were sending me this time. A familiar feeling of dread filled my stomach; I knew I'd be lucky to be less than two hours from home. This was my third detention in a psychiatric hospital since the age of 17 and I knew the drill by now.
I knew the sounds and smells and the way that, no matter how big a room is, anything feels like a cage when you can't leave. I knew the feeling of restraints, the feeling of too many hands on my quivering body. I knew how medication would make me feel only part-human, but by this point I didn't feel very human anyway. Mostly I knew that being detained for my safety didn't mean I'd be safe.
This time I was sent 80 miles from home, to a city I'd never even heard of. I arrived in the dead of night, in a van with blacked-out windows and four guards. They held me way too tightly as I walked through the series of locked doors.
Here, the staff were caring but too busy for kindness so I sat alone in my room watching the window. It was locked and covered with a grey screen, so I had to imagine what it might be like out there.
When I finally built up the courage to leave my room, a male patient three times my age leered at me and made sexual comments that filled every part of me with sickness. The staff said to ignore him – he's ill. But I was ill too, and there are things I can never ignore. So I survived it in the only way I'd ever learnt how to.
I was restrained again.
In purgatory
I've lost count of how much time I spent in hospital over the years, but it robbed me of so much living. They called me a revolving door patient, a bed blocker, an attention seeker. I can only imagine what else they said about me behind my back. I learnt to be a 'good patient'. If I kept my head down and did what they told me to, they'd let me out in weeks rather than months. But time works on different axes in these places.
When I was 20, I was transferred to yet another hospital, yet another hour from home. This one was run by the for-profit health care provider Cygnet Health Care. Treating women labelled with 'personality disorders', this was a locked rehabilitation ward.
Being granted funding was a long and complicated process; this type of private placement costs the NHS a great deal of money. As I was told, they "needed to be sure it was worth the investment". I endured assessment after assessment, each time having to lay bare the same traumatic stories to complete strangers. I watched them scribble down notes about me, but I'll never know what they wrote. I had no option but to trust them.
I didn't know what to expect from the hospital, but by that point it was my last option. The unit was far louder and more enclosed than any other hospital had prepared me for. I was searched with a metal detector as I went in and all my belongings were taken away: my clothes, letters from friends, even my teddy bear. My sanitary towels were locked in a drawer; too anxious to ask staff for them, I had to make use of rolled-up toilet paper.
The ward had a garden which was locked at all times. Patients were only allowed outside with one-to-one supervision, but the ward was so short-staffed that I spent most of the summer locked indoors.
The lack of staff meant time had to be given to those who needed it most and managing emergencies took priority over preventing them. This meant there was rarely time to speak to staff unless my life was in danger. This bred a culture where communication through words was ineffective – we were taught that actions speak louder than words. Distress is contagious and it was hard to heal in a place that so strongly reinforced the self-destruction I was in hospital to move away from.
After eight long months in the Cygnet ward I was finally discharged and was able to begin the uphill battle of returning to real life. I'd been suspended in purgatory while the outside world carried on at normal pace. Inpatient units are designed to support patients through a crisis period but while my time in hospital saved my life so many times over, it also often felt more like punishment than protection.
This is not to say I didn't meet incredibly caring people across all the hospitals I've been in, people whose kindness I cannot put into words and to whom I will always be grateful. But while the mental health system across both NHS and private sectors is so deeply unjust, overstretched and underfunded, there are too often great barriers to care which fail patients again and again.
When I left hospital for the last time, I promised myself I would never set foot in one of those places again. Inspired in equal parts by the positive and negative experiences I'd had, I broke this promise when I began working on another ward in a hospital I'd been in myself. I am currently training to be an occupational therapist and aim to be part of change and reform to mental health services.

If you're in crisis and need immediate support, please call 111 or call the Samaritans for free on 116 123.