Third mysterious fire in two years at Strachan & Henshaw, 'The Office', building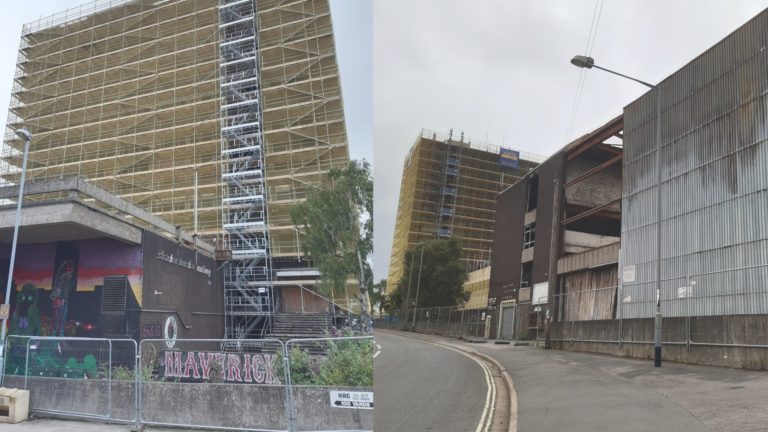 Speedwell residents will have heard the all too familiar sound of fire engines returning to the Strachan and Henshaw building, aka The Office, early on Thursday morning (9 July). It is the third fire in the bedevilled building since December 2018.
Crews from six fire stations extinguished a fire on the ground floor of the empty tower block. The site has been cordoned off and police are treating the cause of the fire as potential arson.
"Crews used 14 breathing apparatus for safety, and two 45mm jets to extinguish the fire. [They] remained on scene to check for hotspots and as a precautionary measure," said Avon Fire and Rescue service.
"Police were also in attendance and the cause is thought to be deliberate," they added.
As previously reported by the Cable, the adjacent building complex had housed over 40 small and independent businesses until a devastating fire gutted the site last May. This came only five months after another major fire on New Year's Eve in 2018.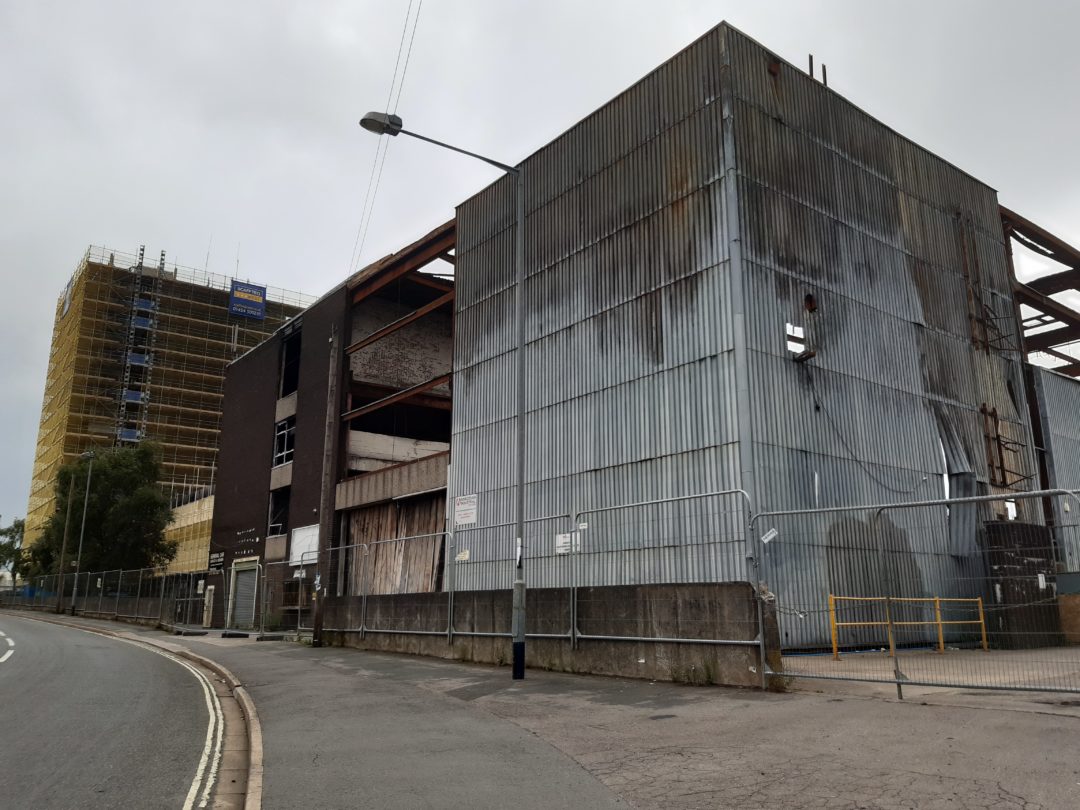 Long a source of urban folklore, the main tower was infamous for its swinger's club, cannabis factory, and as a Hells Angels' haunt for bikers running tattoo parlours and security.
The fire in May 2019 had also been treated as a potential case of arson, but structural damage to the building prevented a forensic search of the site. To the dismay of aggrieved former tenants, all the CCTV was lost in the fire, witness interviews were inconclusive, and Avon Fire and Rescue Service eventually recorded the cause of the blaze as unknown.
Since autumn 2019, the building has been covered in scaffolding, as building owner and developer Douglas Homes converts it into 71 residential flats. However, asbestos, an impending court case for the landlord, and Covid-19, have all set the development back. Now the most recent fire could delay plans even further.
Strachan and Henshaw is owned by Dubai-registered company Douglas Homes Housing Incorporated. Property developer Wayne Braund is said to be the majority shareholder of the offshore company.
"As far as I know the fire was small, and it wasn't big enough to cause any damage and I'm surprised it did catch fire cause there's nothing in there. It all caught fire before!" said a Douglas Homes staff member who asked not to be named.
"We're waiting for the asbestos removal, the crane's up, the scaffolding is up. I'm hoping and praying it hasn't affected our work."
Last November, Braund was the victim of an attempted blackmail by a gang of masked men at his Douglas Road Estate residential development in Kingswood.
This came after another incident in August when Braund was confronted by men believed to be part of the same group "demanding money off Wayne", said an eyewitness. The Cable understands that armed police were dispatched to Braund's home in Bitton, a plush country house and former home of friend and TV personality Noel Edmonds.
Then in February 2020, business associate and rogue landlord, Alan Dykes, was violently assaulted at his Bridge Road Industrial Estate in Kingswood. Dykes had owned the ill-fated Strachan and Henshaw building before selling it to Braund for £1 in 2018. Police investigations are ongoing.
There will now be inquiries into whether the latest fire, assaults, blackmail attempts and May's fire are connected. Pressure will be on the police to get to grips with a saga subsuming a building which is yet again dominating Bristol's headlines. But given that July's fire was responded to at 2:15am, there will likely be few witnesses to interview.
Wayne Braund is awaiting trial at Bristol Crown Court later this year, facing seven charges of breaching fire safety regulations in relation to The Office building. He declined to comment.
Do you have information? We treat tip-offs confidentially. Contact journalist Alon Aviram: alon@thebristolcable.org/ 07533718547