Community protests against horrific racist hit-and-run, 'attempted murder' in Bristol

A young NHS worker, known as K-Dogg, fell victim to a racially-aggravated hit-and-run on his way home from work on Wednesday 22 July. The car was reportedly driven into the 21-year-old deliberately on Monks Park Avenue in Horfield with the occupants using 'racist language', according to the police.
K-Dogg sustained serious injuries including a broken nose, leg and cheekbone and has a six-month long recovery ahead of him. "I don't feel safe to walk outside and I can't play football, record my music," he said in a public statement.
Four people have been arrested on "suspicion of attempted murder" and released under investigation.
The Cable spoke to a Horfield local who was working close to the incident, and protestors at a march led by community members in support of the victim and to take a stand against racism in the city.
Living and working in Horfield
Hoodo Elmi, 23, was working her carer's job a couple of doors down from where the crash happened on Monks Park Avenue at the time of the incident.
It was a typical day on her job as she took out her client for a walk. Twenty minutes after leaving the house, Hoodo got a call from her manager:
"There's been a horrible crash, there's blood everywhere." She's told to stay out for an extra hour to protect her client. When Hoodo returns, the scene is cordoned off with a heavy police presence.
The horror of the incident only sunk in days later as Hoodo realised how close she was to the hit-and-run.
"Emotionally that day I was so drained because I thought if we would have been out there twenty minutes ago we could've been involved in a crash scene. So, it was quite shocking", she said.
Having lived in Horfield her whole life and gone to school there, Hoodo said she had suddenly become "scared of my own area." While she hasn't experienced racism locally, Hoodo recalls many stories of friends and relatives being racially targeted in the Horfield and Southmead areas.
There needs to be urgent change, she adds. "I hope that there is less racism and more justice for minorities."
March against racism and for racial justice
Midday on Sunday 2 August, protestors gathered in front of the Job Centre on Monks Park Avenue where K-Dogg was hit. They gathered to show support for the victim and to take a stand against racism.
What started as a small group of 20-30 people, quickly grew. As the march moved, protestors chanted the "K-Dogg" and stopped traffic, while moving aside when emergency services needed access.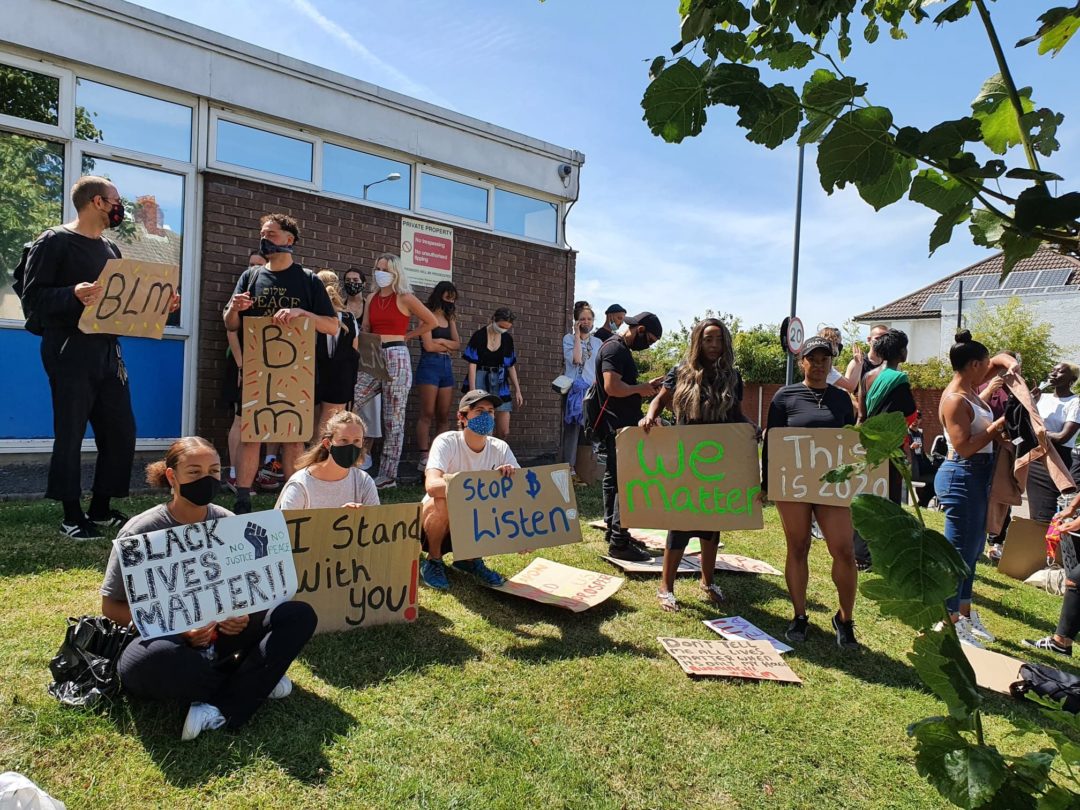 Protestors were welcomed with honking cars and locals coming out of their homes to clap. In the heat of the day, neighbours even handed out water bottles for the protestors.
"A lot of people think this just happens in America," said Chloe, one of the protestors. "No it doesn't, it happens everywhere and it could happen to anyone at any time, and we need to stand up to that."
The march is met with contempt from others, with shouts of "F*** off" and cars screeching away. But it does little to dispirit the protestors. "You know all those people who didn't like us? We're going to visit them again", one of the lead organisers shouts, and with that, the protestors circle back to Monks Park Avenue. 
Liza, one of the protestors and also a member of the All Black Lives group who led the historic BLM protests in Bristol, says it's important to vocalise these issues in areas that are less diverse. 
"[We need] more empathy, not just in areas where there is a higher concentration of black people but seeing that same empathy stretched to places like here and even outside of Bristol, in places that are smaller. We want to see conversations happening there as well."
Saying no to hate
The protestors ended their march at the scene of the crash, the aftermath of which is still visible. Protestors laid down placards and gathered for speeches.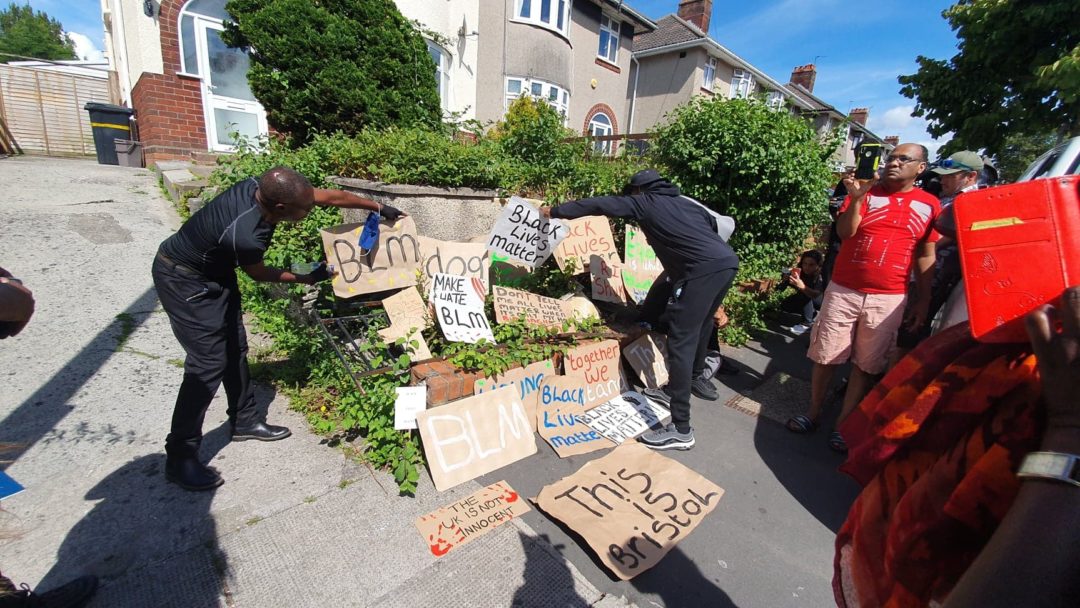 In one impromptu speech, a Sudanese protestor told the crowd that he and his family were driving past the protestors chanting "No Justice, No Peace, Young K", and feeling moved, he parked their car and joined the march.
"I've got two young boys, 17 and 18, and that could happen to them. And if we all watch and do nothing this is going to be the norm."
He fled the dictatorship in Sudan, seeking safety in the UK. "It hurts me to see young people born in this country who feel they don't belong to this country", and who "feel they've been targeted because of their colour [or] their religion", he added.
Sick and tired of seeing racial violence like what happened on 22 July and fearful of it repeating itself, one speaker shouts: "This is not black against white, this is a human heart issue. People need to look inside their hearts and ask themselves 'why do you hate someone else because of the colour of their skin?' They did not choose to be born that colour."
The protest ended with a relayed message from K-Dogg: "Thank you for coming, he's doing well and he wants us to continue."