'Why we must challenge media narratives of Travellers'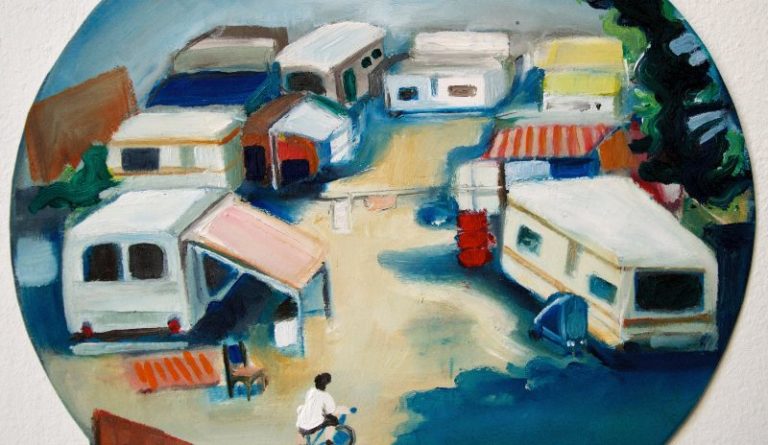 Illustration: Liane Aviram
A Cable member recently cancelled their membership, saying that our articles are too pro-Traveller and refuse to acknowledge "that there are negative consequences from Travellers". I decided to take this as an opportunity to explain why I choose to buck the trend in my series on Gypsy, Roma and Traveller communities. Why, instead of reporting on unauthorised encampments, pinpointing each new one and quoting appalled locals, I look at some of the issues often faced by these communities.
Given that most of the time papers only write about Gypsies or Travellers when there's an unauthorised encampment, or a crime has been committed, or to caricature them in reality TV, it's not really that surprising these are the only things that come to some people's mind when they see 'Traveller' in a headline.
After decades of being caricatured, criminalised and romanticised by the media, it's no wonder that racism against Gypsies, Roma and Traveller is so normalised. And this racism is perpetuated by the press, MPs (and not just Tories) and even well known celebrities – like when Orlando Bloom repeatedly called himself "just a p*key from Kent" during a Radio 1 interview and Catherine Tate's character said it in a Comic Relief sketch with Tony Blair.
Quite apart from the fact that people on unauthorised encampments make up a tiny minority of the Gypsy and Traveller populations, people aren't driving onto your local playing fields for fun. Getting on a private site or getting planning permission on your own land is difficult when you're a Traveller, and there's a chronic shortage of council sites . And little appetite for building more.
Life for nomadic people has become harder over consecutive Tory governments, which have steadily chipped away at nomadic people's right to travel, turning traditional stopping places into land for housing and bringing in increasingly hostile legislation. And local authorities have been slow to fulfil their duty to provide council sites. Whenever there's a planning application for a new site, out come the placards and the objections and the site invariably doesn't get built, or gets built right on the edge of town in a spot you probably wouldn't want to live.
At this stage, it's worth mentioning that I have pointed out, in several articles over the course of this series, the tensions unauthorised encampments can create, and included opinions from unhappy locals in bricks and mortar and interviews with Bristol councillors who want to bring in tougher legislation. I give more of a voice to them, in fact, than most papers give to the Travellers they write about. In a few I've written that a few Travellers go on unauthorised encampments, but that they're in the minority. But, here's a thing: you wouldn't be expected to include caveats and qualifications like this about any other ethnic group.
Why the Cable writes 'pro-Traveller' articles
Instead of writing articles with dramatic headlines about crime, trespass and elaborate weddings, I have been focusing on different topics, that are underreported elsewhere in the media.
I'm not a cheerleader, though I do consider myself an ally. I'm a journalist, and responsible journalism involves delving deeper and looking into some of the causes behind the effects.
I do this for two reasons. Firstly, as press coverage of these communities is so overwhelmingly negative and has such a narrow focus, there is zero public interest needed to provide more of the same. There is plenty of that in other publications. GRT voices are hugely underrepresented in the media, and the voices of locals in bricks and mortar are hugely over-represented in these pieces generally. This series is a way of redressing the balance.
There are so many articles about Travellers, but very few where the people being written about get to say anything. These populations are massively misserved by the media. How many articles have you read where an angry resident is interviewed about mess or noise or blocking the field? And how many of those articles included quotes from people on the encampments?
And where, outside of the Travellers Times and occasionally in the Guardian, is the coverage of the chronic lack of sites, the huge health and education inequalities, racist profiling from the police? Where are the articles about hate crime these communities frequently endure, from verbal abuse and threats, to having caravans set alight – sometimes with families inside them?
And secondly, one of the Cable's editorial policies is to highlight injustices and give a voice to marginalised people, and these populations are among the most marginalised and socially deprived ethnicities in the UK.
Our job and responsibility as journalists is to cover the under-reported voices, study the facts and context, and avoid shock headlines. It makes for a less sensationalised, exciting story, but a more accurate, balanced one. At the Cable, we distance ourselves from sensational journalism. This is what the other papers should be doing. If there was more responsible journalism about these populations, people wouldn't have such a skewed narrative about Gypsies, Roma and Travellers.