The national Covid-19 test and trace process is failing. But I didn't realise to what extent until I tried to get my child tested after getting a fever late one Sunday night.
Referral after referral
My child had been sniffling all weekend and so had all the kids in class. But the grand performance of 'Covid security' went on.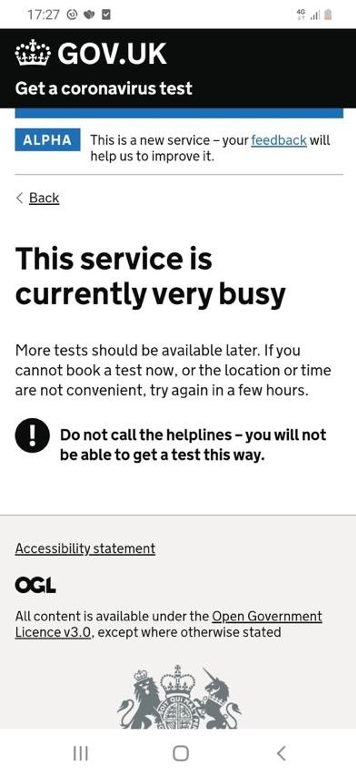 When on one Sunday night I attempted to get a test booked using the government's website, it immediately said: 'This service is currently very busy".
When I tried calling a helpline, there was no one to call. And when I spoke to the nurse at our GP surgery, they referred me to 111, which referred me to 119, which referred me to this website. No help was to be found. My child and I were profoundly alone.
But I persisted to refresh the webpage, after all, my child now had one of the Covid-19 symptoms: a high temperature. Strange thing isn't? We know Covid-19 manifests itself very differently in children. Yet to book a test you must at least have one the following: a high temperature, a persistent cough and/or a loss of smell and taste.
Refreshing the page was in vain. The page kept coming back with 'Choose a site near you'.
I sighed.
Illusion of choice
The many choices kept me going: A test site, a walk-in and even a drive-through option. With no home testing kits available, I had to choose something. So I kept on trying through Sunday night and well into Monday.
Monday came and it was clear that there was a crisis in the test and trace system across the country – not just in Bristol, where Covid rates are remarkably lower than the rest of the country. I heard reports of people having to drive many miles away to secure their test. Meanwhile, the online system was not providing me even with that option.
"Choose a test site near you" – to suggest I had any choice in this was absurd. Ironically, the choices hid the fact that there weren't any at all.
It's unclear what has happened to all the tests. I've heard from a reliable source in the local NHS administration that even hospital workers and patients awaiting surgery this week in Bristol have been unable to obtain a test.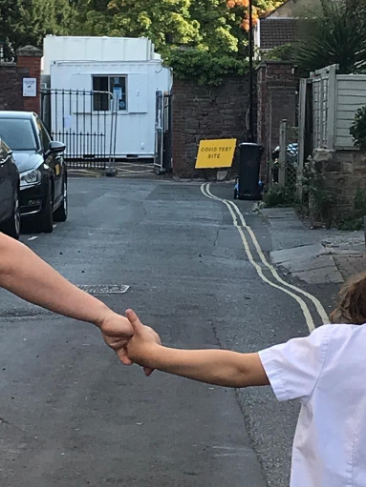 Anyway, someone suggested I go to the walk-in testing site in town. I assumed you needed an appointment which is why I never went there. But it turns out if you persist you can get a test done. Two or three other people I spoke to had done so.
Sadly, by mid week my whole family had symptoms of cold, including a cough, and yet we couldn't get a test. So I took the kids down to one of the walk-in centres without an appointment.
Tsunami of infections
We were at a testing centre – run by Serco, a private company in charge of the government's test and trace system. At first, the young guard wouldn't let us in as we didn't have a booking number. I pleaded with him, saying friends had come just the night before. He would not relent.
But I took another tack and asked for the person in charge (knowing full well he was not).
I must pause here for a second to say how entitled one has to be to request to speak to the person running a service. I had the cultural and economic capital, the education and social privilege to fall back on, to make this move. It's despicable to think that social class and race trump basic needs in the middle of a pandemic. This is not the kind of world I want to live in.
Nevertheless, my demand got us in and we got a test. I chose to walk in and get tested, only some get to make such choices.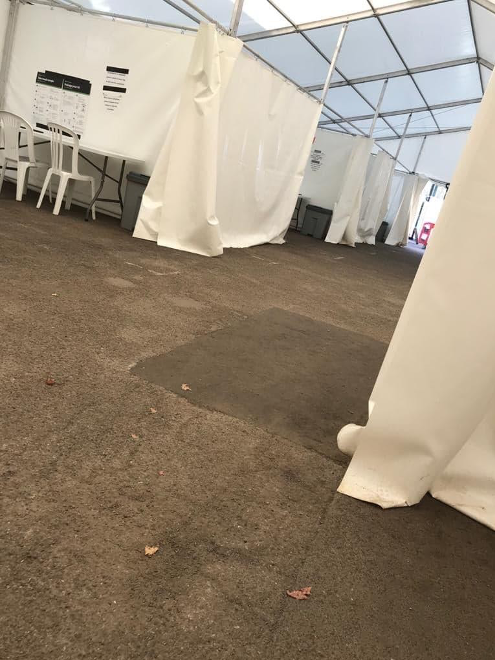 The staff were extremely helpful, kind and efficient. But the place was practically empty. Two long empty rows of cubicles, which were fuller once we left than when we had arrived. And in the corridor I hear: "This is all Boris's fault".
As we exited, the second security guard told us that the place was mostly quiet all day, with a maximum of around 100 people visiting. I was boiling with rage and screaming inside:
Why are only 100 people getting tested when I know dozens of people desperately trying to get a test? Why is the facility empty and tests not being used more at a time when more and more are going back to work?
Not to mention schools which are packed to the brim with unmasked people, where teachers have no PPE, and where 30 kids to a room for hours is the norm.
We have the perfect setting for a tsunami of infections. The NHS, crippled by years of funding cuts and privatisation is heaving under the pressure, and now those political choices are unfolding in real life on Bristol's streets.