We're hiring a Communications & Partnerships Coordinator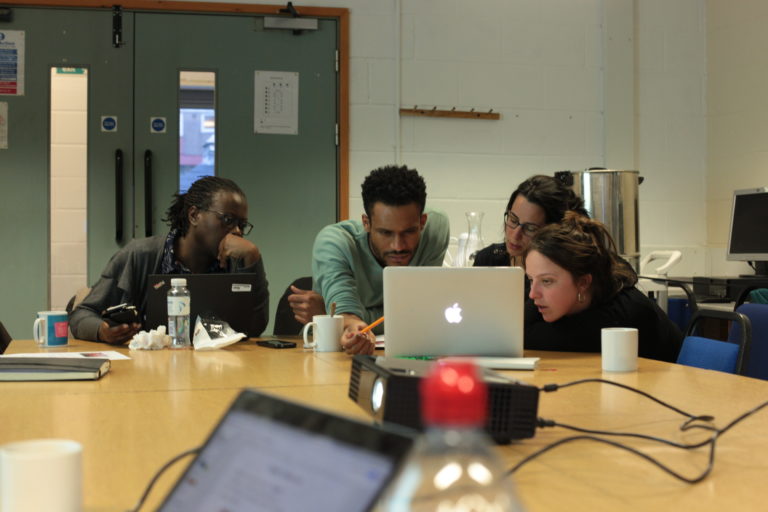 Contract: 12 months / fixed term (with possibility for extension)
Salary: £20,475 pro rata (flat rate for all staff)
Hours: 4 to 5 days per week, depending on your preference. Exact working hours negotiable around e.g. caring responsibilities.
Location: Bristol Cable office, The Old Fire Station, Silver Street, BS1 2AG (Default remote during Covid)
Applications closing date: 7pm, Wednesday 7 October 2020
Applications are now closed
About the Cable
The Bristol Cable is a reader-owned media cooperative, owned and supported by over 2,200 people across the city.
We produce award-winning local journalism, in print and online, free to access for all. Together, we hold power to account through groundbreaking investigations, campaign for change, and amplify marginalised voices.
Recognised internationally as a pioneer in the movement for a new media, our mission is to redefine local journalism as a community asset, accountable to, and serving the needs of the communities we serve.
About the role
The Communications & Partnerships Coordinator will help the Cable reach and engage people in Bristol, on and offline. The role is all about finding and connecting with people, so that more people engage with the Cable, growing our membership, connections and impact in the city.
You will be a key part of our team, working with others to grow and engage our community, enhance the impact of our journalism, and bolster the profile of our public events, training and other activities.
If you have any enquires that are not answered below the please email applications@thebristolcable.org or call our office mobile on 07533718547.
Role responsibilities
Social media
Manage the Cable's social media presence across existing platforms (Twitter, Facebook) as well as new ones, such as Instagram.
Create our social strategy, identifying goals with the aim of growing a community around the Cable, and amplifying the impact of our work.
You will be an important voice of the Cable, finding audiences and engaging with our followers, in order to bring them into conversations and increase civic engagement among a diverse array of Bristolians.
Reflect on metrics and feedback, and use that knowledge to make us smarter about headline writing, publishing schedules, story packaging and other factors that help us reach and engage people.
Participate in editorial & membership meetings to plan social engagement strategies for upcoming work, for example a new editorial series, or a member event, helping package it in compelling ways for different social media audiences.
Coordinate with reporters and editors to develop messaging for sharing stories.
Collaborate with colleagues on the Membership Team to convert social users into newsletter subscribers and members.
Promotion & communications
You will play an important role in the membership team helping develop the Cable's brand: from brand assets and style guide, to our voice, and telling our story.
You will collaborate on developing our communications & print distribution strategy, to ensure we effectively reach people.
You will contribute to our key communications, such as newsletters, online and print promotions (e.g. adverts and leaflets about the Cable) and blog posts.
You will identify and act on opportunities to promote our reporting and other activities to local and industry audiences, including speaking at public events.
Partnerships
Build relationships to invite contributions and manage our Community Calendar, helping it grow into an essential community resource.
Collaborate with editorial, events, and membership colleagues to develop partnership opportunities with local civic, business, education, and nonprofit organisations, with the goal of building the Cable's audience.
Assist with the coordination and delivery of events with our Events Coordinator.
About you
You value being part of a team that collaborates and supports each other.
You're a natural story-teller, and understand how to connect with people, from visuals, to words. You can tell the story of the Cable and our work, connecting it with a bigger picture that matters to people.
You're an excellent communicator and writer. You can design and deliver messaging that achieves specific goals, tailored to different audiences, with a good sense for what resonates with different people.
You have experience managing social media channels.
You're comfortable with digital tools and able to quickly learn.
You're insightful, able to draw out highlights from articles for social media or newsletters, and able to analyse what messaging is working and what's not, drawing on both feedback and data.
You are passionate about the Cable's journalistic and community mission to re-centre communities in their local media, facilitate listening and conversation and produce impactful journalism that changes Bristol.
You're also able to be responsive and adaptable, identifying opportunities as they come up.
You are confident in taking the initiative to reach out to individuals and groups, and be a recognisable and approachable representative of the Cable, including speaking at events and public forums.
You would feel comfortable in an environment without traditional management and hierarchy, which relies on initiative, willingness to think strategically about your own work (with support from colleagues), and an enthusiasm to develop your skills around interpersonal communication, meeting facilitation and collaboration.
You are interested in co-operative styles of working and sharing responsibility for the organisation as a whole, including its strategic direction and our working practices.
You are passionate about helping to create an inclusive, anti-oppressive organisation and consider accessibility in the ways you work, such as in communication and events design.
What we offer
You will play a key role in a values-driven and purposeful team, with huge freedom to shape your work, evolve your role, and contribute to our strategy.
You will be able to learn, share, and be supported by team members who you'll be collaborating with.
You will join the Cable's 10-person cooperative staff team, and have opportunities to take on cooperative management responsibilities.
You will also join the Cable's 2,200-person media cooperative, and be able to engage and draw on members to improve our journalism and connections to city life.
A position in our staff team, either 5 days per week (37.5 hours) or 4 days per week (30 hours). This will be a fixed term position for 12 months with potential to become a permanent position subject to funding.
Generous holiday entitlement of 36 days annual leave (pro rata, including bank holidays), plus up to 5 days paid time off at Christmas, and up to 15 days unpaid holiday allowance.
Flexible working and period policies, to help you work when works best for you.
A personal training and professional development allowance.
A flat-rate salary paid to all staff members of £10.50 per hour, with a 7.5 hour working day (£20,475 annually, pro rata).
You will work at our office in the centre of Bristol, or remotely, depending on changing circumstances relating to Covid-19. We are currently remote by default, but we have an office space which is open. You will need to be available to work from the central Bristol office when we are able to return properly.
Co-operative working
The Cable is a co-operative, and we collectively share responsibility for managing the organisation, following the principles of Sociocracy. So, as well as the responsibilities listed below, this role also involves some participation in helping to run the co-op, after an initial settling in period. However, we don't expect you to have any particular skills in organisational management – just enthusiasm for taking part.
Anti-oppression
We recognise that our society contains many overlapping systems of oppression and that these injustices may be reproduced in how we work. We are learning more about our part in these systems and thinking strategically about how to change working practices, policies and systems so that we can challenge these unjust systems, as well as supporting colleagues who face particular oppressions in their daily lives.
This is a work in progress, and happening at individual and collective level. We expect all staff to educate ourselves on oppressions that we may not have experienced directly and to contribute to our work to make our organisational structures, practices and culture more inclusive and liberatory.
Applications are now closed