The mayor and council have changed their mind, and want to reduce air pollution without charging drivers, but critics are calling time on yet more delays.
Air pollution levels in Bristol city centre are getting close to pre-lockdown levels, as the council is now assessing if they can reduce the city's pollution to legal levels without charging drivers. However, critics say that the mayor is basing plans on the abnormally low levels of traffic due to coronavirus restrictions this year.
A major issue of political dispute, local Green Party councillors have made renewed calls for action on air pollution after Nitrogen Dioxide (NO2), which is mainly caused by road traffic, rose above the legal level of 40μgm-3 in August and September.

During every month so far this year, the average NO2 level has been lower than in 2019, with May this year showing 72% less pollution than 2019. However, as cars get back on the road, pollution is creeping back up and over legal levels again with September's average just 14% lower than in September 2019.
Amid this worrying rise, here's the lowdown on the council's latest plans, what critics are saying, more on how Covid-19 has affected air pollution, and what other cities are doing.
What is the council proposing?
A year ago, after major delays, Bristol City Council approved plans for a ban on diesel cars in the city centre and a Clean Air Zone (CAZ) to tackle pollution, contributing to 300 deaths a year in the city and a raft of other health effects. But that was before Covid-19. Now, the council has said its preferred option is not to charge anyone.
For years the council has been working on different options for a CAZ that charges more polluting vehicles to enter and the much-hailed diesel ban has been binned, because the government deemed it impossible. Now, under mounting pressure from activists and the government, the council has until December 4th to show the government whether measures that fall short of charging drivers brought in this year will be enough to reach legal levels of Nitrogen Dioxide (NO2) by 2023. As part of this process, new air-quality monitoring units will be installed to capture more accurate data.
The council will continue to develop two options for a CAZ – one that charges polluting commercial vehicles and another that includes private vehicles over a smaller area. The final plans must be submitted to the government by February 2021, with a start date by October 2021.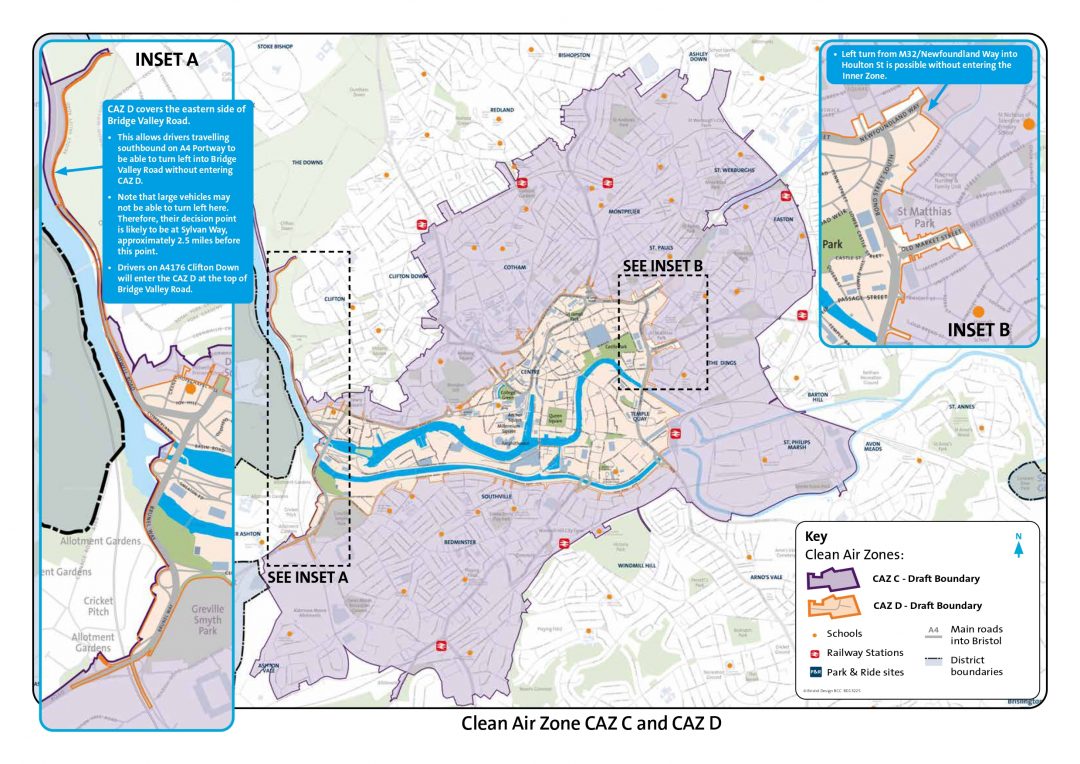 Why have they changed their mind?
The backdrop to this change in approach is a reduction in air pollution across the city, mostly due to lockdown. The council used lockdown as an opportunity to encourage walking and cycling, while restricting cars. The closures of Bristol Bridge and Baldwin Street to through-traffic, while welcomed by some, have been criticised by local businesses.
Explaining the new approach, Mayor Marvin Rees said, "This is a call to action. This is not something that the council can deliver alone. This is about us collectively engaging in behaviour change in the way we move around. If we engage in this, we can get ourselves to compliance in a way that doesn't compound the economic woes of households and businesses in Bristol."
But critics say the plan is based on the unique case of low levels of traffic due to lockdown, and represents yet another delay.
Katie Nield, a lawyer at ClientEarth, who threatened legal action against Bristol City Council in 2019 for not taking prompt enough action, said: "It's really good to see that there are some targeted measures to encourage people to walk, cycle and use public transport, and it looks like the council is finally doing something to tackle the road traffic in Bristol, which is the main cause of illegally dirty air in the city.
"But…will what they're putting forward do enough to meet legal limits. […] While they do more work to find out the answer to that question, they're ultimately suggesting that the people of Bristol have to continue holding tight for clean air for another year."
The mayor, for a number of years, has said he is reluctant to charge private vehicles for pollution because of the impact on the poorest families in the city. The economic impact of Covid-19 has brought this concern into sharper focus, as we enter the worst recession on record.
But Nield points out, "Ultimately it is the more disadvantaged communities that suffer the most from dirty polluted air. They contribute the least to the problem. It's really important that any CAZ is introduced with measures that help and support people and business to move to cleaner forms of transport."
Green Councillor Jerome Thomas adds, "Ensuring people in Bristol can breathe clean air is the council's legal and moral duty, and a Clean Air Zone is something they alone have the power to deliver. The mayor is right that collective behaviour change is needed, but it won't happen just by wishing for it. The council needs to take action to incentivise walking, cycling and public transport and, equally importantly, to discourage unnecessary car journeys."
How did lockdown actually affect air pollution?
Bristol City Council said it expects NO2 levels this year to be only just above the legal level, as daily traffic in June fell by at least 50% compared to pre-lockdown recordings.
So far this year, Colston Avenue in the city centre, which is the air-quality monitor in the city with the highest pollution levels, has registered NO2 levels just above the legal level; 32% lower than last year. The six other continuous monitors in the city have also shown reductions in NO2 compared with 2019, and are likely to be under legal levels this year.
However, air pollution has been rising gradually in the last few months, moving closer to pre-lockdown levels, in all areas of the city. The monitor at Parsons Street School in Bedminster recorded 37.9 in September, which was higher than last year.
The new car restrictions on major city centre roads is likely to have a further impact, but it's too early to see this.
Councillor Thomas says: "We are not opposed to measures being based on evidence, but we don't yet know what the current state of transport will be in the 'new normal'. It would be gambling with the future health of the city to base decisions on the current abnormally low traffic levels."
Nield agrees: "It seems that the council is trying to use evidence around short-term reductions in air pollution during lockdown as a reason to reconsider their plans… Firstly, lockdown is obviously not a long-term solution to this problem, but also these improvements are likely to be short-lived unless the council acts to make sure the most polluting cars and vans don't come flooding back into Bristol. We're seeing pollution levels already rebounding to pre-lockdown levels in cities across Europe.
"People need help to make cleaner transport choices, but what we know is that CAZs are the most effective way of tackling the problem, and we're yet to see that these behaviour-change measures can be as effective on their own. We just don't know that yet."
The Cable sent detailed questions to Bristol City Council to find out more about the plans and the data on changing air pollution levels, but they declined to answer.
What are other cities doing?
Bristol had been due to implement its CAZ in March 2021, but earlier this year the government announced a delay to the implementation of CAZs across the UK.
Bath has delayed its CAZ from November this year to early 2021, but is still going ahead with the scheme. The measures will see non-compliant vehicles charged to enter the city centre, but private vehicles will be exempt. Similarly, Birmingham has delayed their scheme until next year, but is still going ahead.
Leeds had planned to implement a CAZ that would also charge private vehicles, but this is now under review. According to the council, if the government decides the air quality in Leeds is at acceptable levels, its funding for the scheme would be withdrawn. Sheffield also announced they are reviewing their CAZ proposals to include the impact of lockdown.
Katie Nield says: "You only need to look to Bath to see a city that is committing to putting a CAZ in place as soon as possible. We're just concerned that the people of Bristol are being shortchanged. Their health is suffering now and the council has already missed multiple government-imposed deadlines. Bristolians have already had to wait far too long for action."
"We're really concerned about this delay. It can't be right to kick the can down the road for another year when it's already 10 years since legal limits should have been met, and it's over three years since the council were told to come up with a plan to tackle illegal pollution in the city."