Not all heroes wear capes. Many wear PPE. NHS staff protest for fair pay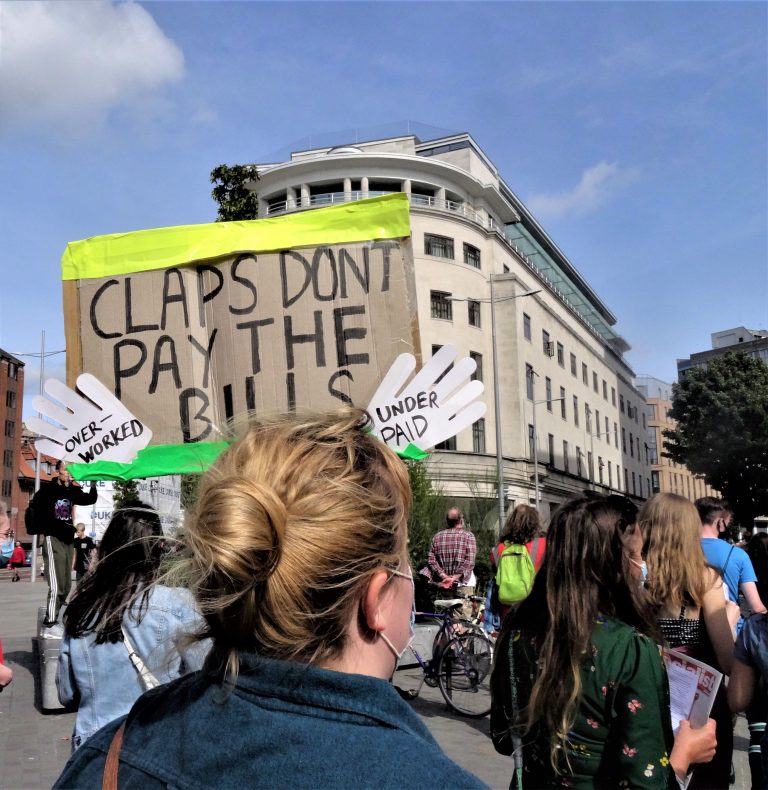 "Claps don't pay the bills," read one placard. "Some cuts don't heal, we deserve a better deal," rang the chant. A samba beat accompanied campaigners banging the drum for NHS staff. This was the scene on a Saturday in September when a small but spirited protest marched through the city centre. It was organised by the Bristol chapter of the campaign group 'NHS Workers Say NO to Public Sector pay inequality'. The reason? While almost 900,000 public sector workers were promised an above-inflation pay rise, doctors and student nurses were left out, having negotiated a separate pay deal.
An answer not good enough for the assembled protestors: "It's not a pay rise," one campaigner said. "It's just a fair pay deal! It won't even cover a decade of real-term pay cuts we saw under austerity." Another A&E nurse from Southmead says how he couldn't bear to see his colleagues having to use food banks any more.
"It's not just a question of pay," said Alex Oldham, one of the protest organisers. "It's a question of being properly valued. NHS workers really stepped up during this pandemic. It's a real slap in the face for the government to treat us in this way."
Trade unions such as Unite, Unison and GMB have jointly called for a 15% pay rise for all NHS workers to account for years of wage stagnation.
The NHS might be universally loved by the nation, but how it is managed is a divisive topic. Speech after speech condemned Tory cuts and privatisation, and questioned the government's commitment to the public sector. One thing is for sure, having pulled us through a crisis, empty congratulations and weekly claps won't cut it for NHS workers.