Writing on the wall: why trans and nonbinary people in Bristol are speaking out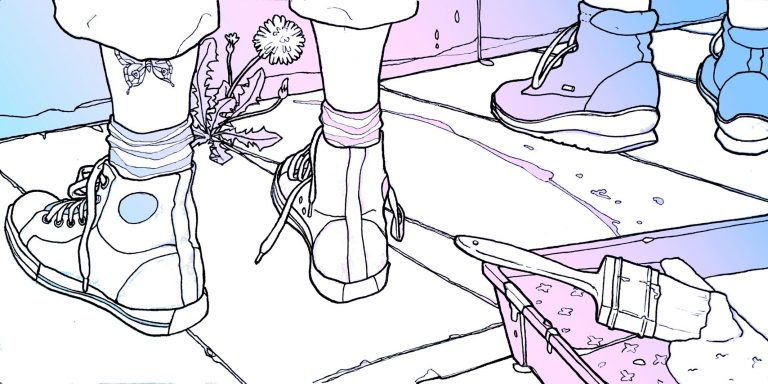 Last week, I stopped off to lend a hand with a new mural, part of an ongoing series hosted by the People's Republic of Stokes Croft on Jamaica Street. There I spoke to CJ, who designed and coordinated the mural together with a small group of trans and nonbinary people.
CJ is a creative and technical manager at PRSC, but this is a first for her: "I've contributed to a number of other murals in my time at the PRSC but never designed my own," she says. Now though, she feels the time has come to speak out.
"I've signed petitions, written to politicians, attended marches and donated to fundraisers, but it's still hard not to feel powerless in the face of institutional indifference," CJ goes on. "I don't imagine painting a wall is going to achieve much, but I've already heard feedback from people who simply weren't aware of our situation.
"I think many people outside of the community have no idea just how bad it's become; what we have to go through to access the healthcare we need. Forcing people to wait in limbo for years on end is unethical."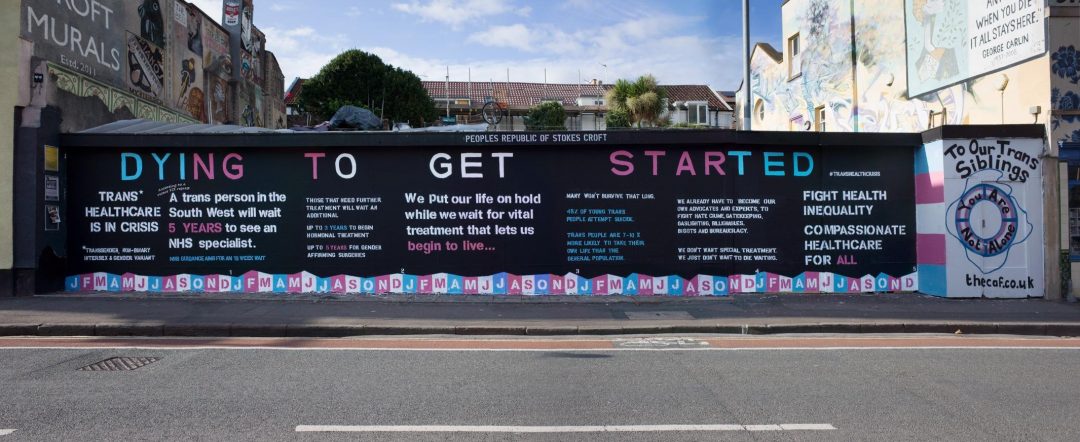 The painting of the mural was prompted in part by the demoralising conclusion to a political rollercoaster of a summer, as trans people awaited a statement on proposed reforms to the Gender Recognition Act (GRA) intended to make civil matters such as marriage and funerals more straightforward for trans people. But on 22 September, three long years after the public consultation was first announced, Liz Truss, the minister for women and equalities, released a statement that plans for reform would be scrapped.
A legal case against the NHS Gender Identity Development Service (GIDS), which provides gender-related services for children and young people, has also brought new heat to public 'debate' around healthcare for trans people. With an atmosphere of speculation, widespread misinformation and even outright hostility in the media, outdated NHS procedures grinding to a standstill, and serious local gaps in gender-affirming healthcare provision, trans people in Bristol are starting to speak out and campaign for change.
Widespread disappointment
Truss's announcement was met with disappointment by LGBTQ+ and human rights advocates, who had hoped for much-needed reform to align UK policy with globally-recognised best practice, which would include demedicalising the legal gender recognition process, as well as recognising non-binary identities and lowering the age threshold for legal recognition. With reform abandoned, changes will now be limited to moving the process online and reducing administrative fees.
Truss's statement implies that by dropping most stated goals of reform the government is listening to what trans people really want, which is improvements to healthcare: "That is why we are opening at least three new gender clinics this year, which should see waiting lists cut by around 1,600 patients by 2022," the statement said.
But critics point out that the 'new' clinics were already in the pipeline prior to the consultation. Furthermore, because these are only small-scale pilots, the reduction in numbers Truss cites amount to barely a dent on actual waiting times for the more than 13,500 trans and non-binary people currently on gender identity clinic (GIC) waiting lists in England alone.
It is evidently true that trans people have experienced the long and drawn-out GRA consultation as an unwelcome distraction from more crucial matters. However, this is largely because the need for change was already obvious, and because widespread public debate around what should only ever have been a minor administrative reform has become a virtual referendum on trans rights, providing an easy platform for hostile political campaigns and negative media coverage.
In this series, we will be speaking to trans people in Bristol about what their real priorities are.
"I know people locally who have been hospitalised and face regular abuse on the street simply because of who they are, so there is obviously a long way to go," CJ tells me. "But on the whole, things feel like they are improving despite the seemingly constant barrage of negative publicity. One thing [though] that has not improved – and has in fact become much more difficult – is access to healthcare."
'Lives on hold'
The mural painters rehearse the same two major concerns. "The vigorous torrent of abuse and creative untruths generated by the same dozen people in the media is bad enough," says Julia. "However, we also have the utter failure of the NHS to cope with increased referrals. Even with the actively hostile press and broadcasters doing all they can, there will always be more trans people."
With waiting times for a first appointment in the South West now typically around five years, and further long delays before starting medical treatment, that failure is serious. In this context, Ailbhe points out, "The mural is among the small things that we as a community have the power to achieve. Our voices need to be heard in order for real change to happen."
Healthcare is the priority for many trans people not because legal recognition doesn't matter, but because healthcare underpins everything else. Maddie emphasises that "access to healthcare also dictates when we can change our passports or apply for legal recognition, as both require medical letters or reports – two in the case of a Gender Recognition Certificate".
Significantly, these second medical reports must come from 'recognised specialists', requiring a lengthy, intrusive and (if privately obtained) costly diagnostic process. This means delays in accessing healthcare on the NHS automatically translate into barriers to legal recognition, which can leave individuals suspended in a legal limbo for years on end.
The recognised route to diagnosis (a 'mental illness' pathway already renounced by the World Health Organisation among others) is also fraught with obstacles. This is especially difficult for nonbinary, queer, and gender-nonconforming trans people who can struggle to satisfy the narrow imaginations of more conservative health professionals, and who may not be able to access the kinds of medical care appropriate to their transition needs under existing protocols. When Truss states that increasing clinic capacity "will also make it easier to fulfil the medical requirements of obtaining a Gender Recognition Certificate", she is skating over these facts.
The prospect of gender-affirming healthcare is still a fast-receding horizon for thousands of trans people, which makes obtaining a GRC effectively impossible without access to private care. Demedicalising the legal recognition process (a proposal for which there is overwhelming public and professional support) would effectively remove this problem.
Read more about this issue in our series about trans people in Bristol and their struggles to access healthcare.