Bristol Covid cases stabilise but hospital admissions still on the rise as lockdown begins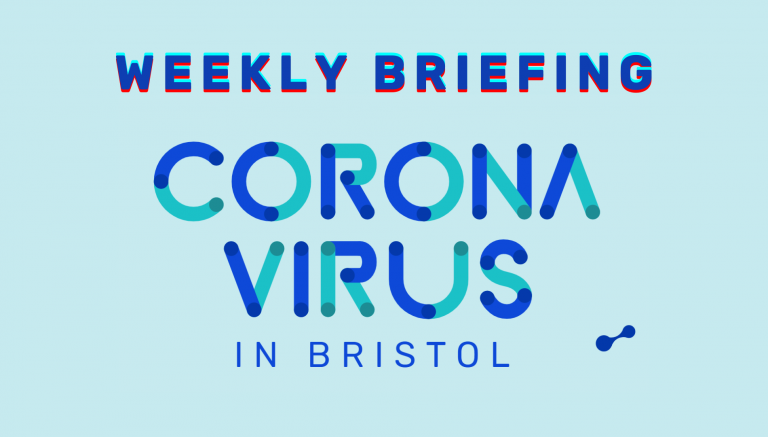 Cases of coronavirus in Bristol have stabilised following weeks of sharp increases, but patients being admitted to hospital have continued to rise.
Bristol's infection rate remains high at 382.8 per 100k people, as 1,774 people tested positive in the seven days up to 1st November, but this was only slightly higher than the previous week.
However, Bristol's NHS remains under considerable pressure as the number of people going into hospital with Covid-19 has continued to rise across the city's two NHS Trusts.
Bristol's infection rate puts it in the 20% worst affected local authorities in England. This lockdown is vital to avoid overwhelming the local NHS, as a recently leaked government report modelled the South West to be one of the first regions to be overwhelmed without a lockdown.
As lockdown has now begun, the number of positive cases and hospital admissions are expected to fall, but it takes a few weeks for the impact of stricter measures to be seen in the data.
Read below for the lowdown of how Covid-19 is impacting Bristol, as the city goes into Lockdown 2.
The latest data
NHS under pressure
📈 The number of patients with Covid in North Bristol NHS Trust, which runs Southmead hospital, has almost doubled in the last week, rising to 83. Over the same period, numbers increased by 25% to 51 at University Hospitals Bristol and Weston Foundation NHS Trust (UHBW), which runs the BRI and Weston General Hospital.
😷 This means the number of Covid patients in North Bristol NHS Trust has reached 77% of the peak reached in April of 108, while the current occupancy levels at UHBW are nearly 55% of the April peak of 93.
⚠️ The South West is one of the regions which would run out of hospital capacity first, according to leaked government modelling. The modelling projected that on 28 October, without a lockdown NHS capacity in the South West would be exceeded within two weeks, and surge capacity exceeded two weeks later, including using Nightingale capacity. The next steps would be cancelling non-urgent elective operations and reducing non-Covid bed occupancy, which would have given the local system another month.
🏥 Bristol's hospitals are currently experiencing high levels of demand as Covid admissions rise, according to the local CCG. A spokesperson for the Bristol Nightingale told the Cable that the temporary hospital remained on standby and whether it will take critically ill patients was under constant review.
✋ Both Bristol NHS trusts this week have suspended visiting at local hospitals in response to rising infections, and called for the public to do their bit by using the most appropriate service for their needs, avoiding A&E except for genuine life threatening emergencies, and supporting family members to return home as soon as possible.
📉 Despite Bristol's high infection rate and hospital admissions, deaths are low, but increasing. 10 people have died across Bristol's two NHS trusts in the last two weeks, compared with three in the previous fortnight. Meanwhile there were two deaths in the city's care homes in the last two weeks.
How Bristol is responding
🔒 Bristol Mayor Marvin Rees has urged Covid-weary residents to pull together and fight the virus during lockdown. He said he knows people are tired of following rules, and scared of what might happen next, but if people remember how the virus spreads – and do what's needed to halt that spread – the quicker we will get through the pandemic.
🔬 A new drive-though testing centre has been set up at Brislington Park and Ride in response to rising infection levels. This is an addition to other central testing facilities in the city, including the Victoria Rooms and Netham Park.
⛔ The first Covid marshals were on Bristol's streets yesterday encouraging people to follow the rules. They will be deployed onto buses and at bus stops following complaints people are flouting coronavirus rules and abusing public transport employees and shop workers. While the Covid marshals have no enforcement powers, they can report breaches of the rules. They can also signpost government guidance, clean touchpoints, hand out face coverings and hand sanitiser, manage one-way systems and queuing systems, prevent mixing in busy nightlife areas, and remind people to wear face coverings.
🍞 Bristol Food Union will restart its emergency food provision next week. The collective of restaurants and food businesses are fundraising to make meals for the National Food Service and getting Christmas hampers to families in need.
Breaking the rules
💰 The organiser of a rave in Yate attended by 700 people has been fined the maximum amount of £10,000 for breaching coronavirus restrictions. When police tried to shut down the Halloween event last Saturday they were pelted with bottles, with some officers suffering minor injuries. In total eight people, aged between 17 and 33, have been arrested in relation to the violence at the rave.
🚓 A tattoo parlour on Gloucester Road is under investigation for breaking coronavirus rules after staying open on Thursday. Aron Walton, owner of Holey Skin in Bishopston, has been an outspoken critic of lockdown, and Bristol Live previously revealed that his parlour remained open when he ignored NHS Test and Trace instructions to self isolate after a holiday in Zante in September.
🍺 The owner of the Jack of Diamonds on West Street in Bedminster has been fined £10,000 after dozens of people were found inside the venue last week, less than a week after they had already been fined for staying open past 10pm and ordered to close.