Lockdown gave a safety net for Bristol's hidden homeless… But many remain on the street this time round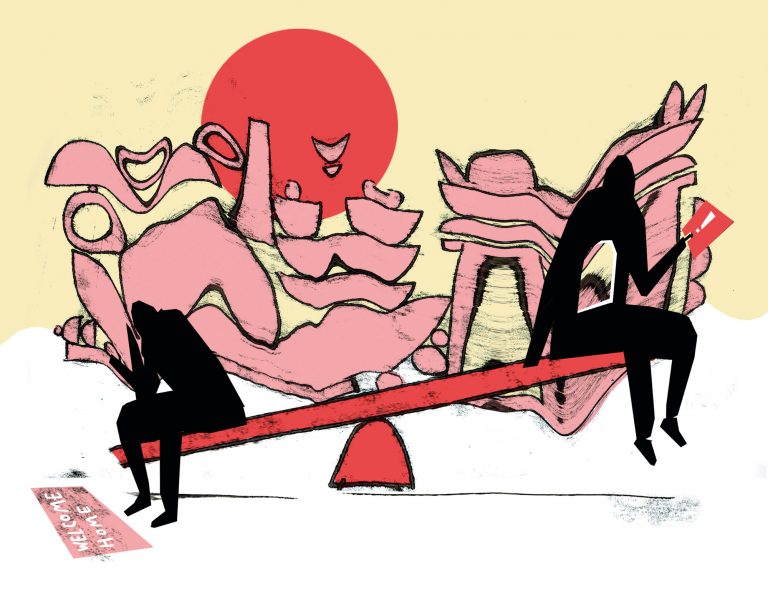 Illustration: Sophie Filomena
"It's been really tough, to be honest." I was talking to Alice Cutler, the welcome team manager at Bristol Refugee Rights (BRR), on the impact of the first lockdown on people she works with. "Lives were already hanging by a thread."
BRR is one of the organisations helping people in the asylum process, and other migrants, many of whom have no recourse to public funds (NRPF), barring them from accessing benefits, and other statutory services, because of their immigration status. As well as providing practical help, it is, when there isn't a pandemic on, a space for people to be with other people.
Life is hard when you're living on the edges of society and not allowed to work, rent or access any state support. People with active asylum claims have to live on £39.60 a week, while those whose claims have been refused rely on support from charities or friends, though some may be able to get some support under Section 4 of the Asylum Act.
Services like BRR help make people's lives "a bit more tolerable", Cutler told me. "[Coronavirus meant] we all just had to shut our doors – and apart from very minimal stuff – no one can work out how to open again, and the mental health impact of that is massive."
"[Pre-Covid] the poverty of being on asylum seekers' support was already [not] good at all, but now people are really, really struggling – we've had a lot of people suicidal."
But while the pandemic has worsened the already appalling situations of people with NRPF, it has also raised awareness of their plight and – thanks to the government's 'Everyone In' initiative, which saw homeless people rapidly housed during the first lockdown, albeit temporarily – has shown how solutions can be found with enough political will. We spoke to people working in Bristol's charity sector about the lessons of the past few months, and about their hopes and fears as to what might come next.
'Destitution by design'
The NRPF policy was introduced in 1999 before being expanded in 2012 as part of the coalition government's 'hostile environment' strategy. The measure, which affects some people with leave to remain, and everyone without, stops people renting, working, getting universal credit and accessing statutory services, including many homelessness services. There's very little safety net when you're someone with NRPF.
Jessie Seal, a campaigns and policy coordinator at No Accommodation Network (NACCOM), a national network preventing destitution among people seeking asylum, refugees and other migrants, called it an "incredibly cruel" policy.
"They do it so people choose to return to their countries of origin, and that isn't a viable option for many people," Seal said. She described the impact of NRPF as "destitution by design".
"It's devastating in that it prevents people from being able to help themselves," Seal added. "The system exists to make people destitute, and to make people destitute is to slowly kill them."
Not being able to afford the fees for a visa renewal, overstaying your visa, having your asylum claim refused, or even a delay from the Home Office can leave you with NRPF. It's estimated there are at least a million adults and a hundred thousand children who may be affected by the NRPF condition. Cutler said the reasons "are really varied, but because of the way the system operates, it's very easy to slip into being here without legal leave".
'An awful lot of people living underground'
When Covid-19 hit, people with leave to remain and NRPF who lost their jobs could not access benefits, making it very easy to become homeless. And, until the Everyone In scheme kicked off in March, they weren't eligible for statutory homelessness support. Anyone working informally – the only option for many without leave to remain who have NRPF – lost their only income source.
"If you've got NRPF but you're in the UK you've got to be surviving somehow, and a lot of those opportunities have obviously been shut down through lockdown," said Cutler. "People who might be helping out in restaurants or shops or car washes, there's a whole level of survival that's been shut down."
A lot of people who were precariously housed became fully street homeless during lockdown, because staying on friends' sofas or floors stopped being an option. Some who were living with hosts via charity Bristol Hospitality Network (BHN) had to leave as well, if they were staying with people at high risk from coronavirus.
"Most people just think if your asylum claim is refused you just get deported," said Laura Chester, hosting manager at BHN. "That doesn't really happen – there's an awful lot of people living underground." For council workers who aren't allowed to help people because of their immigration status, this is invisible homelessness.
'There's a lot of fear'
Against this grim backdrop, one positive development emerged: the temporary lifting of the NRPF policy, at least for accommodation. People with NRPF were included in the government's 'Everyone In' scheme, which saw most of Bristol's street homeless people placed in hotels during the peak of the first lockdown.
It was not all smooth sailing for people trying to access accommodation for the first time, though. "If the system is set up to exclude you, putting your head above the parapet is a lot more difficult to do," said Cutler.
Challenges include language difficulties and fear of hate crime, as well as not understanding what you're entitled to and where to go for help. For women with NRPF there's additional vulnerability. Many people had been bedding down on shop floors, or walking at night and sleeping in charity centres during the day, instead of risking sleeping on the streets.
The council was only taking referrals from verified rough sleepers, and charity workers say that, despite being eligible for hotel accommodation, at the start people were still turned away or asked to provide further proof of being homeless.
Tell your friends…
"We often hear that someone lets people stay in their shop or in their friend's cafe or restaurant," says Seal. "There's a lot of people who are very hidden homeless – [and] when they present at services seeking accommodation they are getting knocked back."
It's not possible to prove homelessness if you've never had a formal arrangement but have moved from friend to friend, said Cutler. "People offering a place to stay are very fearful of getting in trouble themselves."
Getting the message
Elinor Harris, BRR's advice manager, said there were some barriers to start with due to the council having never previously worked with destitute asylum seekers, because their immigration status excluded them from homeless provision.
Council workers got people with NRPF, both with and without leave to remain, into hotels, and have since worked with BHN to source move-on accommodation with host families.
"Bristol [council] have been great after a slow start, and are doing far more now than most local authorities to try and ensure people don't go back to the street," said Harris.
The first lockdown also saw refugee charities working more collaboratively across the sector and with the council to share information about this invisible group of homeless people.
"Normally we'd have 500 people a week come through our doors. Obviously that's completely impossible now, so now we're going to have to work together and see if we can meet as many people's needs as possible," she says.
But, despite the opportunity presented by the pandemic, people were able to access limited help, warned Seal. "Even when the local authority and the voluntary sector have pulled together to try and support people, [some] inevitably fall through the gaps and there is a limit to what they can provide."
Seal said that during the first lockdown, people not eligible for subsistence funding – so anyone with NRPF – were reliant on charities to eat, and were eating just once a day.
"It's great that some local authorities are accommodating people, but you can't leave people with no food and no money to buy food," Seal told me when the scheme was first launched.
'Shining a light on the reality of NRPF'
After the Everyone Scheme ended, BHN launched a hosting drive, aided by £5,000 from the council, to give move-on accommodation to people with NRPF, and the council continued to house around 30 people in hostels while they waited for hosts.
They received around 40 enquiries from potential hosts when they first put out the call, "which is amazing", said Chester. "It's lovely people are being generous and opening their homes to people they don't know during a pandemic."
For now at least, coronavirus has provided an opportunity for people to get out of the poverty trap caused by NRPF. With renewed calls to get rid of this policy, there is also a sense of hope that permanent change could be possible. "The pandemic has shone a light on the reality of NRPF," said Seal.
Local charity workers are optimistic too that council employees have built relationships with people they wouldn't have dealt with otherwise, which can result in lasting change.
While the new reality is still far from ideal, and questions remain answered, it's a step in the right direction, said Cutler. "We've been trying to make these arguments about the intersection between racism and homelessness status and how that presents on the streets of Bristol for years," said Cutler. "Partly because of 'Everyone In', and partly public health imperatives, there is a sense now that primarily you're talking about a person, rather than people being able to get too caught up in what somebody's immigration status is. If that can be maintained, that would be a great start."
What now?
Bristol's response to the 'Everyone In' scheme was a life changer for many who'd previously been invisible to homelessness services. But the scheme wasn't repeated this time round, leaving rough sleepers having to choose between the Covid-risk of staying in a hostel room or sleeping rough. It's not an easy choice to have to make as we enter the winter stretch of the pandemic.