Revealed: How Southmead Hospital is coping with Covid-19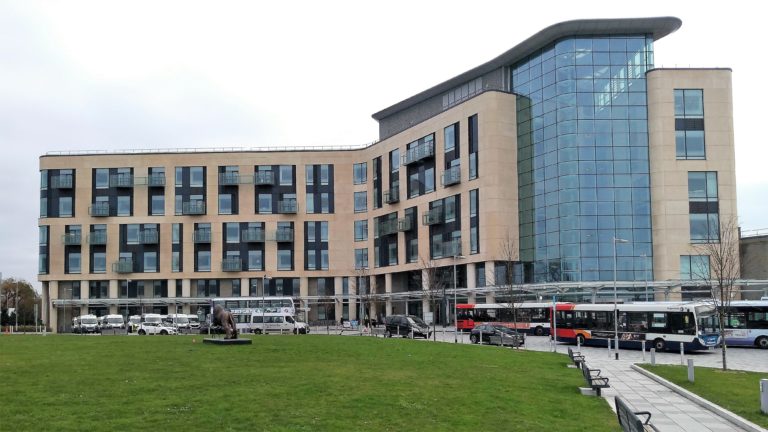 "The reason we're able to keep our heads above the water is that everybody is taking on extra work. All of us are doing overtime and helping where we can, but it's worrying because it's not sustainable over the long term."
'Enormous' rates of staff absence and hundreds of healthy patients taking up beds are putting Southmead Hospital under even greater strain while it cares for a record number of Covid patients, the Cable can reveal.
A recent outbreak on a Covid ward at the hospital led to more than 20 staff on a ward being infected and having to self-isolate at home. Meanwhile, at least four non-covid wards have been forced to close to new patients following positive cases.
As of yesterday there are 132 Covid patients at the hospital, which is higher than the previous peak of 108 in April. However, the recent surge in patients appears to have slowed after weeks of worrying increases, and one senior doctor said he expects the hospital to not be overwhelmed.
Staff said the hospital was half empty during the first wave, as non-essential care was cancelled and there were fewer Covid patients than expected, but now the hospital is almost full because of the extra Covid patients and more elective care continuing. 
With so few beds available, another cause of pressure is the hundreds of patients who are well enough to be discharged, but are taking up much-needed beds. Health bosses decided to cancel some non-urgent routine operations and outpatient appointments in the first week of November, but sources said more cancellations were likely if the number of Covid patients continues to rise.
Despite the record number of Covid patients, a senior doctor said there have been fewer patients dying or needing intensive care beds, because the demographics of patients has been younger than the first wave. The anti-inflammatory steroid Dexamethasone, which has been found to help dampen the immune system's response to Covid-19, has also improved treatment and helped shorten stays in hospital. 
Shortages of staff and beds
Hundreds of nurses at Southmead are off with Covid or self-isolating. A doctor told the Cable: "There's enormous staff absence. three weeks ago, when this was in its infancy, there were 370 staff isolating, either sick or in contact with someone who was. Now it must be way more than that. It's only going up."
Last week, it was reported that University Hospitals Bristol and Weston NHS Trust (UHBW), which runs the Bristol Royal Infirmary and Weston General, had lowered its minimum staffing levels in response to staffing shortages. The temporary measure changed the maximum number of patients cared for by one nurse from six or eight to 10 on all general adult wards.
Campaign Group NHS Workers Say No Bristol said the policy risked putting patients at risk and burning out overworked staff. The campaigners who previously organised a protest about NHS pay called on the hospital to reverse the change.
High levels of absence at Southmead have left some having to do overtime and care for more patients. A student nurse said she was having to care for 11 or 12 patients instead of eight. "It's a horrible feeling when you have vulnerable patients," she said. "When you have 11 patients, half of whom are incontinent, you know throughout the day you won't be able to cater to all of them, and they'll be hungry, wet or thirsty." 
Another Bristol doctor said: "The trusts are doing all they can but you haven't got the usual support networks of friends and family that keep you resilient as an NHS staff member. That's been stripped away. The mental health and wellbeing of the NHS is a real concern for me. The longer this goes on, the less we can take and the less we can bounce back."
With the hospital practically full, there are currently difficulties freeing up vital beds. This is because some care homes are now requiring a negative Covid test before accepting people following a wave of deaths in the spring, and because social workers who help make discharge plans are not currently based at the hospital.
The student nurse told the Cable: "I've had days where I've had eight patients, where five are medically fit to go home but they're for weeks waiting for a package of care or a care home bed."
The senior doctor said: "The consequence is that we've had up to 200 patients at any one time completely ready to leave, which means we can't care for the other people coming in who are waiting hours for a bed in A&E."
Winter pressures: Will the hospital be overwhelmed?
Southmead is on the highest of four tiers on the Covid escalation system because 15% or more of beds are occupied by patients with the virus. The number of patients has risen to the point where there are now five Covid wards.
But the senior doctor said he doesn't think the hospital will be overwhelmed even though patients are likely to continue to rise between now and Christmas. "It wasn't rising as fast as it was two weeks ago, but numbers are still going up. We're admitting a lot of people, but we're also getting them home, which is good."
"There's only so many times it goes up before it becomes unmanageable. My honest opinion is that I don't think we'll reach that point. I think it's levelling off. I'm hoping enough people now know someone with Covid that they take it seriously."
He said the hospital was "totally full" and that more than 250 Covid patients with lots of staff off sick would "cause the system to tip over", but that he expected numbers to level off around 150.
But the good news is that fewer Covid patients are dying and people are going home sooner. "I think it's because of the population of people getting sick. Last time it was largely the vulnerable and elderly who had awful outcomes, but this time it spread among students in Bristol and to people who were slightly older. It's more people 40-60 instead of 80-90. The people coming in are a bit of a younger crowd."
There has been some anxiety about how the NHS would cope with Covid on top of the usual winter pressures that have left hospitals at their limit in recent years. But multiple sources said the usual winter surge caused by respiratory illness is likely to be more manageable this year because of Covid restrictions. 
The senior doctor said: "Without Covid, we end up in a really bad place during winter. A lot of that though is respiratory viral illness and the Covid precautions should reduce the impact of that. We've had the biggest take up of the flu vaccine ever in the last decade. That winter surge with respiratory illnesses we get every year should be better this year. It's still going to be bad."
There appears to be no sign that the Bristol Nightingale is going to open. Multiple sources raised concerns about how the temporary hospital would be staffed, because it would have to take frontline workers away from already short-staffed hospital trusts. 
Another Bristol doctor said: "When it comes to looking after patients, it doesn't matter how many physical beds you have if you don't have the staff. We have such a shortage of nurses. During a pandemic, there is no resilience to flex to. You could open the Nightingale, but you would be reducing your capacity to look after patients at the BRI and Southmead because there are no extra staff."
Karen Brown, Chief Operating Officer at North Bristol NHS Trust, which runs Southmead Hospital, said: "The second wave of coronavirus combined with the considerable winter pressures that we experience each year has resulted in very high levels of demand for our services, but the safety of our patients and wellbeing of our staff is our first priority.
"We are doing everything we can to keep services running for our population; however, we have reluctantly had to postpone some non-urgent routine operations to allow us to safely care for patients.
"Our staff are doing a brilliant job and going above and beyond to deliver exceptional patient care, but as cases have risen in the community it is natural that they have also risen amongst our staff. As has happened across the country, and despite following expert national guidance at all times, this has resulted in a small number of cases of virus transmission within the hospital that have been managed effectively."
All the NHS staff interviewed for this article urged the public to avoid complacency and follow the rules, seek help for other health problems and help get their family members out of hospital where possible.
One said: "This second wave didn't have to be inevitable, it feels like we've been hung out to dry, because everybody thinks the NHS will keep on stepping up, the same way it does every winter."
"Please be patient with lockdown because they are what enables us as NHS staff to keep being able to care for our patients. We're gonna need that to be able to keep going this winter."