The corporate giants dominating our care system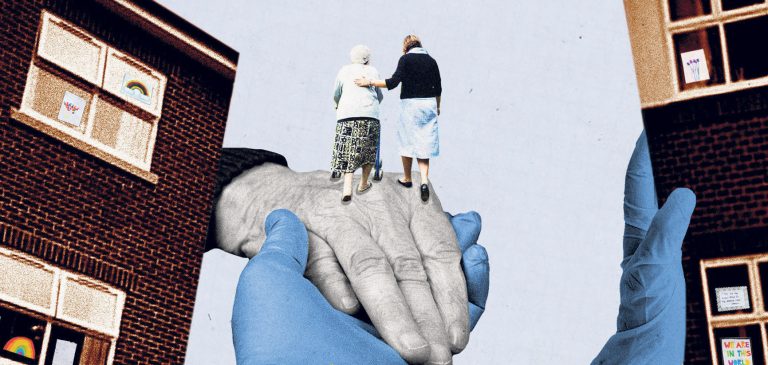 Additional research: Mike Campbell and Adam Cantwell-Corn
"While the NHS had debts written off and was pride of place in a government slogan, the care sector only came to prominence when tragedies started occurring. Care work has always been the poor cousin of the NHS," Steve Mills, a local organiser for the union Unison said back in May, as the scale of deaths within UK care homes during the initial coronavirus crisis became apparent.
Before Covid-19, residential care was already underfunded, staffed by overworked and underpaid workers, and ill-equipped to cope with pressure. How did a sector premised on caregiving get so little care in return?
Recent blows have come from rises in the minimum wage, which care companies claim is damaging their ability to invest, and in some cases survive; Brexit's impact on EU workers who make up a large share of the workforce, and a decline in funding for local authorities, which pay for 60% of care home residents to access care.
Margaret Thatcher's governments of the 1980s began the privatisation of care provision, compelling councils to put social care services out to competitive tender. This attracted investors, as a growing market for residential care was guaranteed: wealthy baby boomers, an ageing population and changes to family living arrangements. As local authorities have contracted out many services, the UK's provision has become among the most privatised and fragmented in the western world.
While the NHS is mostly publicly-operated and free at the point of access, social care is means-tested. Only people with the highest needs and lowest income are eligible for full local authority funding; others must pay their own way to a greater or lesser extent.
Over the years, austerity measures have devastated council budgets, even as an ageing population has fuelled demand, meaning social care services and contracts have been cut while jobs remain poorly rewarded. Across older people's social care, Age UK calculates there has been a £160m drop in public spending over the last five years. By 2020, around 1.5 million people aged 65 and above had unmet social care needs, the charity said in a Parliamentary briefing. It's one of the UK's most intractable political problems, with Boris Johnson claiming in his first speech as PM that he "will fix the crisis in social care once and for all".
Amid the squeeze, there are also powerful interests and investments at play. Residential care is dominated by corporate giants, raising serious concerns over public accountability, and around the ethics of the short-term profiteering of many of the larger private equity-owned care home owners.
A November 2019 report by the Centre for Health and Public Interest (CHPI), an independent think-tank, found the 'financial crisis' in the residential and nursing home sector was in part due to significant levels of "leakage" – money paid out on things other than providing care.
Some of the largest 26 providers use complex company structures, involving scores of subsidiary companies, while six have an offshore owner in a tax haven. With mounting debt taken on to fuel expansion, many face serious financial difficulties, with worrying implications for the sector.
The corporate grip on care in Bristol
Four of the biggest care providers in the country – all linked to tax havens and with bosses getting excessive executive pay – have adult residential homes in our city.
---

Bristol care homes: 7
UK care homes: 200
Barchester usually records 420 deaths each month throughout its network of care homes, but this figure increased to 1,200 in April 2020, with its CEO complaining that it had received no additional funding to deal with the coronavirus pandemic.
Offshore presence: Barchester is ultimately owned by Grove Group, a company based in the tax haven of Jersey. Grove is owned by three Irish billionaires.
Top directors pay in 2019: £915k
---

Bristol care homes: 2
UK care homes: 180
Four Seasons collapsed into administration early this year in April, after struggling badly under successive owners, Guernsey-based private equity group Terra Firma and Qatar's sovereign wealth fund. The company hit the headlines in Bristol in April 2019, when their Whitchurch Christian care home shut down after appalling conditions were uncovered by the Care Quality Commission.
Offshore presence: Parent company is Elli Investments Ltd (Guernsey). Four Seasons has 181 companies in its complex structure, which stretches from the Caribbean by way of the Isle of Man.
Top director's pay in 2019: £897k
---

Bristol care homes: 1
UK care homes: 340
The firm paid out more than £48.5m in dividends in the past two years, but has paid no corporation tax in the UK as of 2019. A major investor is the Dubai-based Safanad Inc, a private equity firm chaired by the former CEO and Chairman of The National Commercial Bank of Saudi Arabia.
Offshore presence: HC-One has a complex corporate structure, with 50 companies, six of which are registered offshore either in the tax havens of the Cayman Islands or Jersey and a further five in the UK as foreign entities.
Top director's pay in 2019: £809k
---

Bristol care homes: 3
UK care homes: 110
The co-founder and former chair of Care UK, John Nash is a major Conservative Party donor. In 2009 Nash's wife donated £21,000 to the personal office of Andrew Lansley, who'd later become the Health Secretary. Lansley was later accused of a conflict of interest, because Care UK was a major beneficiary of the Health and Social Care Act 2012.
Offshore presence: Care UK was bought by American private equity firm Bridgepoint Capital in 2010 in a £420m deal. Bridgepoint Capital made a partnership with Silver Sea, a company based in the tax haven of Luxembourg, to construct care homes. In 2018, Care UK paid Silver Sea £5.2m in rent.
Top director's pay in 2019: £800k