Revealed: Fresh concerns over potential racial profiling of British citizens by Home Office prompt renewed calls for change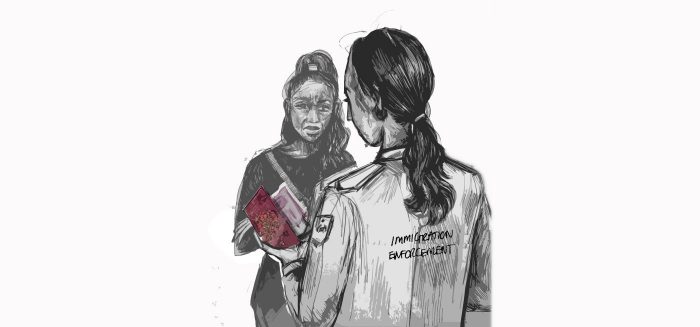 This article is published in partnership with VICE World News.
Illustration: Jazz Thompson
Thousands of British citizens were stopped by immigration enforcement teams in nine major UK cities, more than any other nationality over the past two years. British citizens cannot commit such immigration crimes.
Recent Home Office data obtained by VICE World News follows previous revelations by the Bristol Cable in 2017 and 2019 that prompted concerns and calls for change by leading politicians, campaigners and lawyers.
The revelations have cast doubt on continuing official claims that such operations are all 'intelligence led', and sparked fresh concerns about racial profiling and questions on why so many Brits are being stopped.
In many of these cities, including Manchester, Glasgow, and Cardiff, British citizens counted for more than one in five of the total stops. In Leeds and Nottingham, it was one in four.
MPs and equality groups have called on the Home Office to start to record data on ethnicity of individuals stopped. The Equality and Human Rights Commission has now said that as well as nationality, the Home Office should collect ethnicity data to monitor racial profiling, in the same way as police forces are required to do for stop and search."the Home Office haven't learnt"
Bell Ribeiro-Addy, MP for Streatham in London, said that "the first step towards addressing any problem is actually accepting that it exists. This data should be an impetus for the government to start collecting ethnicity data for its immigration stop and checks and other hostile environment policies."
Britons were the most stopped in nine of the biggest British cities of Leeds, Nottingham, Cardif, Manchester, Glasgow, Sheffield, Newcastle, Liverpool and London.
In Bristol, data shows that British and Bangladeshi nationals were jointly the most stopped while in Birmingham, British were the second highest after Indian nationals. Across the 11 cities Brits were stopped over 3,000 times between January 2019 and September 2020 out of a total of 19,000 of all stops involving other nationalities.
The Home Office said that Immigration Enforcement operations include visits and stops and "play a critical role in detecting and deterring immigration abuse and reducing the harm caused by illegal immigration, such as modern slavery, people trafficking and smuggling".
A spokesperson said that they do not carry out "random" visits or stops and that "all our operational activity is intelligence-led".
However, in 2019 and 2020, even of all non-British nationals who were stopped and checked by immigration officers across all cities, on average 80% were not then arrested.
Renewed calls for change
The figures, which cover the period between January of 2019 and September of 2020, come less than a month after Britain's top equality watchdog found that the government's "hostile environment" immigration policies broke equalities law, and called on Home Secretary Priti Patel to take "meaningful action."
Concerns around racial profiling during immigration enforcement operations, which the Home Office has always denied, go back to at least 2013. The Equality and Human Rights Commission (EHRC) wrote to the Home Office that year regarding concerns around racial profiling during operations at public transport hubs.
Previous investigations following a seven month Freedom of Information battle by the Bristol Cable and the Bureau of Investigative Journalism first showed the extent of such checks over the period January 2012 to November 2018 and led to concerns about potential racial profiling from legal experts and MPs
The new figures released today, which cover up to September 2020, suggest "the Home Office haven't learnt from previous immigration enforcement operations where concerns over racial profiling were raised," Sheffield Central MP Paul Blomfield said.
"It's vital that the Home Office get their house in order, and use proper intelligence to carry out their work. Immigration enforcement must be based on evidence and not the 'hostile environment'.
Gill Furniss MP, Member of Parliament for Sheffield Brightside and Hillsborough called the new figures "deeply troubling" and said the "Home Office needs to urgently review its practices".
"Tragedies such as the Windrush scandal underpin the need for trust in the Home Office to be rebuilt within our minority communities, however as this data shows British citizens are still being stopped and questioned in immigration enforcement operations."
Independent. Investigative. Indispensable.
The Cable is Bristol's independent, investigative newsroom. Owned and steered by 2,500 members, we produce award-winning journalism that digs deep into what's happening in Bristol. Investigative journalism strengthens democracy – it's a necessity, not a luxury.
As a members co-op, democracy is built into everything we do. We're 100% owned by thousands of Bristol members.
If we can triple our membership, this funding from the people of Bristol would make the Cable completely sustainable.
Join the Cable today
Responding to the investigation, a spokesperson for the Equalities and Human Rights Commission said that the suggestion of racial profiling was "concerning", but that they would need more information to determine whether people have been victims of racial profiling.
Despite calls to change practices in order to better safeguard against racial bias, the Home Office still does not collect ethnicity data during immigration enforcement stops. This is unlike police forces when carrying out stop and search, which has evidenced wide-scale disproportionate impact on BME people.
The EHRC said: "Collecting race data would help the Home Office understand the impact of its immigration policies. It should collect and use this data wherever possible, and in line with data protection safeguards, to make sure it can meet its obligations under the Public Sector Equality Duty".
Intelligence-led operations?
The figures also show that a small number of British nationals were arrested during the stops. The Home Office said this could happen if someone committed a criminal offence such as obstructing an immigration officer, or were found to have committed an unrelated crime. They may also be arrested if they show "an adverse reaction to an immigration presence" by attempting to flee, but will be de-arrested as soon as their nationality was established.
Various reports have cast doubt on the intelligence used in immigration enforcement operations. Previous reports from the Independent Chief Inspector of Borders and Immigration (ICIBI) have found that over two-thirds of immigration raids on workplaces found no illegal workers, while another found that over two-thirds of enforcement intelligence relies on allegations made by the general public.
Responding to the new figures, Liberty, a leading human rights organisation, said they "provide yet more evidence that the hostile environment should end for good".
The hostile environment inevitably leads to racial profiling and structural discrimination because "the system is racist to its core," Jun Pang, Liberty's policy and campaigns officer, said.
"This isn't the only way the hostile environment embeds discrimination in society – it also continues to block migrants from accessing vital public services like the NHS every day, while subjecting them to continual fear of raids, detention, and deportation."