These furloughed pub staff are providing fresh food and hope to families in need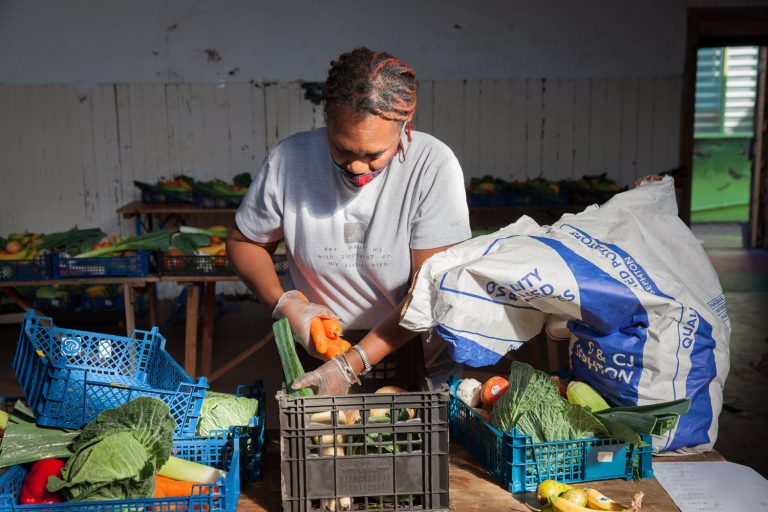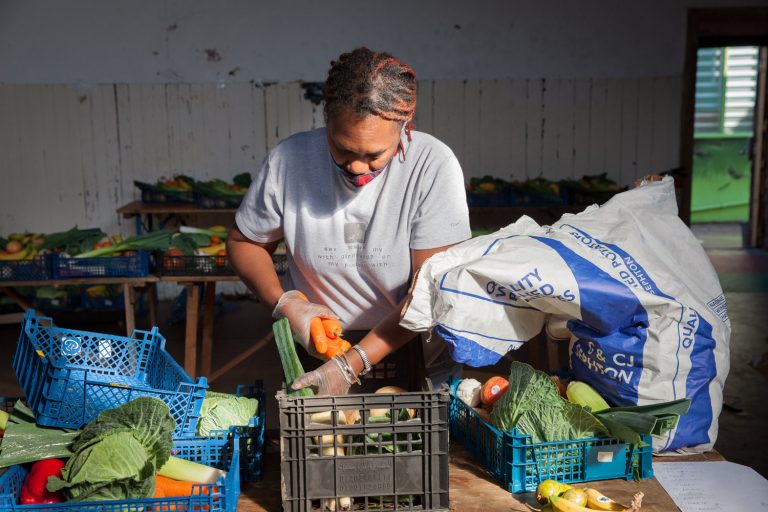 When I get to parish-hall-turned-performance-space, All Hallows Hall, The Human League's 'Don't you want me baby' is belting out the door. Volunteers are moving between five rows of trestle tables filling the hall, sweeping and sorting the last of the crates. This is the main site for Community Care Package, an initiative set up at the start of the first lockdown by staff furloughed from Easton pub The Plough and now run by half a dozen pubs in Bristol.
They kept the scheme going when pubs reopened in the summer, despite the challenges of doing hectic voluntary shifts in the morning alongside their night shifts. Referrals shot up when we went back into lockdown in November, and the economic impact of Bristol now being in Tier 3 means that schemes like this are going to be needed for a long time. Two weeks ago they were sending out 400 boxes, this week it's 550.
Mayor Marvin Rees has warned about the financial implications on hospitality businesses in Bristol, saying that the legacy of coronavirus will be felt for many years. More than a million households were destitute at some point last year, and think tank the Joseph Rowntree Foundation is predicting that number will double this year because of coronavirus. It's a sobering thought.
The scheme started off as just a one-off donation of the pub's leftover vegetables at the start of the first lockdown to ill staff and people who the owners and managers knew were shielding. They'd seen the way things were going, decided the pub wasn't big enough for customers to distance from each other and closed a week before instructed to, so had food to get rid of from the suddenly closed kitchen. Then they went a step further and made up veg boxes for other people they knew in the community that might need them – older customers and people who were shielding.
"And then it just built from there," says Harriet Waters, who normally works the bar at the Plough. She tells me it was "just a natural progression" from closing the pub. "The pubs were closed and everyone wanted something to do. It was quite good for all of us 'cos it kept us all really busy over lockdown. Most of us are used to doing so many hours of running around a week so it was a bit abnormal to go and do nothing."
She's normally a bar manager, but since she's been furloughed she's one of the dozen or so staff to be volunteering for the project and has moved her organising skills to coordinating volunteers, liaising between the buyers, packers and drivers, and planning delivery routes.
"The first time we did it it was literally just me with a piece of paper with people texting me addresses," she says, which she would then scribble down and hand to the driver, hoping they were all more or less in the same area. It's evolved into a slick operation since then, with teams working across several sites – All Hallows Hall led by the Plough staff, and half a dozen pubs around Bristol.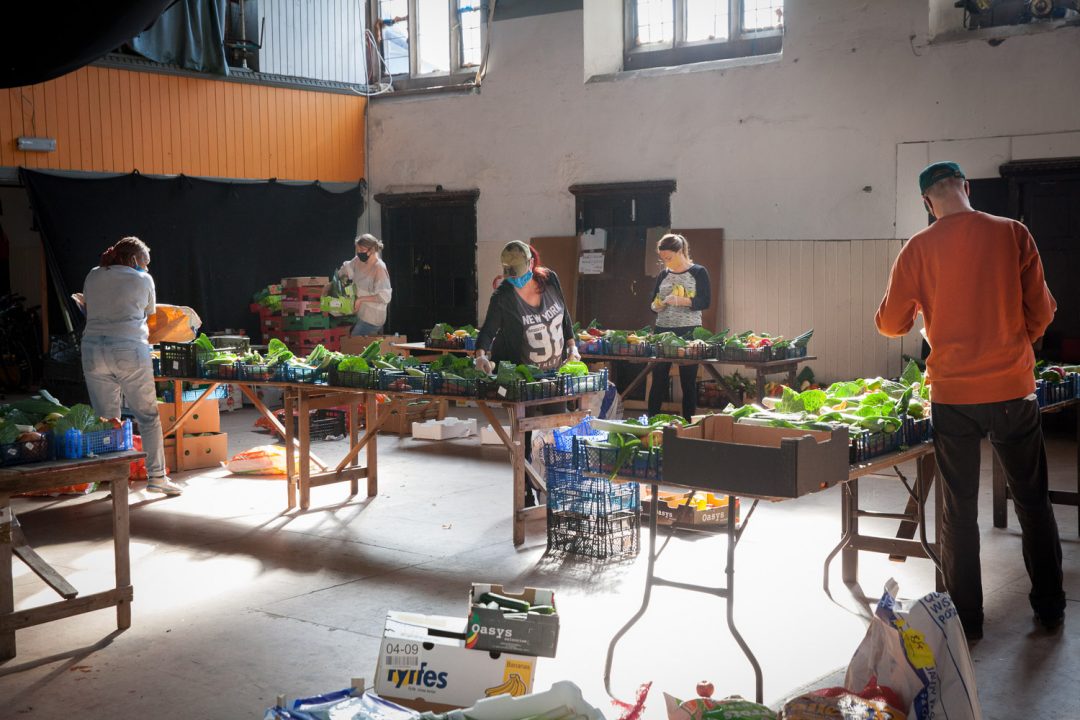 We're perched on bar stools at one end of the hall while the packers are finishing up around us. The tables are covered with dozens of boxes of fruit and vegetables, each made up identically. All Hallows Hall, where the Plough is operating from, is the biggest site in the operation, but there are similar scenes in four other pubs involved in the scheme: the Star and Garter, the Greenbank, The Lion, the Pipe and Slippers and the Love Inn.
"I really do commend the other pubs," says Waters. "It's quite a feat for them to do this in the mornings [before opening in the evenings]. It's a lot more hard work if you don't have a massive floor space."
I've been told to come around 11am, when things are quieter. The volunteers who are responsible for making up the boxes are finishing up and the drivers will soon be arriving to find out their routes.
The boxes go out on Tuesdays, and Waters spends up to seven hours on a Monday grouping the lists of addresses and sorting them into around 33 routes for drivers. On Tuesday morning the buyers start early, with four teams of vans heading to the market around 6.30am. Volunteers come to make up the boxes and when they've left the drivers turn up – one at a time to minimise risk – to find out their route and grab the boxes. Around 400-500 boxes get sent out a week, with the Plough team doing 200 boxes and the other pubs doing the rest across their sites.
To date, they've handed out 20,389 veg boxes, all paid for by donations, fundraising and grant money. As well as self-referrals, they provide veg boxes to local charities, including Aid Box, Project Mama, the National Food Service and BASE & Roses. Since March, they've raised £43,485.95 in donations, £22,357.24 from a raffle and £5,000 in grants to keep the initiative going.
Waters says they got a surge in donations when the government announced they wouldn't be providing free school meals for children during October half term, which they later U-turned on. "We put a post out just after that and everyone was like 'yeah! Screw the Tories! Let's feed people. For once the Tories helped us out on that one," she laughs.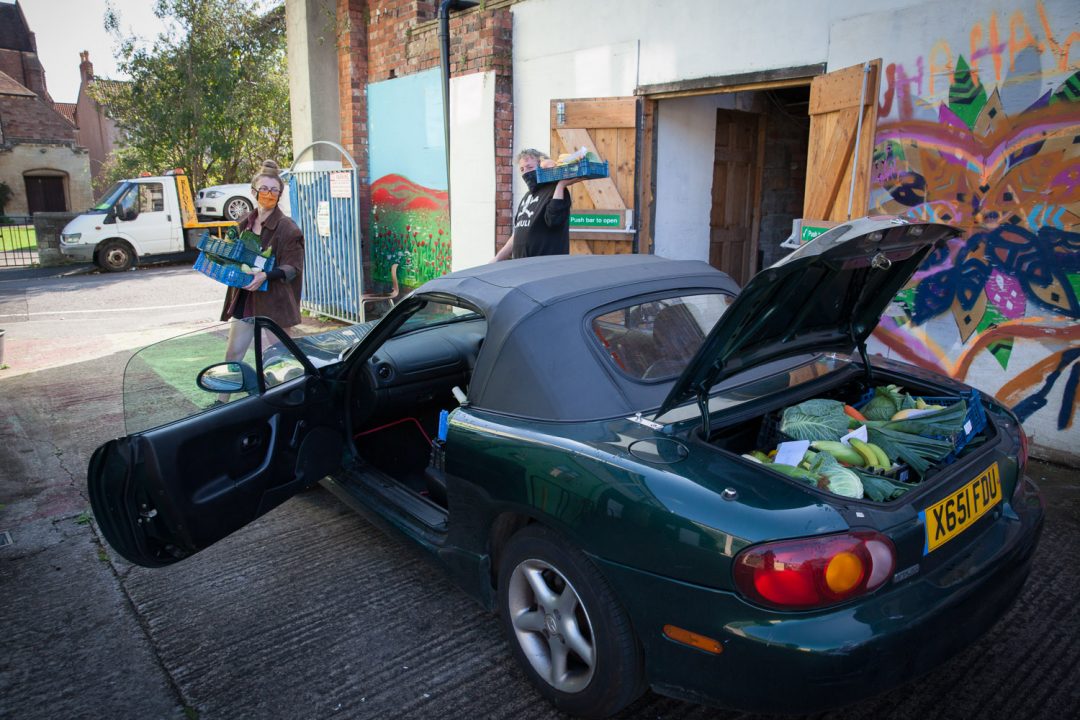 The need isn't going anywhere
The pubs continued between the two lockdowns when staff were back at work, which Pato, landlord of the Pipe and Slippers, said was hard, with staff juggling the volunteer work with their shifts. He tells me about a couple of staff who came in "absolutely done in".
"It's a hell of an undertaking: Eight months – every week over the whole city. It's a big thing," says Pato.
However, "there's certainly no plan to stop." The pubs are all working out how they're going to get through the next months, and then reassess in March, which is pretty much what they've been doing this whole time.
"Nothing's really changing. The need's still there, so let's keep going," says Waters.
Waters says that the scheme provides fresh fruit and vegetables for elderly people and vulnerable people who can't get to the shops and don't have a support network to do it for them, "And then there's just people that are skint isn't it? People who have lost their jobs or self-employed people that haven't got the support. There's quite a lot of people that have had to go onto benefits but there's that huge gap between them applying for it and it coming in, and in the meantime they're meant to just eat air."
"The need for this isn't going to go away when the pandemic winds down, people are always struggling. Coming off the back end of 10 years of austerity, people are already struggling. The fallout from this is going to be going on for a while," says Pato.
The staff who've joined efforts to provide fresh vegetables during this period are providing for more than just a physical need. "It's important in that it gives people a sense of hope that there are people looking out for them," says Pato.
To donate to the Community Care Package, visit their fundraiser and to refer yourself (it isn't means tested) use their online form. You can also support by buying a veg box for £10, £5 of which goes to provide one for someone who needs it.