The Bristol Briefing: Bristol leading way on vaccinations but Covid deaths rise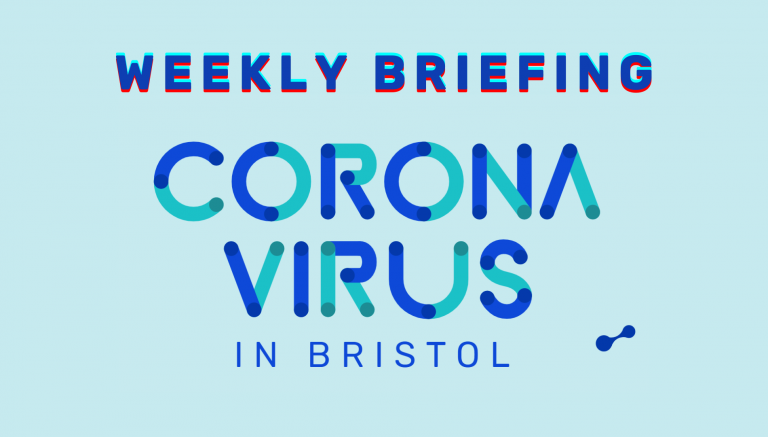 Covid-19 latest
? The UK has the third highest Covid vaccination rate in the world of countries with a population above 1 million people – with 11.67% of the population given a vaccine dose.
? The UK also has the third highest number of deaths per capita population in the world, with the milestone of 100,000 deaths with Covid passed this week.
? Bristol's infection rate has fallen again in the last week – by a further 27% to 306 per 100k people, with 1,417 new cases in the week to 24 Jan.
? The South West has the highest Covid vaccination rate in England so far, with 16.66% of adults here given their first dose (772,852 doses), compared to the England average of 15% of adults. In Bristol, North Somerset and South Gloucestershire 105,471 first doses have been given out. 86% of over-80s in the region have had their first dose, and 80% of care home residents have been vaccinated.
? There were outbreaks of Covid cases in 41% of Bristol's care homes last week, and 10 residents died with Covid. While the number of Bristol care home deaths is higher than two-thirds of local authority areas in England, some have registered extremely high totals, such as 104 deaths in Surrey and 95 in Kent.
? Lockdown is being effective but "slower than previously", Bristol's director of public health Christina Gray said this week. "We just need to keep driving those levels down to the sorts of levels we had in the summer" she said, "and hopefully in two or three months, we'll be in a place where we can begin to look at the world a little bit differently." (Source: Local Democracy Reporting Service)
? The number of people in hospital with Covid locally is finally showing signs of having reached its peak, with admissions falling. However the local NHS remains "under extreme pressure", with 384 people currently in hospital with Covid, and 128 patients dying with Covid since the start of January.
⏸️ Thousands of patients across Bristol have been waiting more than a year for treatment after their non-urgent procedures were put on hold. At the start of the pandemic in March 2020, 123 people were in that position, however by November that had risen to 4,310 people, mainly due to elective producers being cancelled due to Covid. Fines for the NHS of £5,000 per patient waiting more than a year have been suspended. (Source: LDRS)
?️ Dr Gamal Osman, a Bristol Acute medicine Consultant, died on Thursday, following a prolonged time in intensive care with Covid. Dr Osman, who was in his early sixties, was a Consultant at North Bristol NHS Trust. The team on the Acute Medical Unit said he was "committed to continuing to care for acutely unwell patients with COVID" despite knowing the increased risk to BAME and older people, and losing his brother to Covid in September.
Bristol round-up
? Bristol's Clean Air Zone would bring air pollution down to legal levels by 2023, and reduce car journeys in the city centre by 6% this year, according to data modelling released by the council. The report also showed weekday traffic in key city centre locations fell by 18% during October 2020 compared the previous year. But traffic is increasing on Marlborough Street and Rupert Street/Lewins Mead, as drivers have to re-route because of the new measures, such as closing Baldwin Street to cars.
? A Bristol City Council proposal to lend its house-building firm £10million and approve its companies' business plans was pulled at the last minute. Scrutiny councillors had raised alarm bells less than 24 hours earlier about the financial viability of Goram Homes because of the turbulent state of the property market. (Source: LDRS)
? The West of England Combined Authority has confirmed it will bid for Bristol Port to become one of 10 UK free ports. The idea is to encourage economic activity, as companies using free ports can pay little or no tax, but critics have warned about it enabling tax avoidance and organised crime.
? Bristol Waste seriously considered keeping polluting bin lorries, despite facing more than £250k annual charges when the new Clean Air Zone is expected to come into force. The company has now decided to replace the 23 lorries to save money and avoid the company being put in a bad light by "failing 'to do the right thing'". (Source: LDRS)
?️ Green councillor Clive Stevens has announced he is standing down because of "long-term, chronic stress". He was elected to represent Clifton Down in 2016 and received kind words from councillors across parties following the announcement. (Source: LDRS)
✋ More than 200 local residents have objected to plans for a digital billboard on Parson Street in Bedminster. Campaign group Adblock Bristol criticised its intrusiveness and the environmental impact it would have due to the energy required to power the new digital display, which would replace four existing billboards on the junction between Bedminster Down Road and Parson Street.
? British Gas workers will be picketing on College Green today over their employer's decision to impose contracts with lesser terms and conditions under fire and rehire circumstances. Union GMB is demanding that the threat of fire and rehire is removed, and that the company return to negotiations.
? A bus driver has suffered burns to her eyes and now faces deteriorating eyesight after a passenger threw a flare in her face. Police are appealing for witnesses of the incident which occured on Wednesday 30 December in the Union Street area. A 14-year-old boy has been arrested on suspicion of causing grievous bodily harm with intent and released under investigation.
The Cable's climate crisis special is out now
It won't be available in as many places this time, for obvious reasons, but if you join for £3 a month, you will get the latest edition direct to your door!