'Not guilty' plead the Colston 4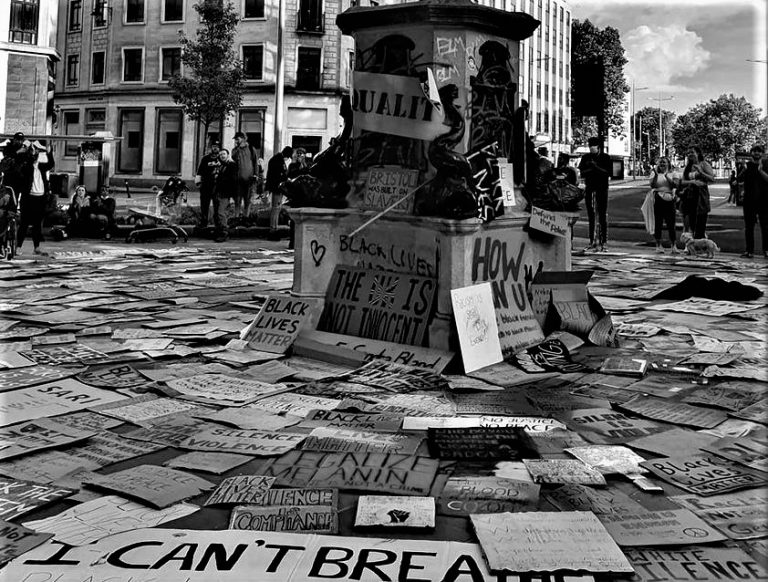 Photo credit: Rohan Roy
Half a mile from the vacant plinth, the trial of the 'Colston 4' began this morning. A crowd of press and police gathered outside a frosty Bristol Magistrates Court as Jake Skuse, 36, Rhian Graham, 29, Milo Ponsford, 25, and Sage Willoughby, 21, filed into the courtroom.
The statue of 18th Century slave trader Edward Colston was pulled from his plinth, rolled and plunged into the river by protestors during the Black Lives Matter protests in Bristol on 7 June last year. The controversial statue – the centre of furious debate for decades, was pulled down in an afternoon of direct action.
In October, following police appeals for information about the topplers, six people admitted their involvement in the toppling and accepted a 'conditional caution'.
In court, the four were charged with 'criminal damage to property valued under £5000' pleading not guilty, in front of District Judge Lyn Matthews. Given the option, they elected to be tried in front of a judge and jury at the Crown Court.
Raj Chada, head of criminal defence, and Laura O'Brien, associate at the high profile law firm Hodge Jones & Allen, made a statement on behalf of three of the defendants: "We will fight these criminal charges vigorously on behalf of our clients. We are committed to defending them and their right to a fair trial in this important case."
The Colston 4 will now appear in Bristol Crown Court on 8 February.