'When you're facing what feels like the 'wrong' puberty, it can seem like the clock is ticking too fast'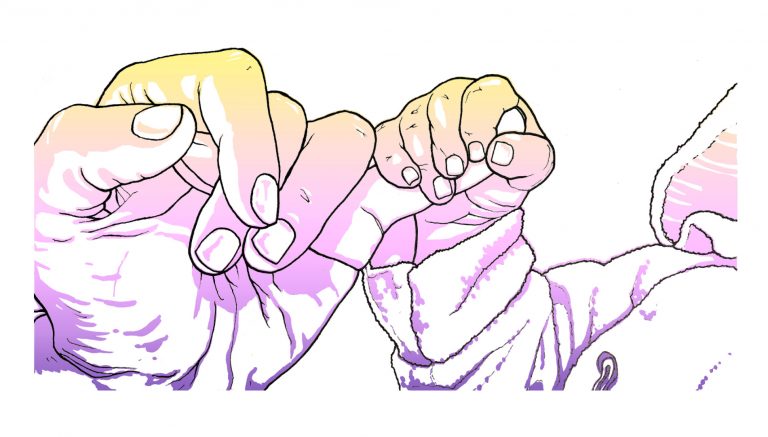 Amendment: This article has been amended to add more context on the ruling on the Tavistock Trust's Gender Identity Clinic and more information about puberty blockers to better reflect the debate around this clinic and puberty blockers. The headline has also been amended to more closely fit the focus of the article.
The Cable's Spring print edition will include a clarification that this article should have been categorised as an opinion piece in the previous addition.
Illustration: Sage Brice
I recently interviewed Jacob, a young transmasculine dad, about his experience of pausing his testosterone treatment to conceive a child with his husband.
Reproductive futures can be a painful topic for trans people. It's also a popular focus for anti-trans campaigners, who argue that gender-affirming medical treatment 'denies' trans young people the right to have genetically-related children later in life.
In a recent case brought against the Tavistock Trust – the only NHS service providing gender-related care to young people in England – High Court judges ruled that children under 16 were unlikely to be able to give informed consent for medical treatments relating to their gender.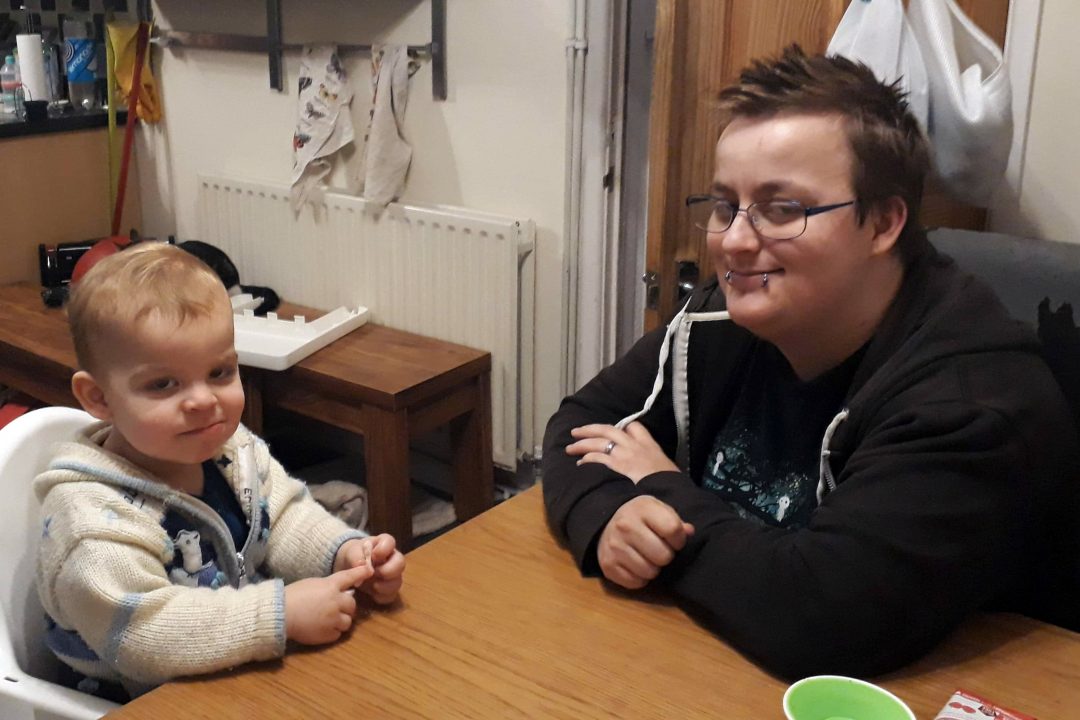 The centre's gender identity development service, has just been rated inadequate by the Care Quality Commission (CQC), highlighting overwhelming caseloads, deficient record-keeping and poor leadership*. The service has long been struggling under an unmanageable caseload with insufficient funding and resources. Now it is caught between critics from both sides – trans advocates claim it is not doing enough to help trans young people, while so-called 'gender critical' campaigners are doing everything they can to stop it in its tracks.
The fear that young people might make hasty, irreversible medical decisions which could harm their future ability to have children makes for a compelling and relatable story. It's easy for an uninformed reader to pick up this 'concern' without thinking to question the reality behind it.
But treatment with puberty-blockers (see box-out) is reversible, and lawyers for Tavistock maintain that they are widely deemed safe and medically necessary", although NHS guidance was changed last year to state that any long term side effects of puberty blockers are little known*. And far from being a 'conveyor belt', the assessment process is already not only rigorous, but hampered by severe delays.
Adding additional legal obstacles to this process will make timely treatment even less accessible. Children and families have been plunged into despair since this unexpected ruling on the Tavistock Trust took away their hope of access to medical care.
Withholding treatment forces young people to make difficult decisions alone
I spoke to Jo Maugham of the Good Law Project who is supporting a teenage boy's legal challenge to the NHS over unethical delays, which can range from 18 months to four years for a service, which should legally be provided within 18 weeks.
"Withholding puberty blockers, or imposing a long waiting time, is like having a five-month waiting list for abortion," Jo told me. "It's not delaying treatment, it's effectively denying it."
Linking this case to wider questions of reproductive justice is not mere speculation. The lawyer acting against Tavistock has a substantial portfolio of anti-abortion cases, including a failed legal challenge to prevent pregnant under-16s accessing abortion without parental knowledge.
The key thrust of the Tavistock case, however, is the argument that gender-questioning young people who go on from puberty-blockers to cross-sex hormones or surgery might hypothetically, later in life, regret their transition and their inability to conceive.
"Underlying this approach is an unspoken belief that being trans is not a real thing, but a fad which society collectively should not indulge," Jo stresses. "And that assumption is fundamentally transphobic."
Jo's fear is that by not providing a supportive and well thought-through pathway, the NHS risks driving young people to self-administer medication procured from poorly-regulated suppliers, and without access to therapy, monitoring for safety and potential side effects, or the opportunity to make informed choices about their reproductive futures.
In this scenario, young people end up making difficult decisions alone, unsupported, and more quickly than they might have done with appropriate guidance.
Creating a hostile environment for trans healthcare destroys the parenting dreams of many trans people – of all ages
If we are concerned for reproductive futures, then obstructing access to gender-affirmative healthcare is counterproductive. In practice, creating a hostile environment for trans healthcare destroys the parenting dreams of many trans people and their partners, of all ages.
For one thing, trans people frequently lack access to timely and accurate health information when starting out on our various journeys. As Ailbhe emphasised in a previous interview, "medical information and support should be available to us so that we can live our lives and not continue to feel alienated, pathologised, and dysphoric".
In most cases, we end up educating our healthcare providers, rather than the other way round. For example, many GPs don't know that in certain circumstances they can prescribe temporary hormone treatment to trans people waiting for their GIC diagnosis.
This is a problem when what we don't know can hurt us – as is sometimes the case with reproductive side effects of transition. Trans people are often required to live openly in their 'preferred' gender for a year or more before doctors will consider medical treatment such as hormone management. To fulfil this requirement, many trans women and transfeminine people, for example, 'tuck' our genitals so as to prevent a visible front bulge.
This can be necessary in order to feel safe, comfortable and dignified under public scrutiny, or to alleviate feelings of dysphoria. What many women don't know until too late, however, is that the process can significantly impact fertility.
NHS guidelines acknowledge that hormone management can compromise fertility, and recommend that trans women should be able to access cryopreservation of gametes (sperm or eggs) prior to treatment. In practice, this service is rarely authorised by local funding bodies.
Madeleine, a freelance stage manager in Bristol, was refused cryopreservation when she was 17. Although she eventually accessed an alternative service, this meant a ten-month delay to starting hormones, at a critical time in her life. Sian, a student, ended up going private for cryopreservation, which was not only expensive but involved coming off hormones, with a long delay while she searched for a (relatively) affordable clinic.
Even where this policy is respected, however, a formal diagnosis is required to access the treatment on the NHS. Even in the best case scenario (that is, disregarding the years-long delays currently affecting GIC services), this effectively ensures that a trans woman will likely have incurred damage at least a year prior to becoming formally eligible for treatment.
For trans men and transmasculine people, the prevailing medical approach has long assumed that medical transition automatically involves a hysterectomy (removing the womb). While for some this surgery is a desired outcome, for others it is an unnecessary invasive operation that makes pregnancy impossible.
There is no medical imperative to remove the dormant uterus unless a complication develops – a relatively rare occurrence. Instead, this unofficial policy seems to arise from outdated binary ideas about sex and gender.
The growing number of trans fathers who – like Jacob – choose to carry and birth their own children shows that this is nonsense. It is important for trans and non-binary people to be supported in reviewing all options and making informed choices when considering medical transition. This applies, regardless what age a person begins their transition journey.
In fact, if young people's reproductive futures are the priority, then making life difficult for those who want to access gender-affirming medical care may have the opposite of the desired effect. Creating a hostile, suspicious environment for trans young people puts excessive pressure on them to take up and defend a definite, fixed and binary position about their identities and desires for the future.
Knowing it's going to take all you've got to fight for access to healthcare may be a deterrent for the fainthearted, but for most of us all it does is deny us the chance to explore our natural doubts and uncertainties in a safe and supportive environment.
*Added or amended
This is part of the Struggle for trans healthcare equality mini-series, looking at issues affecting local transgender, nonbinary and gender-diverse (trans) communities, driven by people's lived experiences.