The Bristol Briefing: Cases down, hospital admissions and vaccines up, plus the Colston 4 trial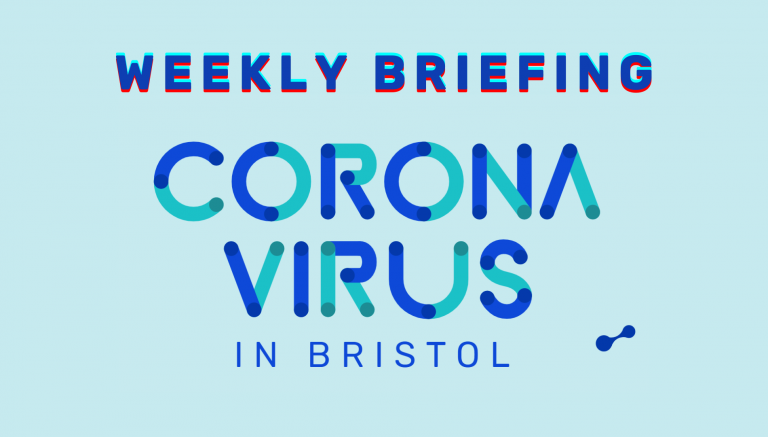 Covid-19 latest
? Cases in Bristol have fallen by 15% in the last week, to 419 per 100k people, down from 494. Bristol's rate is lower than England's current rate of 473 per 100k people, which is also on a downward trend.
?70.6% of over-80s in Bristol, North Somerset, and South Gloucestershire have received their first Covid vaccine dose, one of the highest percentages for areas in England. Almost 14% have received their second dose. The Government strategy to delay the second doses, in order to give the first dose to all in the top priority groups first, is facing growing calls from healthcare experts to be reevaluated.
? The number of Covid patients in Bristol's hospitals has risen by another 20% in the last week to 430, while the number unwell enough to require mechanical ventilation rose by 52%, to 64. Both are the highest numbers the hospitals have experienced so far. 92 have died with Covid in Bristol's hospitals since Christmas Day.
?Military personnel have been brought in to provide support in hospitals in and around Bristol, including the BRI and Weston General. A mix of combat medical technicians and soldiers will work in wards and other roles including family liaison and porter duties.
❌ More than two in three people on low incomes have been refused payments of £500 aimed at helping them self isolate. Bristol Mayor Marvin Rees said the Government's criteria were too strict, but admitted Bristol council's "phenomenally stretched" finance team was delaying payments being processed. (Local Democracy Reporting Service [LDRS])
✂️ MP for Bristol South, Karin Smyth, has slammed government plans to cut the Covid-related increase to Universal Credit. If introduced, the cut of £20 a week would affect 11,440 people who claim Universal Credit in Smyth's ward.
? A Bristol mental health charity has seen a 300% increase in calls to its helpline since the start of the coronavirus pandemic. However, help is at hand: the charity, Suicide Prevention Bristol, recently advertised for 12 new volunteers to keep up with demand and received more than 100 applicants. (BBC Bristol)
ℹ️ Bristol council is hosting an online event with local health professionals to "share information about COVID-19 vaccines and dispel some common myths and misconceptions among residents". The event will be held at 7pm on Tuesday 26 Jan, and registration is open here.
? At the same time as three Bristol primary schools face closure due to falling student numbers, local officials are planning for a predicted lockdown baby boom. The fate of St Pius X Catholic Primary School, St George's and St Michael's primary schools are under consideration, as are prospects of a spike in births. (LDRS)
Bristol round-up
✊? The young NHS worker who was seriously injured in a racially motivated attack in July has appealed for help to find the attackers. The musician going by the stage name of K-Dogg said the attack "broke my body, but not my heart". Four men were arrested but have been released under investigation, pending further police enquiries.
? A 'Night Czar' will be appointed to champion the nighttime economy and culture of the city. The news follows years of calls by leaders in the sector, and similar roles established in London and Manchester. The most pressing issue will be working with partners in the city to help hard-hit venues navigate and recover from the pandemic.

⚖️ 'The Colston 4' – the people charged with criminal damage for removal of the slave trader's statue – will appear before the Bristol Magistrates Court on Monday. An online demonstration and a film night fundraiser in solidarity is planned, just days after the Communities Secretary vowed to protect statues from 'baying mobs'.
?️ Senior figures at Bristol City Council expect May's local elections to be postponed for a second time because of Covid-19. The government is keeping the date under review, but at a meeting this week Conservative councillor Richard Eddy and the council's licensing manager Jonathan Martin said there was very little chance of the poll going ahead as planned. (LDRS)
? Community radio station BCfm Radio are teaming up with community groups to offer free DAB radios for over-50s in an initiative to help tackle loneliness in Bristol. BCfm would like to hear from groups who support over-50s to get in touch and let them know where radios are needed. Email marcus.smith@bcfm.org.uk.
? Council tax will go up by 5% in April to raise £236 million to pay for council-run services to fill the gap from central government reductions. The extra cost to Bristolians will range from £58 for those in Band A up to £175 extra for Band H properties. (LDRS)
?‍? Sweetmart, the Easton supermarket institution, will stop selling wood for household burners due to toxic air pollution. The announcement, with campaigners Saaf Hava – a collaboration between Council of Bristol Mosques & Residents Against Dirty Energy – stated that particulates from burning wood aggravate respiratory issues for vulnerable people at increased risk due to Covid19.
The Cable's climate crisis special is out now
It won't be available in as many places this time, for obvious reasons, but if you join for £3 a month, you will get the latest edition direct to your door!