The Bristol Briefing: Thousands of tests to track spread of Bristol Covid variant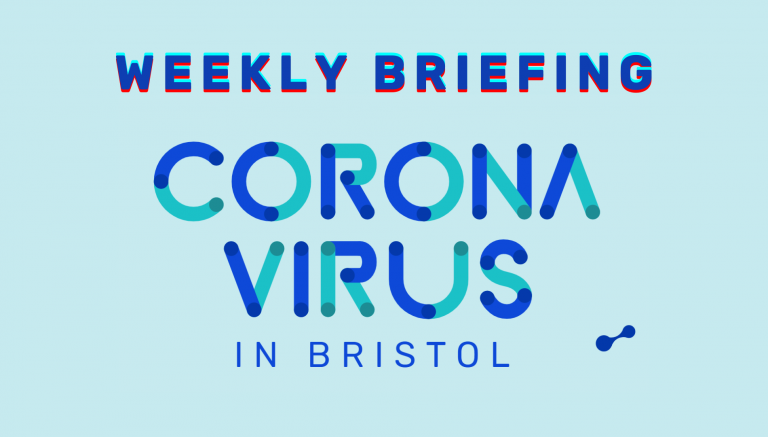 Covid-19 latest
?‍? More than 15,000 additional Covid-19 tests have been carried out or collected in Bristol and South Gloucestershire this week as part of the new surge testing programme. The two weeks of extra community testing, launched last Sunday, are part of an investigation into the prevalence of the 'Bristol variant', a mutated strain of the Kent variant of coronavirus.
? The tests for people living in 24 specific postcode sectors (see below) who did not have Covid symptoms were offered at six mobile testing units, and from 10 Collect and Drop sites. So far 14 cases of the Bristol variant have been found locally. The additional testing aims to target areas identified by Bristol City Council as being "in and around" where the variant has been detected.
? The Bristol variant was this week classed as a "variant of concern", because it has the E484K mutation, also found in the South African variant. The mutation helps the virus avoid the body's immune defences, and early data indicates some vaccines may be less effective against it. This means people who have already had the virus or been vaccinated could still become infected by this variant, though the vaccines may still prevent people from becoming seriously ill, experts have said.
People in Bristol are encouraged to check if they live in one of the postcodes covered for testing and to get tested if they don't have Covid symptoms and haven't tested positive in the past 90 days. Check out our map of the areas and locations of testing sites, and more information from the council here.
? Bristol's infection rate has continued to fall – by 30% in the last week. There were 843 positive tests in the week up to 7 February, giving a rate of 182 per 100k people, which is just below the national average, and the lowest in Bristol since 21 December. By comparison, this week Melbourne, with a population of 5 million people, entered a five-day lockdown due to 13 new cases being found.
? The number of Covid patients in Bristol's hospitals has fallen 14% in the last week to 310, but the local NHS remained under "extreme pressure".
? Almost a quarter of the local population had received the first dose of the vaccine by 7 February. 181,000 people in Bristol, North Somerset and South Gloucestershire had received their first dose, which is 40,000 more than the previous week.
? The vast majority of people over 75 (96.5%) in the local area have received their first dose. The government's target is to offer the vaccine to everyone in this priority group along with those who are clinically vulnerable and frontline healthcare workers by 15 February.
? The final week of January was the third deadliest for Bristol in the pandemic. There were 39 deaths in the week up to 29 Jan where Covid was mentioned on the death certificate. The only time it has been higher was two weeks in late April.
Bristol round-up
? Councillors voted unanimously on Thursday for a series of changes to prevent another 'Bristol Energy' – a council-backed enterprise which lost £50 million. The approved motion will see a cross-party group set up to oversee the implementation of the recommendations of an independent report into the fiasco. (Source: Local Democracy Reporting Service [LDRS])
⚔️ Problems with the voting system at Bristol West Labour Party's AGM this week deepened the divide between factions. After the sending out of ballots to elect local committee positions was delayed by hours, results suggest there were about 100 people who attended the meeting but did not cast a vote. Leftwing group Momentum Bristol said it was a "ridiculous charade", and that it would challenge the results, which went to their opposition candidates on the 'Unity' slate, supported by current MP Thangam Debbonaire.
❌ A local NHS-run mental health unit in Fishponds has been told to make improvements after concerns about patient care were reported. Health regulator the Care Quality Commission carried out an unannounced inspection of the 81-bed mental health unit at Fromeside atBlackberry Hill Hospital, and found staff vacancies and use of agency staff were impacting the quality of patient care. (Source: LDRS)
? Bristol City Council has launched a new £250k scheme aiming to distribute 3,600 laptops to combat digital poverty in the city. The Digital Inclusion scheme is on top of the Laptops for Schools scheme funded by the Department for Education, which provided 1,300 laptops to vulnerable children in Bristol last year. (Source: LDRS)
? Controversial plans for a new utility depot in Eastville have been approved by councillors. The West & Wales Utilities depot is proposed to be built at the former gas holder site in Glenfrome Road, despite concerns about the increased traffic on the narrow road, which could lead to more heavy vehicles and pollution close to St Werburgh's Primary School. (Source: LDRS)
? A man has been fined £1,000 by the police for using a non-approved electric scooter in a public park near Brandon Hill last April. Officers have since begun seizing e-scooters being used illegally, because the e-scooters are considered motorised vehicles, and the insurance required to use them in public is not available. The exception is scooters rented via government-led trials.
? The Tesco at the centre of the Stokes Croft Riot in 2011 has been given an alcohol license, despite concerns it will worsen alcohol-related crime in the area. The store on Cheltenham Road had previously applied for a license, but was rejected due to a policy curbing new alcohol licenses in the area, which is no longer in place due to a change in government policy. (Source: LDRS)
? Dozens of Bristol parks will be offered for money-making ventures to help fund their upkeep. 27 yet unnamed parks have been identified for the council pilot, which will also include ventures to boost residents' mental health. The council insisted the parks would remain free to access. (Source: LDRS)
The latest data
Map of Bristol areas with surge testing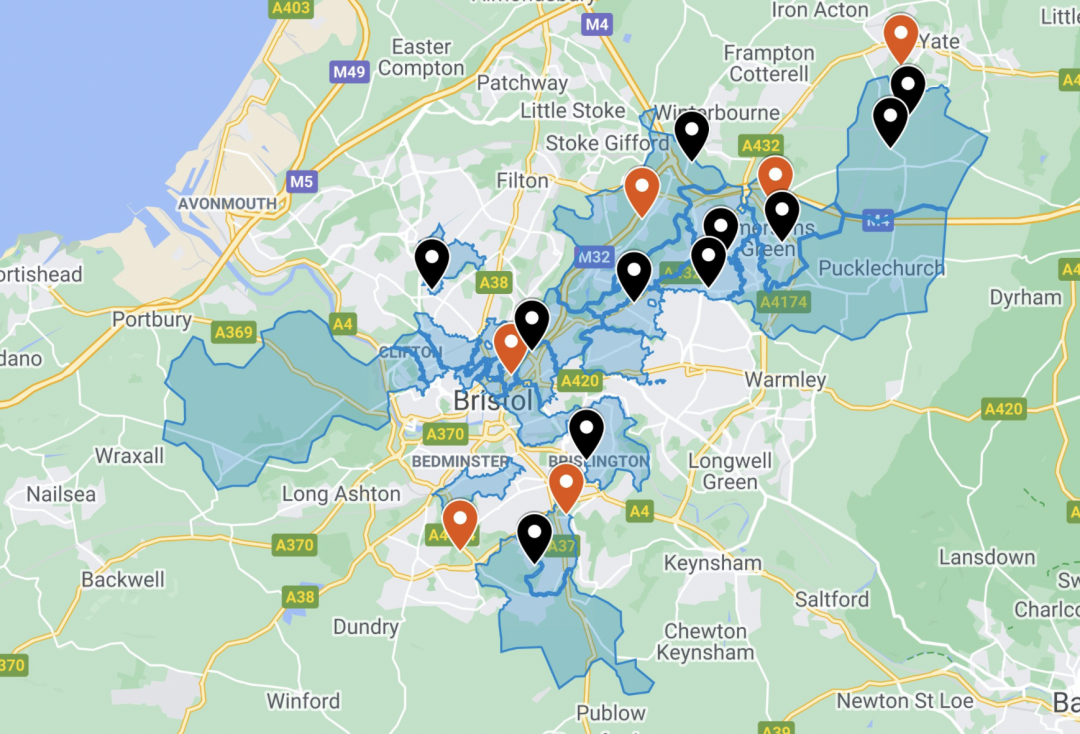 There are 24 postcode sectors in Bristol where surge testing is taking place. To help understand the spread of the Bristol variant, adults living in these areas who do not have Covid symptoms and have not tested positive for Covid-19 in the past 90 days are being encouraged to get a test.
You can find out more information on surge testing from Bristol council here.