The Bristol Briefing: Covid variant found in Bristol no more dangerous, say experts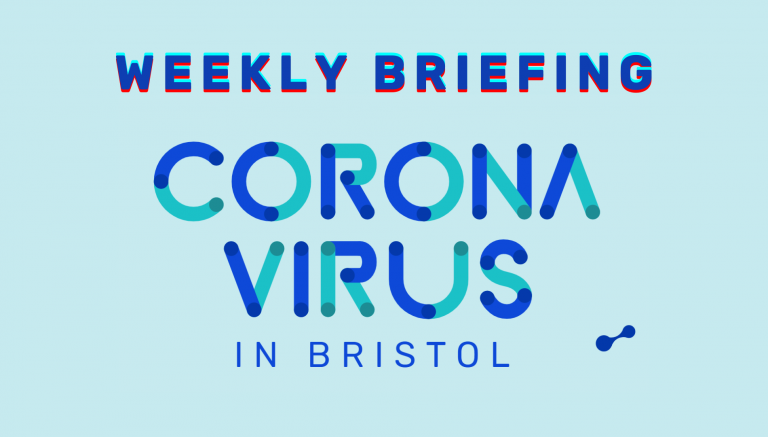 Covid-19 latest
? Bristol's infection rate has continued to fall, as the number of new positive cases fell by 15% in the last week. Bristol's rate of 260.5 new cases per 100k people in the week up to 31 January is roughly the same as the England average.
⚠️ 11 cases of the mutated form of the 'Kent variant' of coronavirus have been found in Bristol, but it's thought to be no more infectious or dangerous, health leaders said this week. The E484K mutation has previously been found in the South African variant of the virus. Bristol director of public health Christina Gray declined to say where in Bristol these cases were, but said the advice to the public remained the same, as the council investigates further with the help of Public Health England.
? Almost one in five adults in Bristol, North Somerset and South Gloucestershire received a first vaccine dose by the end of January. 140,899 (18%) people aged 16 or older have been given their first dose, while almost 10,000 have received their second. By comparison, the area with the highest vaccination rate was Somerset (23%) and the lowest was East London Health and Care Partnership (11%).
? The UK's vaccine rollout continues to be one of the quickest in the world, with almost 10.5 million people – 15.5% of the population – having received their first dose as of 3 Feb.
✋ North Bristol NHS Trust is recruiting participants aged 50 and over from the Bristol area for a 'mix and match' vaccine trial assessing the effectiveness of having doses of different vaccines. This week, local journalist Paul Breeden wrote about his experience of taking part in a vaccine trial, which he signed up to after reading about it this weekly newsletter.
? The number of Covid patients in Bristol's hospitals has fallen 11% in the last week, however the total remains high. As of 2 Feb there were 168 Covid patients at North Bristol NHS Trust and 194 at University Hospitals Bristol and Weston NHS Trust.
? Southmead Hospital is taking critically ill Covid patients from as far away as Birmingham because of "extreme" pressures on Intensive Care Units (ICUs) in other parts of the country. Southmead's ICU is taking roughly five Covid-positive patients from other regions each week, and that number is expected to rise, according to Karen Brown, the head of the hospital Trust.
? The number of Covid deaths in Bristol has risen to 404, with almost third of those (133) deaths happening in January alone.
? Police issued almost 50 fines after breaking up numerous house parties across Bristol last weekend. One included a student party of more than 50 people on Tyndalls Park Road near the University of Bristol. This comes as police and the council announced extra patrols to make sure businesses are following lockdown rules.
? A fundraiser for the family of Dr Gamal Osman, who died last week with Covid-19, has raised £130,000. The locum consultant based at Southmead Hospital, who leaves behind his wife and seven children, caught the virus just three weeks before vaccinations for frontline staff started.
? Six mums-to-be who live on the same side of the street in St George have spoken about the lockdown baby boom. "There must be something in the water," one of expectant mothers joked. The first baby has already arrived, as the pregnant women look forward to welcoming new members to the "ready-made community".
Bristol round-up
?️ The local elections on 6 May will go ahead, the government announced yesterday. The 2020 local and mayoral elections in England were postponed for a year until 2021 because of Covid-19. Additional funding will be made available to councils to make in-person voting covid-secure. Voters are encouraged to bring their own pens.
? A proposed tax increase to fund Avon and Somerset Police has been vetoed by councillors on the Police and Crime panel. The 6.6% increase of a precept equivalent to £15 for Band D properties would support the hiring of 70 new officers. Chief constable Andy Marsh said: "We had seven years of austerity. The cuts went much too far. If we turn the tap off we won't get near repairing the damage." (Local Democracy Reporting Service [LDRS])
? Bristol City Council's 'Western Harbour' proposals for developing the Cumberland Basin have been ditched following public outcry, with the council now promising to "go back to basics" and produce a new plan for the Autumn. (LDRS)
⚔️ Political in-fighting continues in the local Labour Party because a number of candidates who were due to stand as council candidates in May's local elections remain suspended from the party. The suspensions came after Bristol West Labour Party allowed a motion on the suspension of Jeremy Corbyn in late 2020, after Labour's general secretary had told local parties they could not challenge the findings of the Equality and Human Rights Commission report on antisemitism in the Labour Party. Leftwing campaign group Momentum Bristol have called for a 'campaign strike', where they will not campaign for candidates unless they sign a letter supporting those no longer able to stand.
? Detailed plans to improve a 1.5-mile stretch of Bristol and Bath Railway Path have been unveiled, following two years of consultation. The plans for "One Path BS5", which spans Clay Bottom and Trinity Street, have been developed by cycling charity Sustrans, will involve widening and segregating paths for cyclists and pedestrians.
? Bristol's first "tiny forest" of over 1,200 trees in a small area in Southmead has begun planting. The project in Trym Valley Open Space is part of a national initiative supported by energy company Ovo. The aim is through planting a diversity of trees in an urban area it will produce a range of benefits including improving biodiversity, air quality, and a space for children to connect with nature.
⚖️ Two men from Bristol who were caught trying to import five kilos of cocaine concealed in whey protein powder packages from Amsterdam to the UK have been jailed. Arron James Collins, 35, and Bertram Jack Fallon, 31, both from Bristol, were jailed following an investigation by the National Climate Agency into encrypted messaging platform EncroChat, which they had used to communicate.
The latest data