Bristol council and organisations demand equal vaccine access and end to healthcare 'hostile environment' for migrants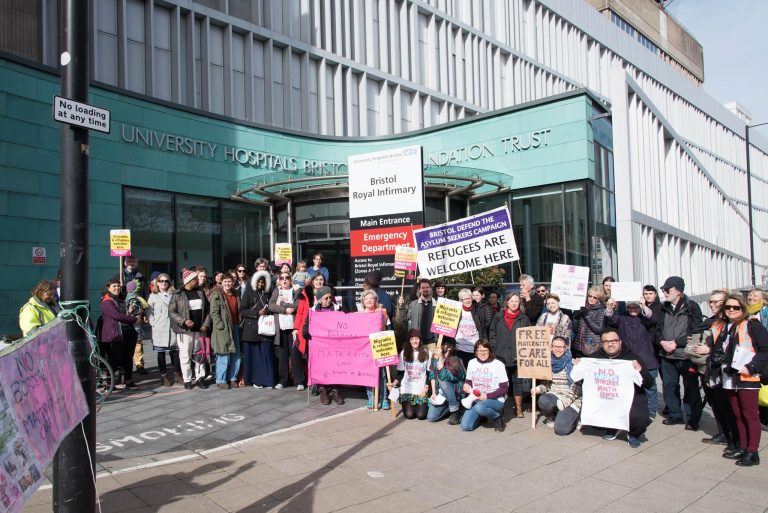 Photo: Bristol Patients Not Passports (2019)
The government has today announced that all residents in the UK, regardless of immigration status, will have access to Covid-19 vaccines without immigration checks or charges. However, hundreds of organisations nationally, including the council, Bristol faith groups, charities, medical professionals are calling for more far-reaching action to protect individuals and public health.
Campaigners fear that despite the announcement of an 'amnesty', years of aggressive immigration policies known as the 'hostile environment' have put barriers in the way of asylum seekers and other undocumented people taking up the vaccine. With up to 1.2 million people living in the UK without official documentation, this could reduce vaccine take up, putting individuals, the NHS and the wider effort to tackle the pandemic at risk.
Local organisations such as the Bristol Council of Mosques, Avon Fire Brigades Union, Bristol Protect Our NHS, the Royal College of Midwives North Bristol Branch, the South West Trades Union Congress and Bristol Refugee Rights joined the call led by Patients not Passports, a coalition of NHS workers and activists pushing for equal access to healthcare for all. 
James Skinner, a former NHS nurse and campaigner with Medact, said: "Today's announcement by the government is a clear admission that the hostile environment is incompatible with public health.
"At the start of the pandemic, we warned that the fear created by NHS charging and data sharing would prevent migrant communities accessing treatment for coronavirus, yet it has taken almost a year for the government to even acknowledge the harm these policies are causing."
Referring to the ongoing practice of charging migrants to use the NHS, including those who work within the health service, Skinner said: "It will be hard for anyone to trust these assurances from the government while the rest of the NHS continues to charge people for care and share patient data with the Home Office."
In order to address fears that patients may have, which include concerns about data sharing with immigration enforcement leading to detention and possible removal from the country, the campaign is calling for a complete withdrawal of hostile environment policies in the NHS.
Anna Miller of campaigners Doctors of the World said: "While we welcome the government proactively encouraging migrants to come forward to register with a GP and receive the vaccine, and GP practices to register patients, this exemption doesn't go far enough to undo the fear and mistrust created by the hostile environment."
Another demand is a public information campaign to build trust and encourage take up within communities affected most by the hostile environment, including the Windrush generation and more recent migrants and asylum seekers. This is particularly important given higher levels of hesitancy to receive the vaccine among BAME communities as a whole.
Dr Tony O'Sullivan, retired paediatrician and co-chair of campaign group Keep Our NHS Public, said: "There must be no barrier of fear from accessing Covid vaccinations and NHS treatment. In the interests of human rights, the health and safety of the population and undocumented people, the hostile environment in the NHS must go now."