Campaigners accuse Marvin Rees of not protecting Bristol's mature trees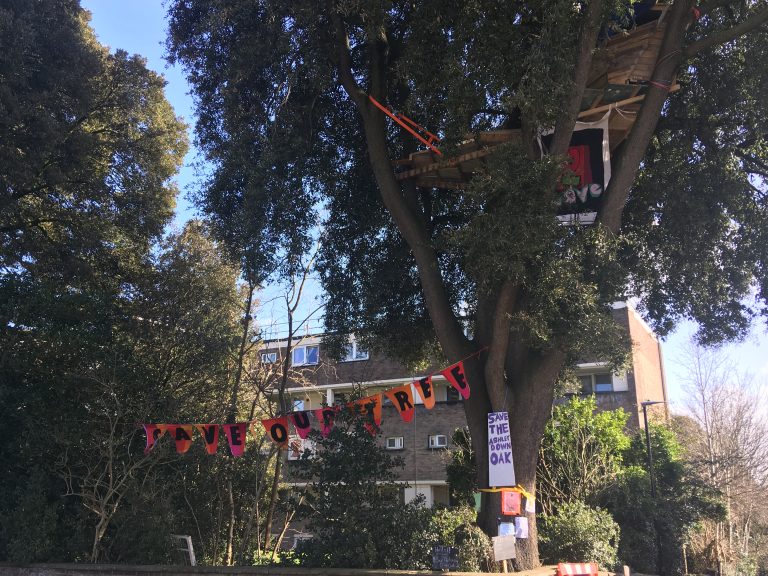 Photos: Jess Connett
This article has been amended to clarify that air pollution is a contributing factor in five deaths in Bristol a week.
The mayor of Bristol is not doing enough to to protect the growing number of trees threatened by new housing developments according to campaigners
Bristol Tree Forum (BTF) says by felling large numbers of mature trees to build homes, Marvin Rees' legacy will be "an inner city devoid of nature and trees, where poor people and those from ethnic minorities live, and leafy suburbs where the wealthy live".
Bristol is one of several cities with illegally high levels of air pollution; according to researchers at King's College, London, it contributes to the death of five Bristolians each week. This week (Thursday 25 Feb) the council's cabinet is due to confirm details of its Clean Air Zone, which will charge drivers to enter the city centre. It's part of a package of measures that Rees believes will make Bristol carbon-neutral 20 years ahead of the official target for Britain as a whole.
Trees are valuable in cleaning greenhouse gases from polluted skies but over the last six years Bristol City Council has felled over 2,300. It has been planting roughly 6,000 in each of the last four years, according to council figures collected by the BTF. But the campaigners say too many of these are younger, smaller trees which aren't in the city centre, where they are most needed, and they will take decades to reach maturity.
BTF's John Tarlton said: "It is possible to address all three emergencies –housing, climate and ecological – and not see them as competing."
Earlier this month the mayor hailed the planting of 1,200 saplings by children in Southmead. Rees, who wants to double the city's tree canopy over the next 25 years, said: "Planting the first Tiny Forest will provide a boost to biodiversity, improve the space for the local community and help us to double our tree canopy."
It sounded impressive but BTF's Chris Wallace said: "It's great to see Bristol exploring new ways of involving schoolchildren in trees and nature but to double tree canopy we need to add 1,300 hectares. To achieve this by tiny forests alone, we would have to plant 65,000 of them!"
John Tarlton from the BTF added: "It's very irritating. The whole planting is less biomass than a single felled tree. Bristol's tree canopy is effectively being transplanted from the city centre, where trees are seen as a nuisance, to the suburbs where the need is much less."
Protesters occupy trees in Ashley Down and St Pauls
Activists have been campaigning to save mature trees under threat across Bristol. The latest is a holm oak on Ashley Down Road, estimated to be over 100 years old. When the council pinned a notice of felling to the tree in late January, it was soon joined by a handwritten plea by local resident Jenna and a petition decrying the felling, which has attracted over 1,700 signatures.
The tree is due to be cut down after a report into subsidence at a nearby property concluded "on the balance of probabilities" that the tree was causing damage to the foundations. BTF disputes this, stating the tree is too far away, so have submitted an emergency tree preservation order, and a freedom of information request asking to see the council's evidence. The homeowner who commissioned the report could not be reached for comment.
Locals also mobilised to protect the tree: St Werburgh's resident Flufeee set up a WhatsApp group and within 48 hours, in collaboration with Extinction Rebellion Youth, a sleeping platform had been built in the boughs. "The foundations of all these houses are on a hill made of clay – even if you cut the tree down it's not going to solve the problem," said Flufeee, as two people climbed into the tree behind him, long ropes trailing from the branches.
"It should not be even an option that mature trees are cut down in city centres given what we know about air quality. And we've got Bristol's green city credentials – it's hypocrisy and stupidity."
Flufeee has taken his children up to the platform, which now has walls, windows and even shelves that hold essentials for midnight repairs. There are even plans to put the treehouse on Airbnb.
"If I've got anything to do about it, it'll stay up," Flufeee said of the holm oak. "These are little symbols of resistance that resonate."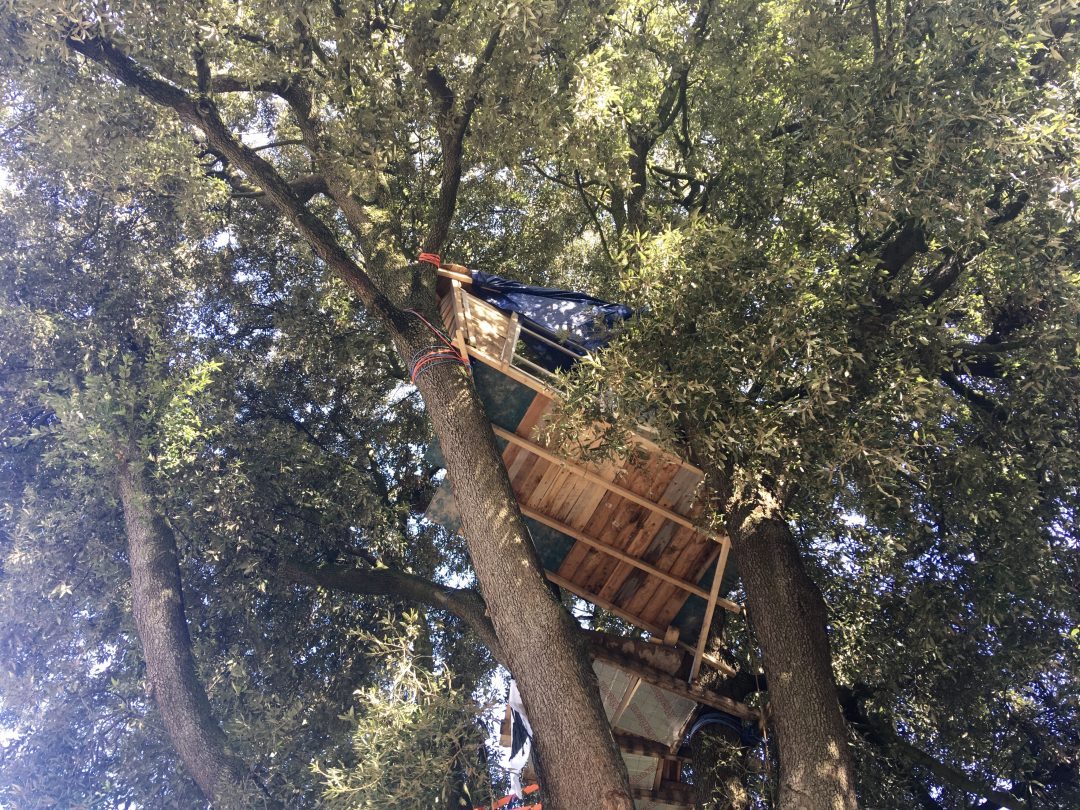 A Bristol City Council spokesperson said: "Previous pruning back of this tree has unfortunately not stopped significant subsidence damage to a neighbouring house, and so an independent expert has recommended that this tree is removed.
"While the tree being removed is sadly unavoidable, Bristol's commitment to tackling the climate and ecological emergencies can be seen in this part of Bristol and across the whole city," they added.
"Just round the corner, almost 250 new trees will be planted at Sefton Park Primary school next month. A further 600 trees are being planted during this growing season within around one mile of Ashley Down Road."
Under a mile away is another treehouse, constructed in the bare branches of the last remaining M32 Maple. Activists are also maintaining a vigil to protect the last survivor of a row of five mature maple trees on Lower Ashley Road, felled over the past 18 months in controversial circumstances.
Developer John Garlick has planning permission to build student flats on the site of a former probation office. Alternative proposals for social housing were thrown out last summer by the council's planning committee, criticising them as 'Stalinist' and 'grim.'
In St Pauls almost one in every two young (47%) people attending Docklands Youth Club reports breathing difficulties. Campaigner Becky Babcock has two children under five, both of whom have asthma. "I am really surprised at Marvin because he grew up here," she said. "If he were still living here with his children how would he feel? How can people think planting new trees will replace the maples?"
She and fellow campaigners want to halt any attempt to fell the last tree, pending a review by the local government ombudsman on who exactly owns the strip of land. The M32 Maples group says it is sure "the trees are not Garlick's to cut down as the land they are on does not belong to him".
The council's property department told the M32 Maples group it owns the land and would never sell it; the strip might, for instance, be needed one day to widen the road. The planning department, however, claims the council sold the land to Garlick, observing due process. The council was asked to explain this. Garlick has also been approached for comment.
Avon and Somerset Police investigated the protesters' claims; its response makes awkward reading for the council. Detective Sergeant Louise Sinclair of the force's economic crime team said: "Due to the highlighted anomalies when comparing the plans and boundaries it would appear possible that there may have been processes that were not correctly followed or breaches of planning codes, that do not fall into the criminal arena."
80 trees on the Harbourside under threat
The next fight over plans to replace mature trees with homes in the city centre is likely to be on Baltic Wharf. A planning application is due to be submitted this week by council-owned Goram Homes, to replace a decades-old touring caravan park with 166 new waterfront homes, 40% of them 'affordable'.
Some 80 of the 90 mature trees currently on the site face the axe, with the developers' environmental consultant, Anna Miroslav, saying: "These trees have a relatively low ecological value and a short lifespan remaining. This development provides an opportunity to replace them with a greater variety and quality."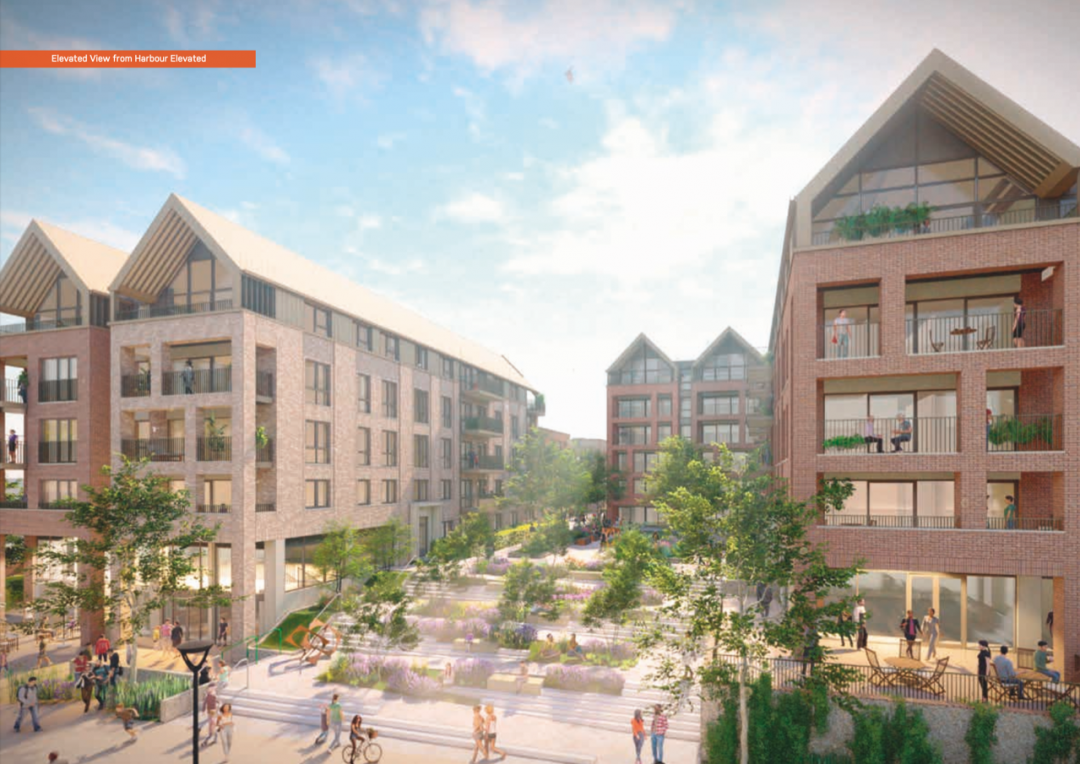 BTF chairman Mark Ashdown refuted this: "The developer's own survey gives only one tree as having less than ten years' future life. Thirty-two are said to have more than ten years and 15 have 20-plus. Whatever 'plus' means, the trees still provide significant eco-services."
Goram Homes plan to cut down the 80 trees and replace them with 31 trees and 41 shrubs. A spokesperson for Goram Homes said: "We will be planting semi-mature trees, not saplings, all designed to deliver high ecological value, providing a good habitat for birds, invertebrates and pollinators."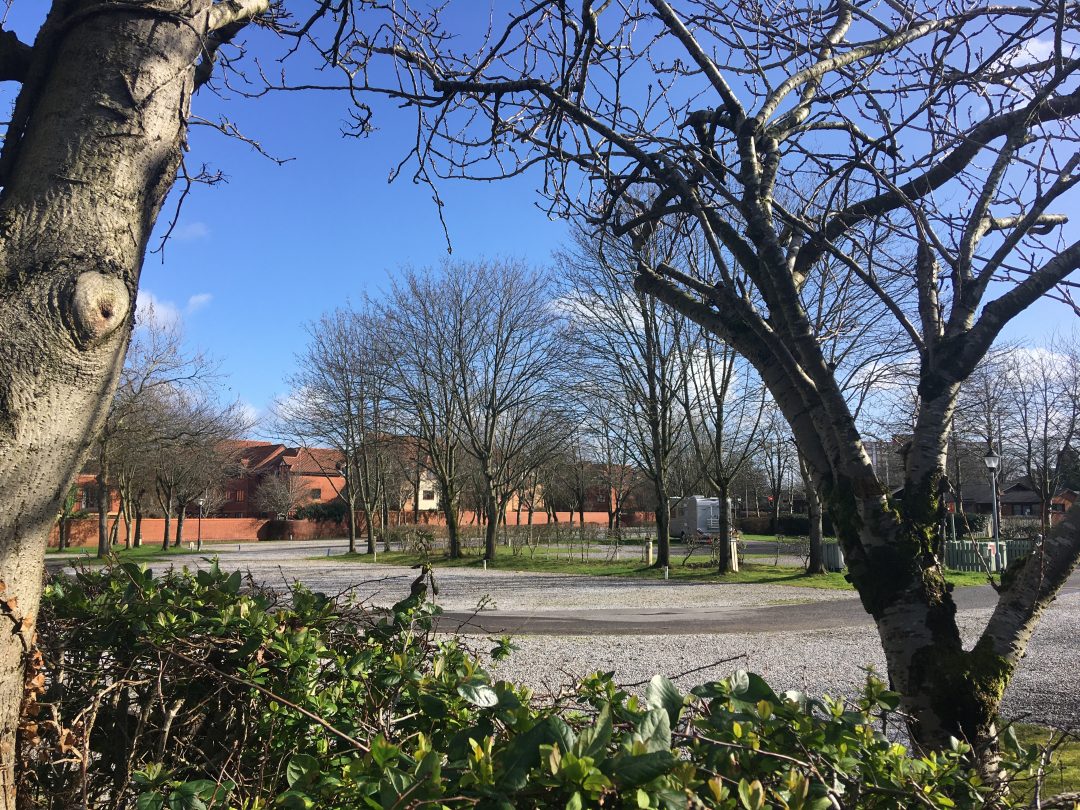 They insisted that the company cares about the environment, pointing to an award it won for Romney House, the redevelopment of the former Lockleaze School. Judges of the Bristol Property Awards noted it was: "Vital work putting the environment first."
The Caravan and Motorhome Club, which has occupied the waterfront site for several decades, proposes moving to the former police horse and dog centre beneath Clifton Suspension Bridge. Ironically, a number of existing mature trees are at risk there too.
A council spokesperson said: "Bristol will have planted more than 8,000 new trees between last November and next month, including over 1,000 new larger trees planted on Bristol's streets and in our green spaces, as work continues to deliver on the city's commitment to double Bristol's tree canopy by 2046."