The Bristol Briefing: Initial Covid-19 surge testing results 'very reassuring'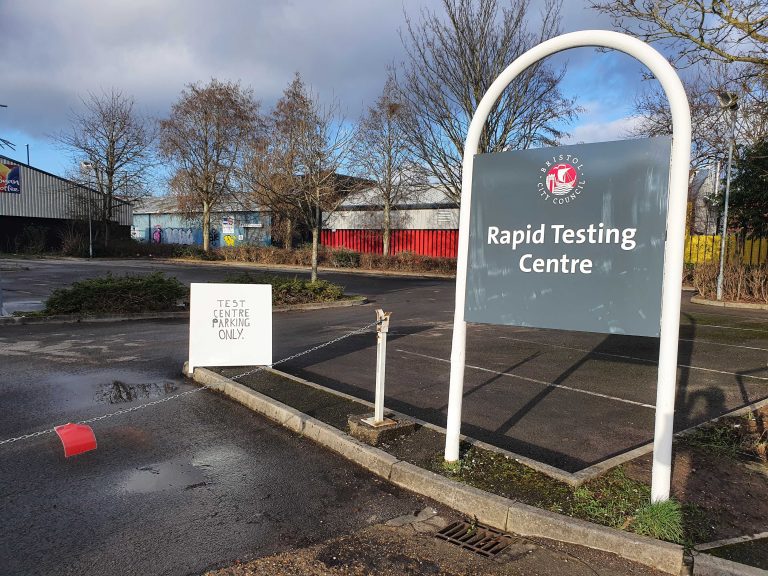 Covid-19 latest
? Coming out lockdown too soon would be "the worst possible thing we could do," Bristol's director of public health, Christina Gray said yesterday. She said key factors in easing measures were the background rate of infection, hospitalisation and pressure on hospitals, the death rate, and the spread of new variants. "We are expecting it to be gradual, data-driven and not linear," she said.
?️ A roadmap for easing lockdown measures is to be announced by Boris Johnson on Monday, which is expected to be cautious.
? Over 36,500 Covid tests have been completed in Bristol as part of two weeks of asymptomatic community 'surge' testing, which ends on Sunday. The testing was set up to monitor the spread of the new 'Bristol variant' of coronavirus. Over 10,000 home testing kits have yet to be returned, and the council is asking people to return them before Sunday. More info here.
⏰ Roughly 1% of these tests have been positive, however it will be "a week or two" before we will have data on how many were of the Bristol variant, due to pressure on the labs from surge testing in regions across the UK. Christina Gray said it was "very reassuring" that the positivity rate is that low.
? The current rate of Covid infections in Bristol is 151 per 100k people, down 17% from the previous week. This is the lowest since 15 December and slightly higher than the England rate of 133 per 100k people.
? 28% of people in Bristol, North Somerset and South Gloucestershire have had their first jab of a Covid vaccine. This includes 97% of people over 70, and 15.3% of adults under 70. Of the 220,500 people in the region who have had their first dose, so far just 10,000 have had a second dose, which provides better protection.
? The number of Covid patients in Bristol's hospitals fell by nearly a third in the last week to 210. Of these, 76 were are North Bristol NHS Trust and 139 at University Hospitals Bristol and Weston NHS Foundation Trust – the lowest combined level since late December.
?‍? Participants of Bristol's Children of the 90's study will take part in a new national programme to better understand long Covid. Participants will report on their long Covid symptoms by wearing a wristband to measure exercise ability, breathing, and heart rate, and filling in questionnaires and their vital organs will be assessed at clinics. As part of the study Bristol University researchers will play a major role in analysing electronic health record information from the whole population.
Bristol round-up
? Bristol City Council set out a list of proposed exemptions for the Clean Air Zone, ahead of submission of the plans to government next week. Exemptions include emergency service vehicles, as well as a one year exemption for people attending hospital appointments, those living inside the zone, and people on low incomes. The plans mean more polluting vehicles not covered by exemptions will have to pay a daily charge for travelling within the zone, £9 for cars and £100 for larger vehicles like HGVs and buses. (Local Democracy Reporting Service [LDRS])
? Less than 1,000 affordable homes have been built in Bristol in the last four years. The total (959) was higher than the 819 built during the previous four years when George Ferguson was mayor, but the council still missed its target for three out of the four years. Marvin Rees' 2016 pledge was to build 800 affordable homes a year by 2020, but the actual figure for 2019-20 was 312. (LDRS)

? The Bristol Green Party has submitted amendments to the council's budget for the next financial year, calling for extra money for social housing, green spaces and boosting funding for public transport, with a charge on workplace parking. The city's budget for 2021/22 will be voted on during Tuesday's Full Council meeting. (LDRS)
? A Weston-super-Mare police officer could lose her job after allegedly saying she knew two men were involved in criminality because they were black. PC Andra Serbanescu, who is facing a misconduct hearing, is also accused of saying an Asian man was the "type who would have a bomb". (LDRS)
?‍♂️ A 14-year-old boy arrested in connection to 10 sexual assaults on or near the Bristol to Bath Railway Path has been referred to a youth panel. This comes after a spate of crimes along the path in late 2020. Bristol Live reported this week that reported crimes along the popular route for cycling and walking had risen by nearly 60% on the previous year.
⚠️ Two Bristol councillors have expressed fears about the use of public money to finance office blocks in the Temple Island development with Legal and General, amid the shift to home working due to the pandemic. But councillors were assured that the council had "at least 18 months" to decide whether to take the deal forward on the office space on the site formerly earmarked for Bristol Arena. (LDRS)
The latest data