Bristol becomes first UK city to ban ads for junk food, payday loans and gambling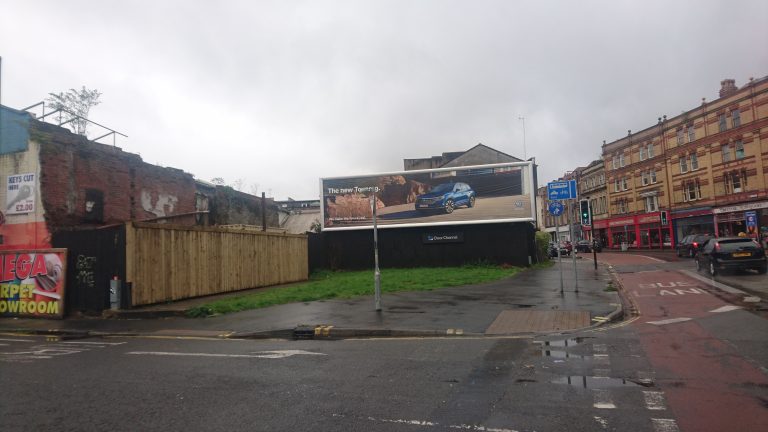 (Photo: Adblock)
Bristol has become the first city outside of London to bring in an advertising policy restricting adverts on council-owned spaces and billboards for junk food and alcohol. But its policy goes further than other local authorities and also bans adverts for payday loans and gambling sites.
Bristol City Council says that its Advertising and Sponsorship policy, approved unanimously at a Cabinet meeting on Tuesday 9 March, is the "most complete of its kind in England".
The policy will restrict any advertisements which fall foul of the new rules from the council and any companies using council-owned spaces. This includes billboards, the city's 180 bus stops, social media, and digital screens at any of the council's venues, including libraries and museums.
Local campaign group Adblock say it's a good first step, but have petitioned the council to go further and also ban advertising for high carbon products and services, like SUVs, airlines and fossil fuel companies.
Mayor Marvin Rees has said the council is "willing to take the financial risk – and there is a risk to us in this – to achieve much greater public health rewards".
The council has estimated that if other companies don't come forward to take the place of the banned adverts, a "reasonable worst case scenario" of loss may be in the region of £150,000 a year, but this cost should be balanced with reducing the risk of the public health harm and costs associated with these products and services. Fears of a drop in revenue after a similar decision in London, did not however pan out. Transport for London predicted losses of as much as £35m a year for their Healthier Food Advertising Policy, which may have led to ticket prices hikes, but advertising revenue actually increased by £2.3m (pre-pandemic).
Bristol's new policy also bans advertising in parks – unless it's for an event that's taking place there – which campaigners are celebrating as a big win. The council had proposed to introduce advertised in the city's parks but this was put on hold in 2018 after a 4,000-strong petition forced a full council debate on its impact.
Campaigners call for ban on ads for SUVs, airlines and fossil fuels
The council's policy is "an important first step," say campaigners Adblock, but they say restrictions should go further. Adblock has brought a petition with 1,000 signatures calling on Bristol to "end advertising on climate wrecking products", similar to what Amsterdam passed in December. But as Bristol would be the first local authority to introduce such a ban, the council would need to launch a public consultation, which wouldn't be possible until after the local elections in May. This would have meant the policy wouldn't be introduced until much later this year, missing the window of opportunity to influence some of its larger contracts.
"We are disappointed that the council didn't include a ban on high carbon products in the list of exclusions, but it's a good first step," Adblock spokesperson Robbie Gillett told the Cable, adding that the petition "demonstrates a public mandate for the council to take this step".
Green Party councillor Carla Denyer has said the city's new policy would stop adverts on council property from undermining the council's own policies on public health, but added that the exclusions needed to go further: "In particular, to include a ban on ads for high carbon products and services, and to adopt similar policies in planning so that these rules can in time apply to all corporate advertising instead of just the ones that the council owns."
Gillett said that he believes there is an appetite for extending these policies to the planning stage – where new billboards wouldn't get built in the first place – as it would ultimately save residents and councillors a lot of time.
"It's likely this advertising policy has partly arisen out of councillors getting frustrated with having to spend so much time dealing with planning applications for new digital billboards."
"Residents are having to spend loads of time fire fighting single applications when really they should be dealt with at a policy level."