The Bristol Briefing: Almost a third of Bristol adults given first Covid jab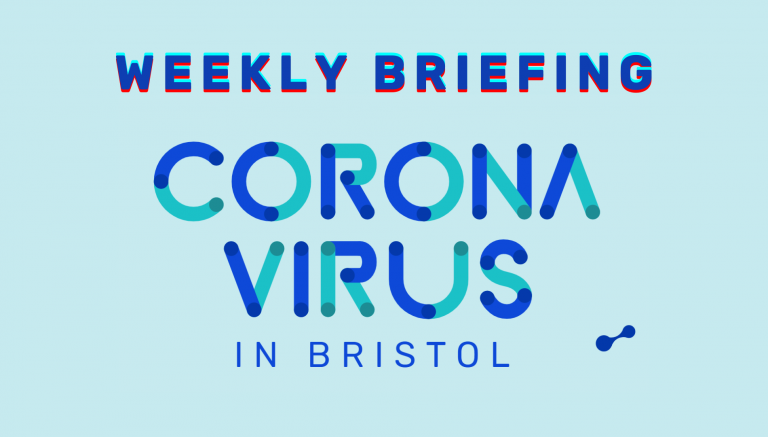 Covid-19 latest
? All schools will fully reopen on Monday, as the UK takes its first step in the "one-way" roadmap out of lockdown. A range of safety measures are on offer to provide protection, including twice-weekly lateral flow (rapid) tests, wearing of face coverings in classrooms, bubble groups, staggering start and finish times, and improving ventilation and hygiene.
? Surge testing was launched in South Gloucestershire after two people from the area in the same household tested positive for the Brazil variant of coronavirus. Tests are being offered until 14 March to households within postcode areas: BS32 0, BS32 8, BS32 9, BS34 5 and BS34 6. South Gloucestershire Council's public health director Sara Blackmore said: "This is a contained situation and the risk to the community is low."
? 16,000 more people in Bristol received their first jab in the last week, raising the percentage of Bristol adults vaccinated from 27% to 31%. Over-65s and people with underlying health conditions are now being vaccinated, with the programme on course for all over 50s to have a jab by the end of April, according to clinical lead for the local vaccination programme Dr Tim Whittlestone.
? The number of people who tested positive for Covid-19 in the last week has fallen by a third to 346. This means Bristol's infection rate is now 75 per 100,000 people – nearly seven times lower than the peak in January.
? The number of Covid patients in Bristol's hospitals has fallen below 100 for the first time since the end of October. In the last week, the total fell by 30% from 140 to 97.
? A study in Bristol has shown one dose of covid vaccine to be at least 71% effective in preventing hospitalisation of people in their 80s. The study looked at the covid positive status of people admitted to Bristol's two large NHS hospitals with acute respiratory disease and compared that to immunisation rates.
? Bristol mental health support line Mindline has been "consistently dealing with 50% more calls per month on average compared to before the pandemic began", according to the charity Bristol Mind.
Bristol round-up
✊? Bristol City Council will call for a Parliamentary Inquiry to investigate reparations for the UK's part in the slave trade, following a motion passed by Green and Labour councillors. There will also be a Bristol "reparations plan" led by local Afrikan heritage community organisations with "community wealth creation" strategies a part of it. (Local Democracy Reporting Service [LDRS])

? Political opponents have accused Marvin Rees of "wasting millions" in a "mind boggling" display of "mismanagement" and "incompetence" over the ballooning cost of refurbishing Bristol Beacon. The renovation costs have more than doubled to £107million, with the extra £44.5million bill expected to land on local taxpayers. The mayor said there was no way of knowing the cost of renovation until now, and the council remained committed to re-opening the iconic venue.

✊? Four protestors have pleaded not guilty to damaging the statue of notorious slave trader Edward Colston, after it was torn down and dumped in the Bristol Harbour last June. The protestors, known as the 'Colston Four', will stand trial in December at Bristol Crown Court.
⛔ Bristol City Council is considering a ban on strip clubs, which have previously been the subject of debate about freedom and safety for sex workers. There are currently two sexual entertainment venues in the city centre, and the proposed ban will be considered by the council's licensing committee on Monday. (LDRS)
?️ Plans to build high-rise apartments with no affordable flats on St Catherine's Place in Bedminster have been approved, in the hope it will "revitalise" the area. The scaled-back plans to build 180 homes off East Street got the go-ahead after a larger project – with 17% affordable housing, along with shops and a cinema – was rejected by the council last year. Councillors and residents raised concerns about the lack of affordable housing, but developer Firmstone said it wasn't "viable" to offer any.
? The application to turn Bristol Port in Avonmouth into a free port has been rejected by the government. West of England regional mayor Tim Bowles said the tariff free zone would have created thousands of jobs, but experts also warned it could enable money laundering, tax-evasion and smuggling.
? The final M32 maple tree was cut down while a protestor was asleep in the treehouse. This marks the end of a concerted local campaign to save the row of mature trees on Lower Ashley Road in St Pauls, which have been removed to make way for a housing development.
? A property developer, who sold flats in a derelict Bristol hotel he did not own, has been jailed for 21 months by the High Court. Sanjiv Varma was behind Grosvenor Property Developers Ltd, which claimed to want to convert the old Grosvenor Hotel near Temple Meads into student flats. However the hotel was never purchased and planning permission was not granted by Bristol Council. (LDRS)

? The mayor of Bristol says the city should explore the idea of safe drug consumption rooms – a facility commonly used in other countries to make drug use safer and get more people into treatment. The idea is part of the city's new alcohol and drugs strategy, despite the fact drug consumption rooms are currently illegal in the UK. (LDRS)