Bristol and the Police and Crime bill; A day and night of protest and unrest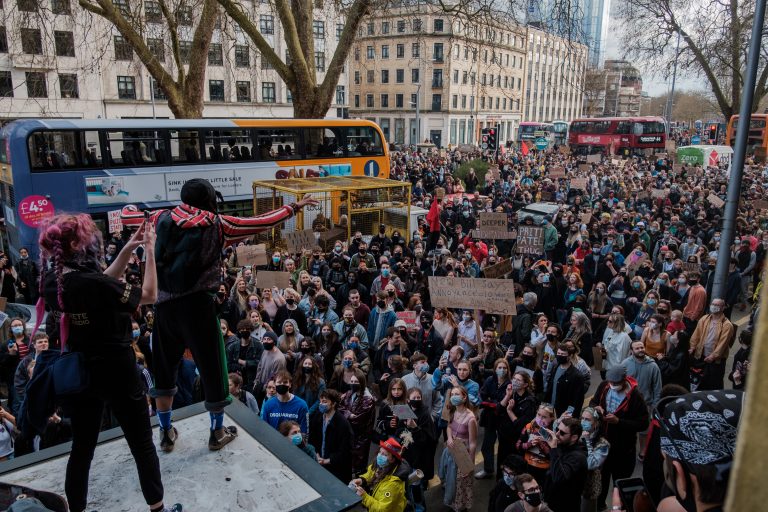 Photos: Stefano Ferrarin Cover photo: Guy Peterson
It's perhaps unsurprising that Bristolians wouldn't take kindly to a parliamentary bill which limits the right to protest, and on Sunday afternoon thousands thronged to College Green to make their dissent known. While the next day's headlines were dominated by the unrest that took place later, the day began peacefully with the routine parade of placards and passions out on display.
Demonstrators met at College Green at 2pm before marching through the city centre to protest against the Police, Crime, Sentencing and Courts Bill. The Bill, which passed its second reading in the House of Commons last week, has stoked cross-party controversy over the increased police powers to clampdown on protests, tougher sentencing and anti-trespass laws which target Gypsy, Roma and Traveller communities.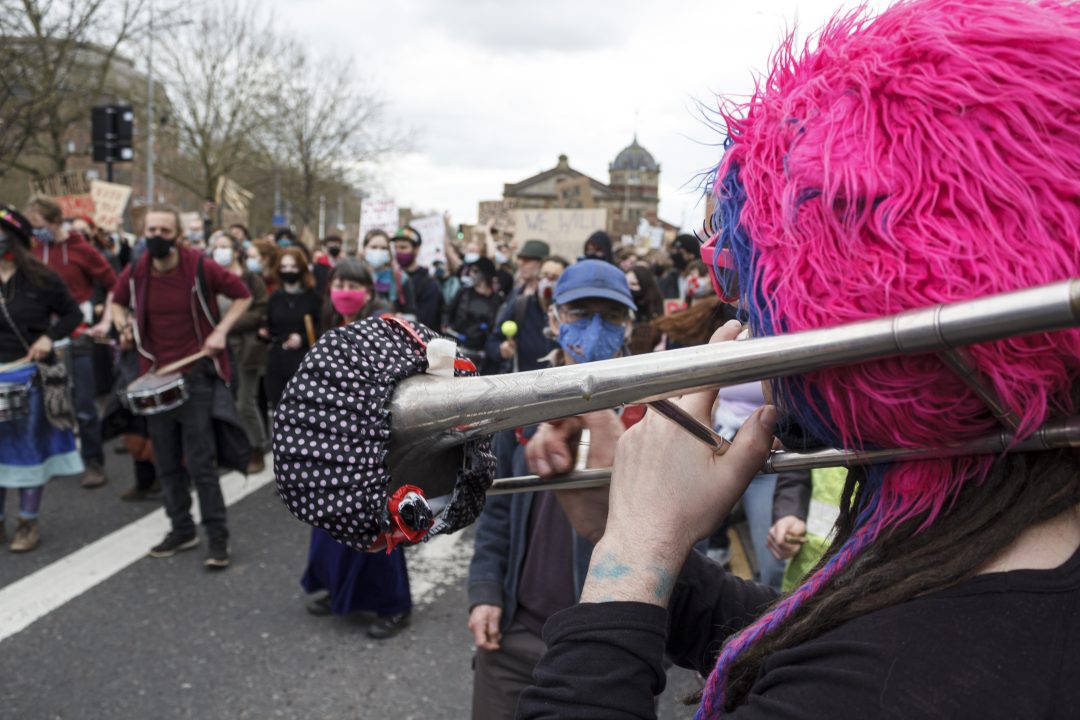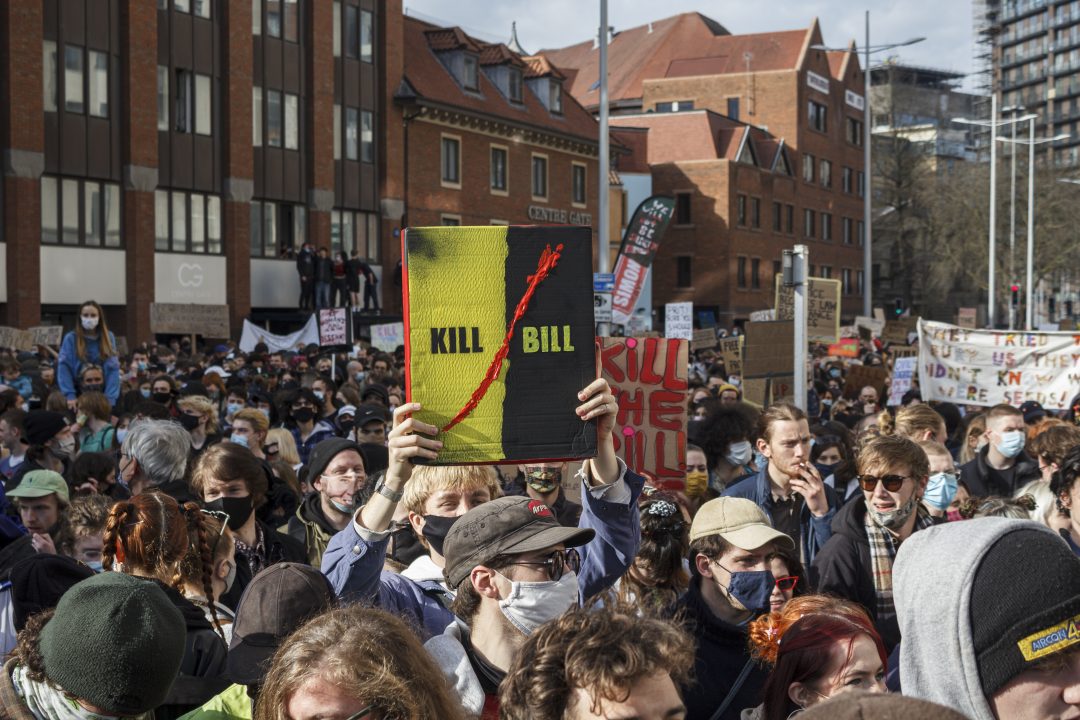 The choice of College Green as the starting location was symbolic as much as practical. It had been the Bristol vigil site in memory of Sarah Everard, whose alleged kidnap and murder at the hands of a Metropolitan police officer sparked outrage across the country. Anger was further fuelled by the scenes of a violent police clampdown at a vigil in Clapham Common the previous week. That the government first attempted to rush the bill through parliament before deciding to delay its passage until June was also likely a reason for the overwhelming turnout on Sunday.
The demonstration brought together a carnival of causes, there were anarchist flags, Sisters Uncut signs and Black Lives Matter placards on show. But the vast majority of the crowd were not visibly aligned to any political cause or party, drawn instead by a sense of fear, fury and dismay about the far reaching reforms tabled in the bill.
"It's an attack on our democracy", one demonstrator said. "It is our human right to protest, to have freedom of expression." Parents had brought their children to the protest too with one mother saying: "It's her generation it's going to affect", while holding the hand of her four-year-old daughter.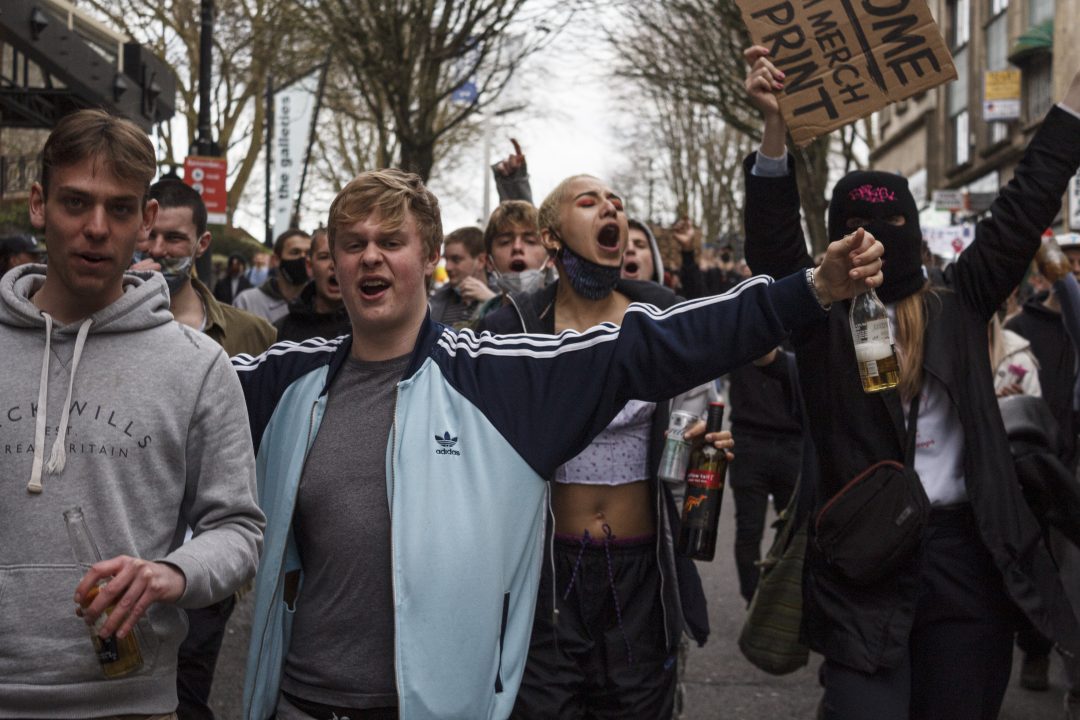 I asked a bus driver on Anchor Road, ground to a halt by the protestors, if he was annoyed at the inconvenience. "Not at all," he said, "People have got to say what they have to say."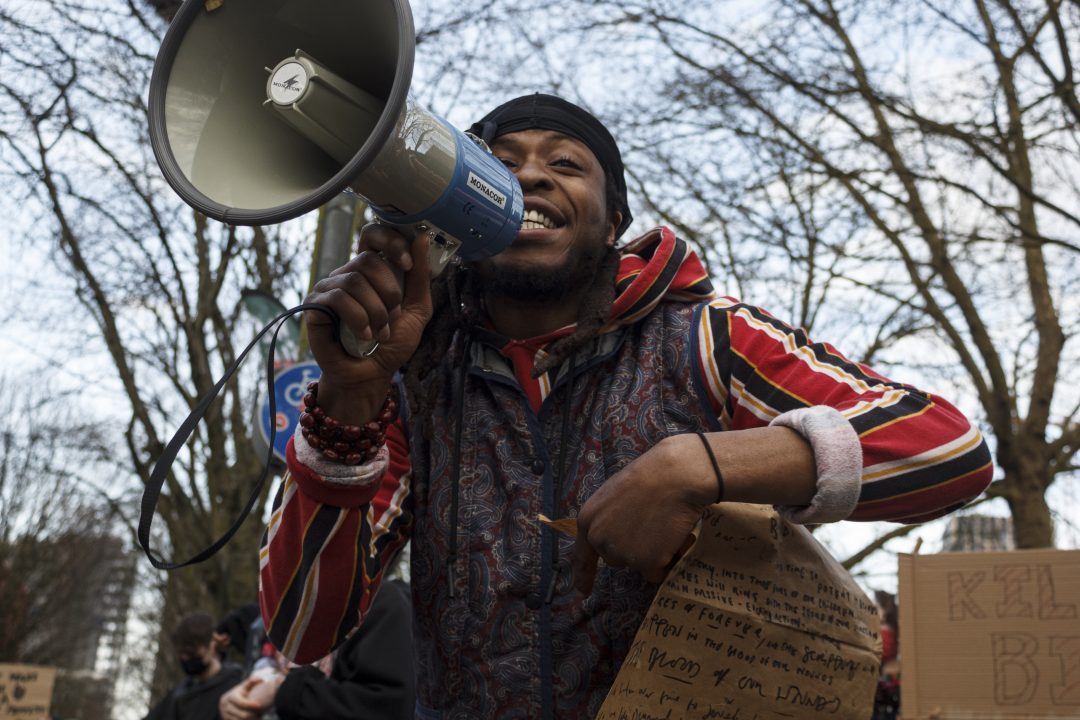 I spotted poet and activist Solomon OB, a noticeable and ever-present character of the protest, dancing, reciting and giving speeches on the political significance of the moment. "It's exciting people are back out again, Bristol is being Bristol! It's a similar energy to Black Lives Matter," he told me. And on cue, our interview was interrupted by the blare of a passing soundsystem.
The "Priti Controversial" Police, Crime and Sentencing Bill
So why has the bill been met with such unease and downright anger? One of the chief concerns is the clampdown on the right to protest. Under the bill, protests will be able to be shut down if deemed too noisy, and therefore causing serious disruption. Home Secretary Priti Patel has given herself a statutory instrument (which means parliamentary approval is not required) to define serious disruption as she sees fit. Being a nuisance would also go from being a common law crime, with no specific legislation around it, to a statutory offence, with a maximum year of 10 years. "Annoyance" would also be included in the definition of public nuisance. "But what if I have a political slogan on my t-shirt? What if I have a "Free Palestine" badge – is that annoying? Are they going to arrest me for that?!" one protestor asked.
Police will be able to impose a start and finish time and set these rules for demonstrations by just one person. The police can currently only intervene if there is "disorder, damage, disruption and intimidation," but under the bill, this now would include "impact." Currently, you can be prosecuted for protesting illegally if you're found to have "knowingly broken the law," but the bill would mean you can be prosecuted if you "ought to have known the law" – a crucial and concerning distinction, say civil liberty groups.
As the Colston 4 trial goes through the courts, another part of the bill relates to the sentencing around statues. Currently damage to statues and memorials could get you a fine of up to £5,000 and a three month maximum prison sentence – under the bill you could be facing up to 10 years.
Others I spoke to were there to represent the van dwelling community who are concerned about the anti-trespass laws outlined in the bill. At present, police can only remove Gypsies and Travellers if they cause damage to land, use threatening violence or language or have more than five vehicles on the land. Under the proposed bill, if police consider that individuals are "likely to cause significant distress", they can act from a minimum of only one vehicles on the land.
"It's criminalising a way of life and people will end up losing their home. The government is feeding this vicious tabloid narrative that all Gypsies are criminals," one former vandweller told me.
Her partner added: "I'm concerned the bill encourages people to report to the police – someone who hasn't committed a crime, but might. There's a huge risk that this might report on Travellers from an unfair, unconscious bias."
In a sign of just how controversial some of the proposed laws are, former Prime Minister Theresa May, raised concerns in the Houses of Parliament. "Freedom of speech is an important part of our democracy – however annoying or uncomfortable that might be," said May, warning her successor Patel tread carefully between being: "popular and populist. Our democracy depends on it".
From rally to clashes at Bridewell Police station
By late afternoon, a contingent of the march peeled off to the plinth where the Colston statue once stood, speeches were made about police brutality, racism in the police force and Sarah Everard. Meanwhile in Castle Park there was a carnival atmosphere.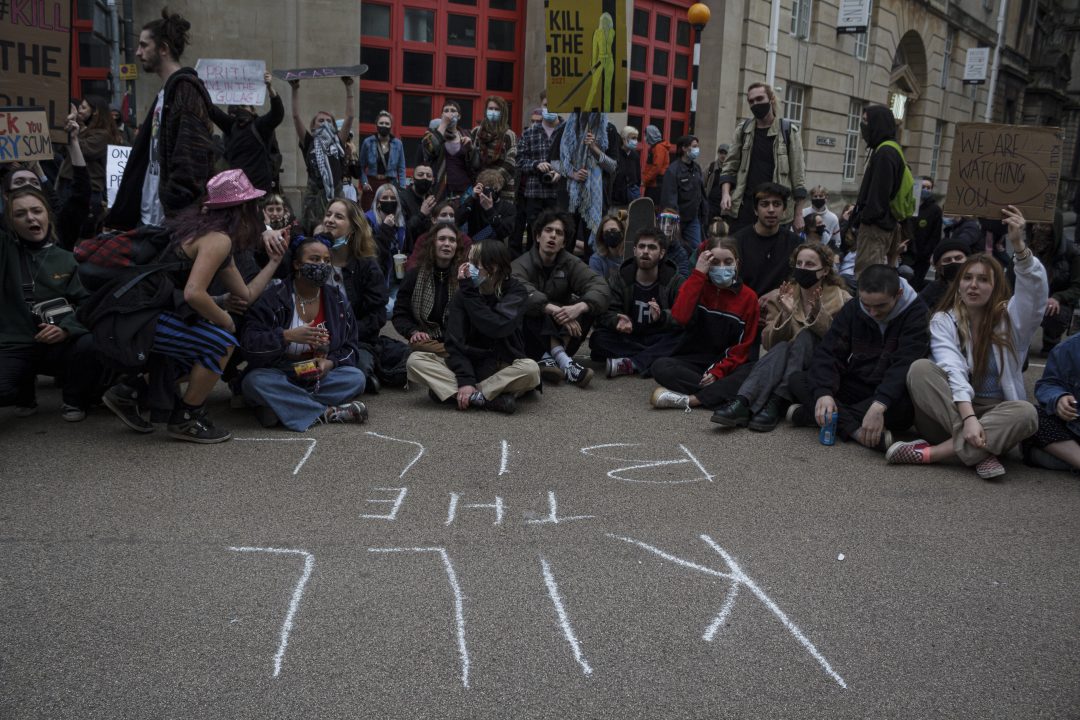 "If protesting works they'd make it illegal!" This bill is a compliment really!" a demonstrator told me triumphantly. Cheers erupted when protestors marched towards an approaching police van, forcing it to rapidly reverse down the street.
One protestor who plays for the Easton Cowboys football team said, "I do feel sorry for the police here, but this bill is undemocratic and unacceptable to the people. I have no idea if anything will change – the government doesn't seem to give a shit about us. The rich and the powerful have shafted us for years, and they're trying to do it again."
As the sun went down, the day shifted into a different phase. Three to five hundred people blocked the street outside Bridewell police station. There was a palpable shift as tensions rose; political anger seemed focused itself on the location – the police station and the police. The events that unfolded as night descended were captured by the Cable and other local reporters, and would come to dominate global headlines.
There were burnt out police vehicles, Bristol's central police station defaced, 21 officers injured, and an unknown number of injured protestors, but serious injuries were visible at the scene. Chief Constable Marsh of Avon and Somerset police released a statement denying the political nature of the riot, saying: "Let's be clear, the wanton violence and destruction had nothing to do with protest – it was committed by those looking for an excuse to commit disorder."
Others have spoken on radio, social media and to journalists challenging the official narrative that the predominantly young protestors stoked the confrontation, instead laying responsibility on the police and their choice of tactics. Some have raised the opinion that confrontational resistance is a proportional response to a bill that seeks to impose draconian restrictions on fundamental rights, and compared it to other major events such as the Poll Tax riots. How the events of Sunday night will ricochet or affect the passage of the bill is unclear, but the debate will certainly rage about the legitimacy of the events.