'Colston 4' to stand trial at Bristol Crown Court on 13 December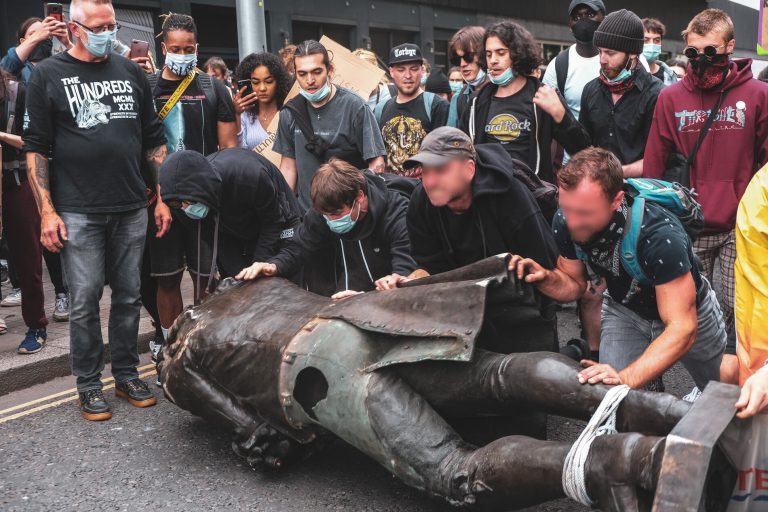 This morning (2 March) a High Court Judge heard the 'Colston Four' plead 'not guilty' to charges of criminal damage over the toppling of slave trader Edward Colston's statue; this time at the Bristol Crown Court.
Jake Skuse, of Farley Close in Little Stoke, South Gloucestershire, Rhian Graham, of Colston Road in Easton, Milo Ponsford, of Otter Close in Bishopstoke, Hampshire, and Sage Willoughby, 21, of Gloucester Road in Bristol, appeared at the Crown Court today for the first time after pleading 'not guilty' at Bristol Magistrates' Court in late January.
The four defendants are being tried in court in relation to their alleged involvement in taking down and damaging the listed monument owned by Bristol City Council on 7 June during a Black Lives Matter protest following the death of George Floyd in Minneapolis.
Today's hearing was met with much less police presence and no protestors outside the Crown Court, unlike the hearing at the Magistrates' Court on 25 January, which saw protestors arrested.
Judge Peter Blair QC, who will preside over the case, has set a jury trial date for 13 December, which could last up to eight days. A pre-trial hearing for the case has been set for 8 November, but defendants will not be required to attend.
Three of the defendants are represented by Raj Chada, head of criminal defence, and Laura O'Brien, associate at the high profile law firm Hodge Jones & Allen. In a statement following the January hearing at Bristol Magistrates' Court, the defence team said: "We will fight these criminal charges vigorously on behalf of our clients. We are committed to defending them and their right to a fair trial in this important case."
The defendants are on unconditional bail and so were free to leave.
Additional reporting by Priyanka Raval