Debunked: Expired MOT does not prove police vehicle fires were 'staged'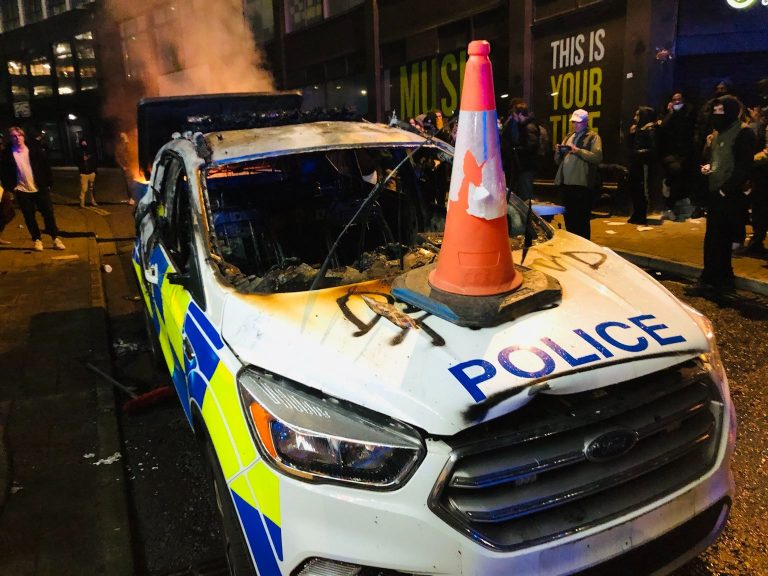 Conspiracy theories have been doing the rounds on social media claiming that the burnt police vehicles during the recent unrest in Bristol were staged because they had either expired or no listed MOTs.
On the afternoon of Sunday 21 March, thousands of protestors defied Covid-19 restrictions and took to the streets of Bristol city centre in opposition to the Police, Crime, Sentencing and Courts Bill, which curtails the right to protest. By the evening, a confrontation escalated between police and some of the several hundred remaining protestors, resulting in some of the most serious clashes seen in Britain outside Northern Ireland for years. During the disturbances two polices vehicles were torched and the windows of Bridewell police station were caved in.
A critical fact overlooked by people touting the conspiracy theory that the police vehicles were planted on the basis of the MOT expiration, is that police vehicles are exempt from MOT's, as stipulated under the Road Traffic Act 1988. They are instead maintained by approved mechanics in accordance with MOT regulations and manufacturer recommendations.
This explains why the two police vehicles which were set alight during the disturbances are shown to have expired MOTs on the government's online MOT database.

There are also people stating that the vehicles shared the same number plate, implying that this proves that the vehicles were 'planted'. This is again false. On review of photos and video from the night of unrest on Sunday 21 March, two similar but clearly separate number plates can be identified. They are WX17 FHR and WX17 FKY [Link / Timecode – 1:56:16].
Last week Avon and Somerset police retracted their statement that police officers had suffered broken bones, and in one case, a punctured lung. This false claim was widely circulated in the media before the retraction. The incorrect police statement, issued in the aftermath of the riot, has fed suspicions among some people in Bristol.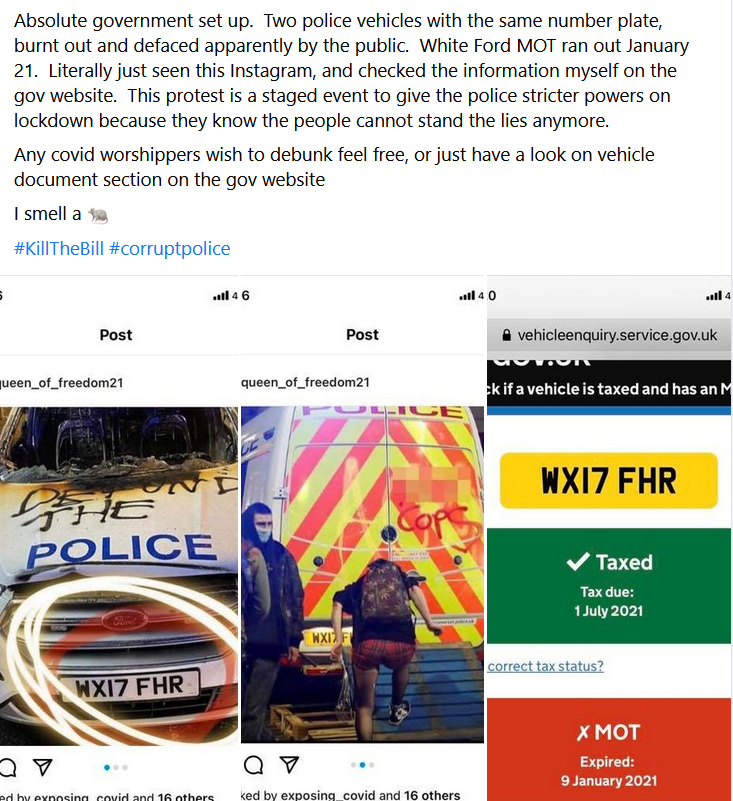 The suggestion, that police vehicles were deliberately planted at protests to entice demonstrators to damage them and thereby discredit protestors, is not new. During the student tuition fee demonstrations in 2010, for example, some protestors speculated that a police van had been left in a kettled crowd deliberately. However, there has been no evidence to prove this.
In conclusion, it is incorrect to claim that the expired or unlisted MOTs of the burnt police vehicles is proof of them being planted.