'Fossil fuelled public sector pensions reveal deep political faultlines on climate crisis action'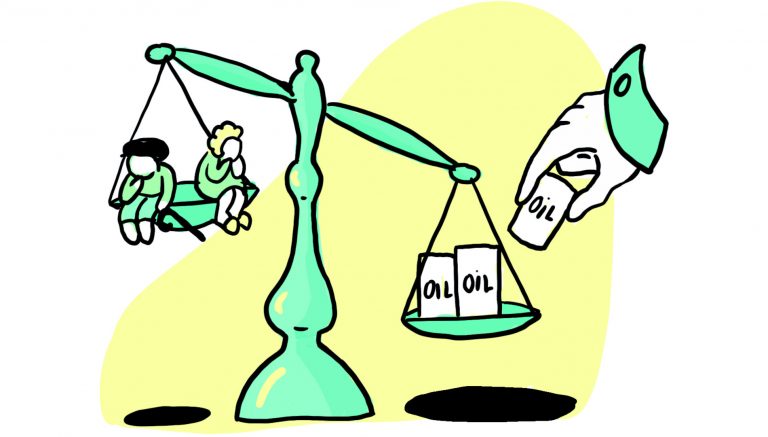 Illustration: Marta Zubieta
We're hurtling towards a climate catastrophe based on burning fossil fuels.
So why hasn't Avon Pension Fund, the organisation that administers a multi-billion pound pot on behalf of 100,000 local workers and more than 400 regional public sector employers, including Bristol City Council, stopped investing in oil, coal and gas companies?
The answer is far from straightforward, and reveals political faultlines between people who agree on the threat climate change poses, but not on how to address it – in Bristol and beyond with £10 Billion invested in fossil fuels by local government pension schemes across the UK.
In September 2020, Marvin Rees, in a joint declaration with mayors from 12 international cities, committed Bristol to taking "all possible steps to divest city assets from fossil fuel companies" and "[called] on city pension funds to do the same". Though lacking a specific timeframe to act, the announcement was lauded in the media. But it came as a surprise locally.
Some Labour councillors have resisted efforts to pressure the Avon Pension Fund, and other major contributing employers, towards deadlines for dropping investments in oil, gas and coal. Officially the administration supports divestment, but not committing to a timeline severely dilutes its stance.
These are hardly climate-change deniers, but self-styled pragmatists. In amending Green Party motions in 2015 and 2019 aimed at ending fossil-fuel investments within five years, they argued that the pension fund should focus on working with companies to change, "rather than 'walking away' and surrendering all influence".
The theory is that shareholders can persuade companies to direct more of their enormous resources towards clean energy. Investors have a seat at the table – and getting rid of the investments could see them picked up by even less scrupulous parties. As such, divestment is merely symbolic and risks "playing politics" with people's pensions in a way that is "anti-worker", according to the Labour amendment of the Green motion in 2019.
Aside from the fact that any individual pension of this type is guaranteed, and that workers from local branches of the trade union Unison have formally called for the fund to rapidly divest from fossil fuels, the theory does have credibility. It's the approach taken by Avon Pension Fund and its parent organisation, the Brunel Pension Partnership, which oversees a huge fund of £30bn for workers across the whole region. These funds are considered some of the best at increasing low-carbon investments and lobbying dirty companies to clean up their act.
Still, they reject divestment as ineffective and too financially risky, at least until a review of the Paris climate agreement in 2023. This approach is supported by Labour councillor Steve Pearce, the council's voting representative on Avon Pension Fund board. (Until at least 2017, Pearce is recorded as having investments in Rio Tinto, one of the world's biggest mining companies, which was until 2018 heavily invested in coal. As the Avon Pension Fund maintains shares in Rio Tinto, the Cable asked Pearce to comment on personal investments but the requests went unanswered).
Though some changes are welcome, the big question is, do the letters, and shareholder motions, really shift such companies away from their profitable business models? Is it credible that Avon Pension Fund's investment in Rosneft, the Russian state-backed oil giant set on new mass exploitation of the melting Arctic, will prompt the firm to act on ethical concerns? Will its £2.2m in Glencore, one of the world's biggest coal miners, have any effect?
Companies can make superficially positive statements that mask deeper inaction. In April 2020, Shell announced 'ambitions' to be carbon-neutral by 2050, while resisting shareholder efforts to bind them to specific targets. Five months later, Shell began new Arctic oil exploration. At that time, Avon Pension Fund had £3.2m invested in the company.
Choices, choices
Trouble is, there's also not much hard evidence supporting the impact of divestment – though dozens of major international and UK institutions, such as universities and the Church of England, have moved on from fossil fuels, the assets are just resold. Similarly, Glencore's CEO said last year that to divest from a coal mine would most likely see a Chinese company buy it, operating with lower environmental standards.
Nonetheless, money that remains tied up in stubborn companies equals less investment in the green solutions and jobs we desperately need. There are no perfect answers – but the clock is ticking and political choices need to be made. For Bristol to lead the way, and meet the letter and spirit of its various declarations to be carbon-neutral by 2030, surely we can't be financing fossil fuels?
Are you a member of the Avon Pension Fund? You can find out more about the investments in your name at avonpensionfund.org.uk.