Diana Warner says the justice system is unjust in the battle against the climate crisis
"I don't feel proud of what I'm doing", says retired GP turned environmental activist, Diana Warner. "But this is the pathway that I feel that I've got to take."
With 30 years experience in the NHS under her belt, Dr Warner was spurred into action by the realisation that the climate crisis was also a major public health crisis. "It's a burning issue for any doctor," she mulls.
In summer 2020, Warner was held on remand for four weeks at Eastwood Park Prison for throwing paint at four trade union buildings, targeted because she thought they failed to promote climate change prevention. In her first week in prison she went on hunger strike. It's not her first brush with the law, the retired doctor and former Green Party MP candidate has been arrested multiple times as part of nonviolent environmental protests, including against Conservatives and Liberal Democrat party headquarters. In January, she was jailed again for breaking bail conditions as she refused to attend her hearing for fear of not getting a fair trial, she tells the Cable.
In this interview, Dr Warner explains why she is refusing to engage with the courts and how in denying environmental activists the right to use the 'necessity defence' – whereby a defendant argues that it was necessary to commit a crime to prevent a greater harm – the courts are stopping urgent environmental change.
Morally right but legally guilty
In 2018, Bristol was the first UK council to declare a Climate Emergency, pledging to achieve carbon net zero by 2030, a full two decades before the national target. Although it remains to be seen if the city can achieve its pledge, it shows that local authorities like Bristol are beginning to recognise the scale of the climate crisis and the need to take action locally.
However, the recent approval of Heathrow's third runway and the next phase of the controversial HS2 high-speed rail development, for example, have deepened concerns among environmental activists that public authorities and companies are burying their heads in the sand, and that courts are green lighting harmful infrastructure projects. "[The] courts are making decisions that will worsen climate change," Dr Warner bluntly puts it.
The surge in protest activity beginning in 2018 with Extinction Rebellion and unaffiliated environmental activists across the country, saw people take matters into their own hands. In Ashley Down, protesters recently lost their battle to save mature maple trees when they were cut down to make way for a property development, which will worsen the already poor air quality in the community. These campaigns and setbacks have only steeled Dr Warner's commitment to nonviolent direct action, she says.
"The whole of the state machinery is ignoring the existential problem or just providing lip service," says the doctor. "Increased policing is making it much harder for protesting… "we're forced to take nonviolent direct action because any other way hasn't worked."
But now, she adds, "we're being made criminal because the courts are not allowing us to plead necessity."
In cases of direct action, some activists have argued they acted out of necessity to prevent a greater harm. This is called the defence of necessity. Only used in exceptional circumstances, environmental activists have used the defence to argue that their nonviolent action is a necessary and proportionate response to the seriousness of the climate crisis.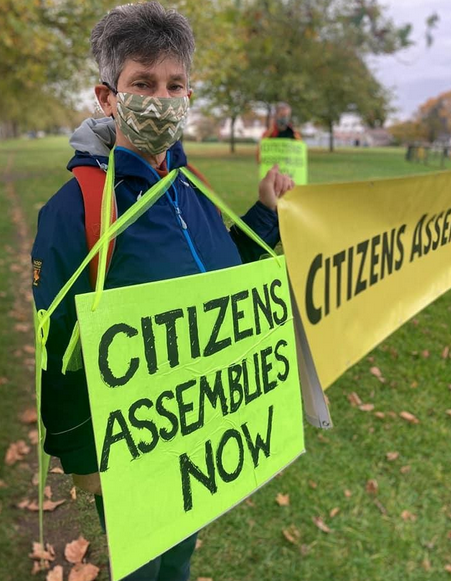 The former Green Party candidate for Filton and Bradley Stoke in 2017 says: "We are morally right but under law we are guilty, that's basically what he [the judge] said, and stressed again and again".
Allowing the necessity defence would not only mean climate activists winning their cases but, as one barrister explained to her, would also "legitimise Extinction Rebellion, legitimise what people were doing. And they [the courts] can't do that".
The threshold to meet the requirements of the defence remains incredibly high with defendants having to prove that there is no reasonable legal alternative to their nonviolent action. Given this, Dr Warner refused to attend court hearings in protest. "My conscience will not allow me to cooperate," she wrote in a letter to the Magistrates'. The doctor was subsequently jailed again at HMP Eastwood Park for five nights for contempt of court.
Role of courts in climate action
Dr Warner is now self-representing at court to make her case on the grounds of necessity and to get "the judiciary to start really thinking about what they're doing and the consequences."
"They [lawyers] can't use the necessity defence on our behalf so the only way we can start using the necessity defence is [to] self-represent. But they can give us advice", she explains. The courts must play a more constructive role in addressing the climate crisis as they can help hold the government and others to account on its climate action, she stresses. "If the law was making correct decisions, the government would find it extremely hard to continue in the way it is".
In a landmark case in 2019, the co-founder of Extinction Rebellion, Roger Hallam, and another climate activist, were cleared of all charges related to spraying 'divest from oil and gas' on the walls of King's College London in protest at its fossil fuel investments. Hallam had appealed on the grounds of necessity and won, and the university later committed to divesting from fossil fuels by 2022.
In February, the Lord Chief Justice quashed the convictions of the Stanstead 15 in the Court of Appeal. The fifteen activists were prosecuted for stopping a Home Office chartered deportation flight in 2017 and this recent judgement has buoyed the hopes of protesters. But the legal precedent the verdict sets is likely to be limited. The judge refused to accept the grounds of necessity, arguing that other legal channels, such as immigration tribunals, were available to the defendants – instead acquitting the activists on separate grounds.
Asked how she feels about the prospect of returning to prison, Dr Warner says: "I just think I have a job to do. I'm trying to focus on making life safer."
Correction: This article was amended on the 11 March 2021, to state that Dr Warner was jailed for throwing paint at trade union buildings not at the Liberal Democrat and Conservative party headquarters. Dr Warner was later jailed again for breaking bail conditions not for being in contempt of court.