Police and Mayor 'decided collectively' to clear sit-down protest on College Green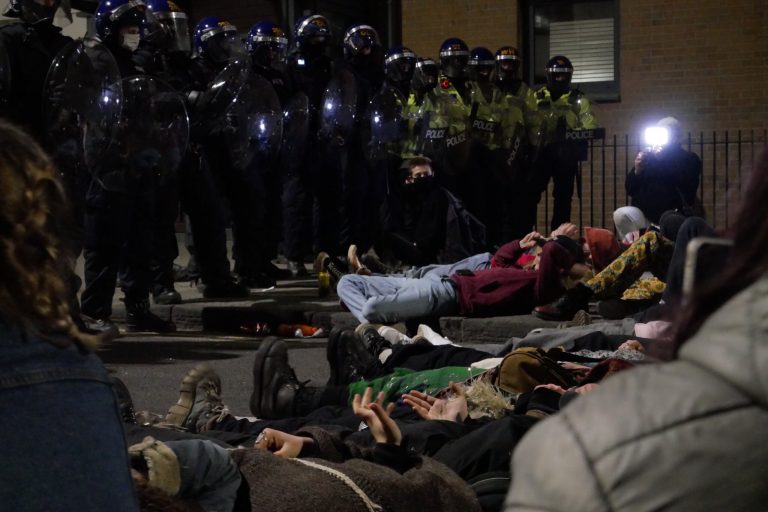 In a candid radio interview with the Bristol Police Area Commander this morning, it was disclosed that police decided collectively with the Mayor to clear Tuesday's demonstration from College Green outside City Hall, which ended in police forcibly removing protestors and hitting them with riot shields.
Bristol Mayor Marvin Rees and the director of public health Christina Gray were said to have agreed in advance with the clearance of demonstrators last Tuesday, on public health grounds.
The man in charge of policing in Bristol city centre, Superintendent Mark Runacres, said on BCFM's One Love Brekkie Show today that he had spoken to the Mayor's office and the director of public health "to assess what would be the necessary and appropriate response," ahead of the protest on Tuesday 23 March.
The Superintendent said: "It was decided collectively that it would be necessary to move people along from College Green, because there were concerns around the public health risk that public gathering would bring," adding, "the decision was made to clear the area.
A spokesperson for Mayor Marvin Rees told the Cable: "It's good practice that the police consult before events and the views of public health and other partners are important in achieving a common understanding of how to manage public events in everyone's interest. However, only the police can determine police operations."
Last Tuesday, riot police broke up the peaceful sit-down protest on College Green, after demonstrators refused to obey Covid-19 restrictions on public gatherings and police orders to disperse. Footage reviewed by the Cable shows protesters on College Green being clubbed, hit with riot shields, and dragged by police.
Fifteen protesters were arrested and no officers were injured. An unknown number of protestors were injured.
The protest was the second time riot police were deployed on Bristol's streets in a matter of days. Unlike the unrest on the previous Sunday, little resistance was put up by protesters. Police nonetheless used significant force to disperse the crowd of about 200 people.
Tuesday's protest was specifically against the criminalisation of trespass that the Police and Crime Bill will introduce if enshrined in law. The increased restrictions around trespass are bundled into the same Bill that also restricts the right to protest.
The Bill plans to amend the Criminal Justice and Public Order Act 1994 to make residing on land in a vehicle without consent a new offence and strengthen existing police powers in dealing with unauthorised encampments, lowering the threshold to remove them and stop them from returning for 12 months. Campaigners and activists say these provisions would criminalise nomadic ways of life, including van-dwellers and Gypsy, Roma and Traveller communities.
One of the protesters, Lucy* said the emphasis had been on it being a peaceful occupation to protest the elements of the Police and Crime Bill that target travelling and van dwelling communities.
"They just came in with a helicopter and forces from all sides and blocked off all the roads. One young girl just got picked up and thrown to the ground, I saw another man just being dragged out and arrested," she told the Cable.
While reporting at the scene, Cable reporters Adam Cantwell-Corn and Alon Aviram were pushed by an officer and threatened with arrest and the use of force, despite their press credentials being clearly visible and identifying themselves as journalists. Avon and Somerset police have since apologised for the officer's actions, which the force says were "not acceptable".
'Unsightly but legitmate' tactics
Supt Runaces told BCfm: "I've been in policing for over 25 years now, and it's an unfortunate reality that in public order policing, the tactics that are used – the shield strikes that you're referring to – that's an absolutely legitimate and trained tactic that officers are coached on in their public order training."
"It may look unsightly and shocking to some, but in terms of the reality of public order policing, and policing disorder, it's a legitimate tactic that an officer can use, if it's necessary to move someone away from an area, if they are a threat, or to keep themselves safe," he added.
"That might be unpleasant for some, but it's difficult for me because I can't sit here and criticise officers for doing something that they've been trained to do. It is scary. I feel uncomfortable saying this, but that's how it's supposed to be, when we are dealing with public order policing, part of the way you want to operate is when you are in that mode."
After the disturbances on Friday 26 March, the Mayor published a statement on Facebook condemning the "violence on our streets" and alleged that people were "travelling into our city to protest or to cause conflict."
He praised Avon and Somerset Police for having: "shown they are capable of managing protests well and with sensitivity and have developed a strong culture of working with our communities".
In contrast to the Mayor, a group of 16 Labour councillor candidates penned an open letter condemning what they described as 'excessive force' used by police against protesters in Bristol last week