These workers on strike at British Gas are facing 'fire and rehire'. Is this a sign of things to come?
Les, Nick and Dave, all Service and Repair engineers, have 50 years experience working at British Gas between them. "I started when I was 19 as an apprentice, it's all I've done since," Nick tells me. "I was proud to work for British Gas, but not any more." Sentiments like Nick's are often heard on the acting 'picket line' – by the fountains in the city centre, which has been held most Monday mornings since the new year.
The group gathered here are among the 10,000 workers involved in industrial action across the UK after British Gas' owners, Centrica announced last summer, in the middle of the pandemic, that they were planning to "fire and rehire" workers on inferior terms and conditions. Workers in the trade union GMB rejected the terms with 89% supporting strike action – the biggest dispute the sector has seen in more than four decades.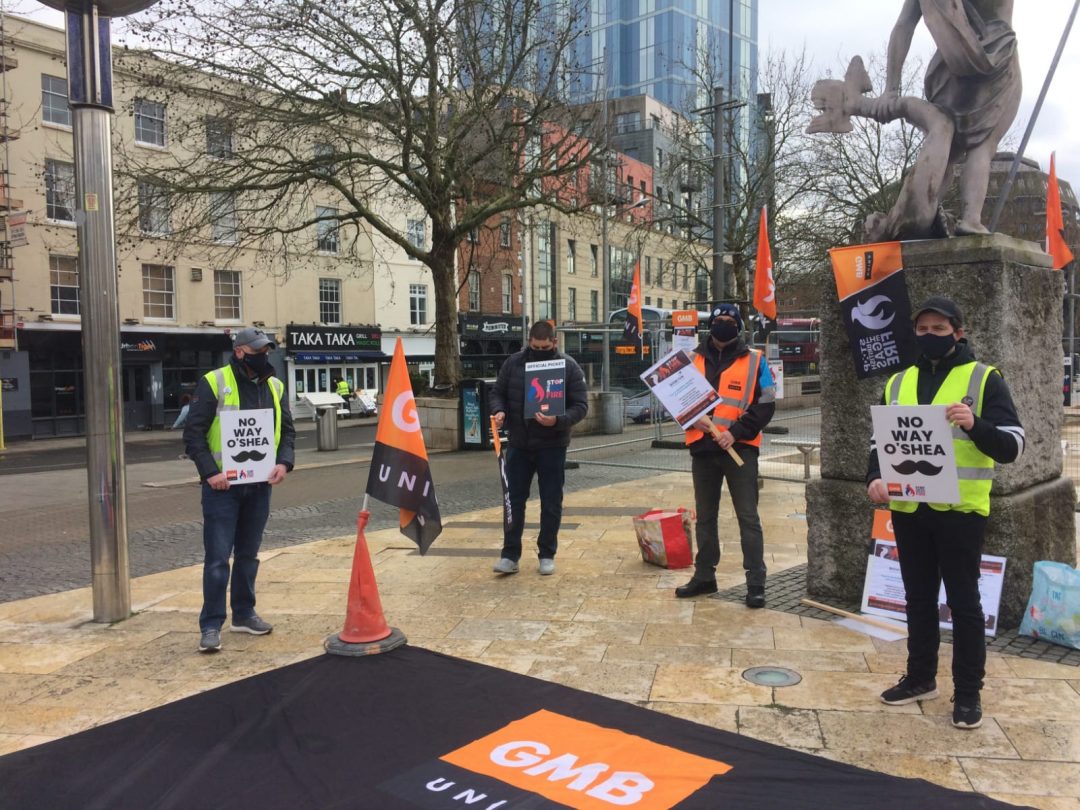 Les also started as an apprentice, but like many other career engineers at the company, he's recently decided to throw in the towel, ground down from the dispute which has raged since last summer. "I'm disgusted and distraught," adds Dave. "Every time my lad comes round he says, 'Dad, let's talk about something else!' – but it's been a constant worry."
A steadfast presence at these demos is Adie Baker, a local GMB union rep. Baker has one eye on his workers, the other on the emerging bigger picture. "Another guy just came over here saying he works for BT and the same thing is about to happen there," he tells me. "British Gas, bus drivers at Go North West in Manchester, Scottish Gas…" he lists the other workers facing fire and rehire. Just half a mile from where we are is the Evans Cycles bike shop, who last week also threatened their workers with fire and rehire.
Cars occasionally honk their support for the strikers as they drive by, and there's an encouraging thumbs up from passing pedestrians, but a sense of foreboding is heavy in the air.
And now it's crunch time – engineers now have until tomorrow (Friday 25 March) to decide if they will sign the contract with protected terms. On 29 March, those who have not signed will be served their notice.
British Gas claims it's in hot water, workers are left cold
News of fire and rehire blindsided British Gas engineers, who say they were assured at the start of the pandemic they'd be protected, only to then be served Section 188's – a notice of mass redundancies – in June. The changes to the contract include less holiday, more overtime, more hours, uncapped working weekends, lower hourly rate and working weekends. The largest affected business unit – Service and Repair – voted to reject the deal in December, and voted to reject the second deal offered second earlier this month, with 79% voting against the new deal.
A turn of events that many have found difficult to square with Centrica's own statement that "they delivered a resilient performance against the unprecedented backdrop of the Covid-19 crisis", posting significant operating profits. The company had benefited from the taxpayer funded Government's Job Retention Scheme to the tune of £27 million by February 2021.
"The thing is," explains Les. "If the company had said they were in a bit of financial trouble and we had to help them out, we'd have done it. We've taken pay freezes before, three years we took a pension cut to improve the business. But to threaten fire and rehire from the start – you have a gun to your head!"
Others worry the new terms and conditions will impact their work-life balance: "More evenings and weekends and no extra money – why should my family suffer? My partner works nights – if I work more hours, I'd never see her!" says Glenn.
The introduction of a target-driven performance management system is also a point of contention, Toby and Dave tell me at the most recent gathering. The new system requires doing around seven or eight breakdowns a day, with bonuses for quick turnaround and sales. "But to achieve that – you'd have to rush like crazy – it's a real safety issue because you could end up doing a bad job or leaving a gas leak," explains Toby. "And water don't drain down from appliances any quicker than it did five years ago!" adds Richard.
The emotional toll
"It's not about the money," is a phrase people I've been told by almost everyone I speak to at the picket: It's a matter of respect, they tell me, the total lack of appreciation. As key workers, British Gas engineers have worked throughout the pandemic, many delivering food parcels with the Trussell Trust. As one of the strikers told me, "It's not about pay, it's about recognition. We're just asking for fairness." Many expressed feelings of anger and betrayal.
One bitterly cold morning in February, it was clear the thought of customers going without heating was weighing heavily on the strikers' minds. "I feel guilty for going out on strike," Les told me. "It's our busiest time of year and we can't go out and serve our customers."
The first deadline to sign the contract was 23 December, casting a dark cloud over the festive season, and it has been extended twice since then. Many engineers admitted struggling with anxiety and sleepless nights. "It's the constant precarity – you can't plan," one picketer told me.
Others tell me of being bombarded with texts, emails, messages and personal visits by managers to persuade them to sign the deal. In the final push to get workers to sign, workers have been having one-to-one Zoom consultations with managers, to discuss the implications of not signing.
"I broke down in mine," Glen admits with difficulty and then quickly laughs it off: "Imagine, a big guy like me, with 30 years experience! It just got to the point where I was that mentally affected with everything that was going on."
Fire and rehire: A story of our time?
According to research by the TUC, one in 10 workers have been told to reapply for their jobs on worse terms since the first lockdown last March. While 'fire and rehire' is not a new tactic, it's being used with renewed brazenness by opportunistic employers seeking to use lockdown and job insecurity to slash costs at the workers expense, the report claims.
James Meadway, economist, analyst and former advisor to Shadow Chancellor John McDonnell concurs: "In the UK we have weak protections for those at work, trade unions would be the way to redress that harm but their role is diminished. Then you get the pandemic," he tells the Cable.
"Employers are reeling from the economic shock of the pandemic – the costs incurred in changing to adapting to it. And the wider shock, that with more people staying home and not spending money, there's less demand on the economy and therefore more unemployment. Some are seizing on the weak labour protection we have in the UK to drive an increase in fire and rehire."
The Commons Committee condemned the practice of fire and rehire and recommended that the law be changed to protect workers. Condemnation has also been voiced by MPs from both sides of the House. At present however, this seems little more than lip service.
"The Government could easily intervene if they wanted to. They have an 80 seat majority and Labour would support a change in law." Meadway adds, suggesting then that it is the political will that's lacking.
Another aspect to this is that British Gas and British Airways, who also threatened workers with fire and rehire, represent traditional industries threatened by the advent of climate change. "This will be a challenge on the left's concern about workers rights," says Meadway, noting policies such as the Green New Deal and Universal Basic Income as means to future-proof workers and insulate them from the looming economic fallout of coronavirus.
"A lost cause"
"We are out here striking but it feels like a lost cause really," a dejected striker tells me.
Negotiations between British Gas and GMB, and mediated by employment arbitration service ACAS, have fallen through. With the British Gas imposed deadline to sign the new contracts looming, the business is keeping their cards close to their chest about what will happen after March. Those who are fired and choose not to sign another contract have no idea if they will be working their notice period – up to 12 weeks, dependent on length of service – or will be paid in lieu of notice.
With the economic fallout of the pandemic beginning, the British Gas saga may be a landmark case, demonstrating an unnerving prospect facing many people who were lauded as "key workers" during the pandemic, but now find themselves treated as disposable.