Watch: Police forcefully break up Police and Crime Bill sit-down protest followed by major clashes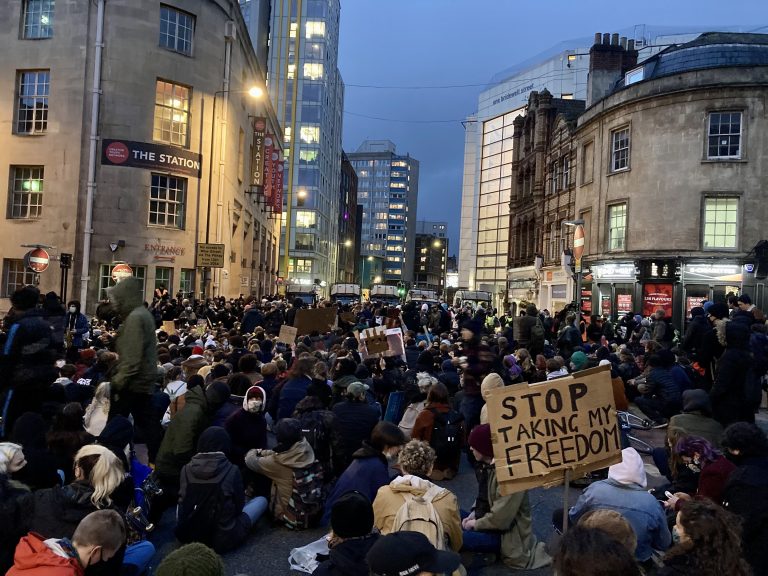 Police forcefully broke up a sit-down protest of up to 1,000 people in Bristol city centre last night in the third protest against the Police and Crime Bill in a week. As the crowd scattered under horse charges and the use of police shields as weapons, the protest then turned to running clashes with the remaining protestors, with some throwing rocks, traffic cones and fireworks at the police and blockading police vehicles.
Earlier in the afternoon, around 1,000 people had gathered at College Green before marching around the city centre, despite police urging people to stay at home because of Covid restrictions.
This came after Sunday's demonstration which developed into a riot, as police vehicles were torched, and the windows of Bristol's main police station were caved in following clashes between police and protestors. Then on Tuesday, police violently broke up a peaceful sit in protest on College Green, leaving multiple protestors injured.
After the march on Friday night, up to 1,000 protestors sat in the road facing riot police near the Bridewell Police Station, where a relatively calm protest lasted for three hours. There was music, chanting and flowers were handed to police. Some eggs and drink cans were seen thrown at police lines but no direct clashes. There were arguments in the crowd as some demonstrators called on others to sit down amid chants referring to the authoritarian Police and Crime Bill and shouts of "peaceful protest! peaceful protest!".
Citing the enforcement of Covid-19 restrictions, at around 10pm police forcefully advanced into the sitting crowd, hitting them with riot shields and batons. As protestors tried to sit down after being forced back, Cable reporters filmed demonstrators being struck by riot shields and knocked to the ground.
As the protest was dispersed and pushed back by horse and officer charges towards the Bearpit, Cabot Circus and the M32, fireworks and projectiles were thrown, with one firework hitting a police horse.
A makeshift medic station was set up in Broadmead after a number of protestors suffered head wounds. A journalist from the Daily Mirror shared a video of being attacked by a police officer despite identifying himself as press.
Avon and Somerset Police released a statement on Friday night saying there had been 10 arrests. Superintendent Mark Runacres said: "The majority of people acted peacefully however there was a minority who once again showed hostility to officers.
"Items, including glass bottles and bricks were thrown at officers, fireworks were launched at our mounted section while one of our horses was also covered with paint This violent conduct is not acceptable."
Watch: how the protest unfolded