A green jobs revolution must go beyond construction and manufacturing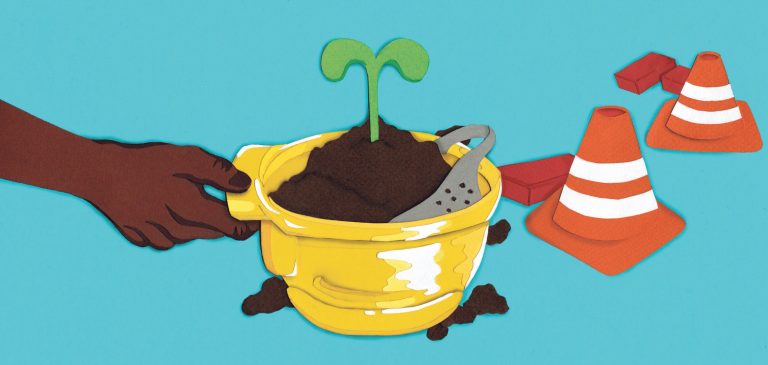 Illustration: Megan Pilcher-King
Before the pandemic, in the wake of powerful street protests, an outpouring of climate concern washed over Bristol and the West of England. Bristol City Council's declaration of a climate emergency then spurred many of its peers into similar announcements.
At a national level, reaching 'net zero' by 2050 (or sooner) is the goal. Driven by initiatives like the Climate Assembly UK, and amplified by coverage even from previously sceptical media outlets, climate policies are finally part of our national conversation. 
Today, a report by Green New Deal UK found that a government investment programme could create enough jobs to replace those lost to the pandemic – 1.2 million jobs within two years.
Tellingly, politicians across the political spectrum are tripping over themselves to talk up the potential of 'green jobs'. As 2020 came to a close, Boris Johnson announced a 10-point plan for a 'green revolution', central to which was the promise of 250,000 such jobs to 'level up' and 'build back better' after Covid-19.
The prime minister's rhetoric has been echoed locally, with the current West of England Combined Authority (WECA) mayor, Conservative Tim Bowles, enthusing about the region's potential as a hub for low-carbon jobs. Bristol City Council have made green jobs a part of the One City Climate Strategy, and the topic looks set to shape the Bristol mayoral race with Green Party candidate Sandy Hore-Ruthven leading on a promise of 10,000 green jobs to help the city recover from the pandemic.
But making good on the talk means unprecedented investment, and a transformation of every sector in the country in a matter of decades.
Bristol's sustainability strategy estimates that between 75,000 and 100,000 additional working hours could be required if the city is to become carbon neutral by 2030. A Local Government Association analysis suggests more than 25,000 low-carbon roles could be created in the WECA region during the same time period. That's a lot of jobs. 
In the upcoming elections, candidates who are vying for the position of WECA metro mayor will have a lot of control over employment, training and industrial strategy in the region. So how are low-carbon jobs and a green recovery manifesting in the promises being made by candidates on the campaign trail?
Low-carbon promises
Samuel Williams is the Conservatives' prospective metro mayor, having pulled out as Bristol's mayoral candidate in late 2020. "It is important we invest in low-carbon construction for new buildings, and retrofit current properties," he told the Cable. "I will prioritise the regeneration of brownfield sites, making the most of our underused spaces."
The focus on buildings, old and new, makes sense – the UK's building stock accounts for nearly a fifth of its greenhouse gas emissions. Dan Norris, Labour's WECA candidate and an ex-environment minister, also highlights the importance of buildings, adding that "tackling climate change requires a proper strategy". 
"That's why I'll rapidly establish a Green Recovery Fund, which will create 23,000 new jobs," he says. "I want to see serious investment in home retrofitting, tree-planting, flood and drought defences, and renewable energy."
This ambitious list reflects the breadth and scale of change required, but jobs won't simply appear without the right training, something ex-Bristol West MP and Liberal Democrat metro mayor hopeful Stephen Williams is focused on. "I will work with further education colleges and apprentice training firms to ensure we are training people in the green jobs of the future, and I plan to set up [a] West of England Centre for Green Technology Excellence."
Reflecting the shifting national discourse, the candidates' ambitious promises are encouraging, if changes can be made swiftly (2030 is only nine years away). Stephen Williams' focus on the educational pathways required to skill-up the workforce is welcome, as, although financial investment from national government is critical, regionally-tailored apprenticeships and vocational training will be at the heart of the transition.
Labour's Green Recovery Fund is based on bringing forward planned investment, bolstering existing investment pledges made by the Conservatives, and a renewed call for a National Investment Bank with a green mandate. But even this belatedly rapid pace of change is, arguably, the bare minimum – this is a transition that should have started two decades ago.
A Friends of the Earth report, setting out 10 key challenges for the incoming metro mayor, argues that not enough attention is being paid to the inequality that has driven vulnerability to Covid-19, and will shape the contours of the climate crisis. People on lower incomes, and especially communities of colour, suffer most from a lack of nature and green space in towns and cities, are hardest hit by air pollution, and are least likely to own cars, it noted.
Ensuring the green revolution is a 'just transition' is critical. A recent citizens' jury, led by the IPPR think-tank, found strong support for green jobs, but also a recognition by jurors that "no-one can be left out" and that the response "needs to increase equality in society".
This is a perspective supported by the Green Party metro mayor candidate, Jerome Thomas, who told the Cable he will lobby national government for tax reforms to support the growth of green jobs. "I would campaign for the increased taxation of wealth, which is an essential part of us becoming a fairer country, and lobby for a reduction in VAT on energy-efficiency products and home renovations," he says. Thomas has since launched his manifesto – a Green New Deal for the West of England – which includes green jobs as a priority.
Widening the 'green jobs' definition
A new report by Green New Deal UK found that a stimulus programme costing £68 billion, focused on green and digital infrastructure, energy and care work, could create enough jobs to replace those lost to the pandemic – 1.2 million jobs, within two years and 2.7 million during the next decade. The research says that 5,850 jobs could be created in Bristol alone. The Green New Deal campaigners argue that green jobs are not only low-carbon, but must also include jobs that sustain healthy, happy lives, and are local to our communities.
Tools that track green employment in the local economy show where the highest demand for jobs is likely to be – in sectors such as construction and manufacturing. But while solar-installers on pitched roofs, and tradespeople carrying rolls of insulation, are the visual shorthand for green jobs, other parts of our economy are also about to start changing fast. 
"Some jobs we don't think of as 'green' start to look very green when you think more carefully," explains Simon Roberts, chief executive of the Bristol Centre for Sustainable Energy. He gives the example of people working in our electricity distribution system, which will have increased demand from electric cars.
"We seem to be shy of calling these 'green jobs', yet this rewiring of the city will be a major source of new employment."
Green jobs are not just about fitting solar panels, or upskilling people to become biomass boiler engineers, adds Labour's Dan Norris, who says that, as metro mayor, he would comprehensively review our local transport infrastructure. In the WECA region – one of four nationally to be identified as a future transport zone, which translates to £24 million in government money for decarbonising transport – some of the clearest early signs of change are in this sector. 
There are two possible scenarios, according to Bristol-based active travel specialist David Lucas. "The first is that autonomous electric vehicles flood the streets, we retain the congested status quo, and jobs are in both transport and retail as more shopping moves online," he says. "The second is restricting what vehicles, when, can access the city. Autonomous vehicles that stop at the outskirts, cargo bike delivery, last-mile delivery on foot, or a community ferry service can generate lots of new jobs in Bristol."
Initiatives that push back against decades of car-culture are controversial. Plans for low-traffic neighbourhoods have proven sufficiently contentious that the Bristol Advisory Committee on Climate Change has issued rapid guidance on how to better engage around these crucial initiatives. It's tempting to dismiss objections as being in bad faith, but genuine questions around fairness, access and inclusion must not be ignored. 
Other sectors also offer exciting potential for green innovations, argues Conservative WECA candidate Williams. "Our creative industries can inspire and challenge us to be greener," he says.
Here in Bristol, it's perhaps no surprise to find a flourishing space where culture and climate change interact. Pauline Bourdon, a sustainability coordinator for Bristol event promoters Team Love – known for the Love Saves The Day and Simple Things festivals – has just launched a new company called Soliphilia, focused on greener touring and sustainability for the music industry. "The idea is to work directly with artists, agents and managers to make sustainability an integral part of their careers and day-to-day practices, pioneering new industry standards," she says.
Being the change
Green jobs, then, are finally a hot topic. But with mere decades to extinguish carbon emissions quickly and fairly, the idea of them being in a separate category, while the rest of us carry on as normal, misrepresents the situation we're in. On some level, all jobs from here on in must rapidly become greener.
Ultimately, the only way out of Covid-inflicted economic damage is a green recovery – on this, there is little dispute between the WECA candidates. But with the stakes so high, what really matters is making good on green recovery promises – so candidates' commitments are worth paying close attention to.
Broadening our definition of a 'green job' is crucial for accelerating the transition. When most people 'see themselves' in the stories of change, the green revolution becomes something everyone has a stake in.
What is WECA? Read this explainer about the local elections and other coverage