Analysis: How Mayoral candidates will need to battle for votes and look both ways as they race for City Hall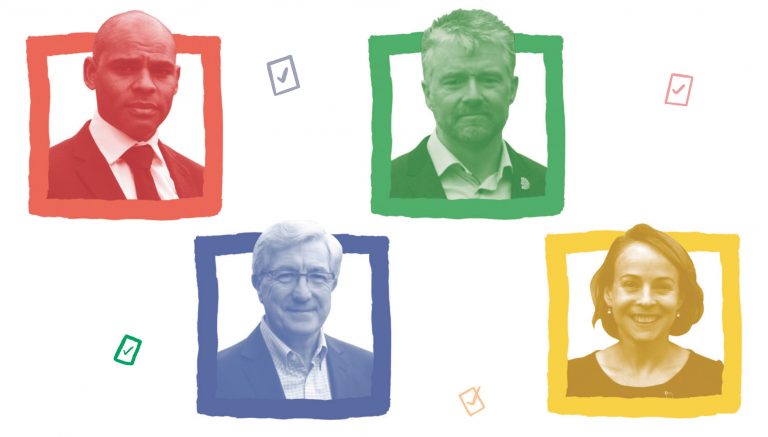 "Standing in the middle of the road is very dangerous; you get knocked down by the traffic from both sides," said Margaret Thatcher.
She certainly didn't stand in the middle of the road when it came to local government, whose power her governments ruthlessly undermined. But looking to the coming election for Bristol's mayor – not to mention the race for the West of England metro mayor, and Avon and Somerset's police and crime commissioner – the voting system could help push candidates towards the middle, for better or worse.
Unlike in general elections, where you vote for one candidate, under the 'Supplementary Vote' system people can place two votes, in order of preference. So as well as rallying their base, candidates and parties will be seeking to get second-choice votes from others.
Though not a comprehensive overhaul of the system, the idea is to drive up the votes a winning candidate secures. This increases their political legitimacy and avoids situations – like in general elections – where MPs and governments can be elected with less than half the constituency or population voting for them.
But for the Bristol mayoral election, likely to be the most closely watched contest, the voting system is not the only dynamic forcing candidates to try to ride multiple horses at once. Labour are the favourites, but facing issues
Within Labour itself, which enjoys high support and office in the city at all levels, the battle for the party's direction is continuing locally as it is nationally. There have been resignations, allegations and insurgent speeches by prominent councillors, mostly on the party's left, criticising mayor Marvin Rees's leadership as bullying and unaccountable – which he denies – and his politics as centrist or worse.
Dissent-inducing policies include freezing council housing rents, a potential vote-winner but a policy that cuts future income for repairing, improving or building social housing. Engaged in a toxic fight with the national Labour bureaucracy, leftwing group Momentum has also called a local 'campaign strike' for any Labour candidates who have not spoken up in their support – which includes the mayor.
With high levels of support from other parts of the party, Rees may not be too concerned with these vocal Labour members, due to their ultimately small size in electoral terms. But the ricochets of low morale, and a weakened campaigning effort, could cut through in different ways – including the scramble to select councillor candidates in time, and getting out the vote on election day. Low turnout generally hurts Labour more than the Tories, for example.
Tussle over Bristol's progressive credentials
The Greens will be hoping to benefit, and are positioning themselves as the custodians of Bristol's green and progressive reputation. Having come fourth in 2016, their candidate, Sandy Hore-Ruthven, the boss of large charity the Creative Youth Network, faces an uphill battle to capitalise on Labour's problems.

It will take a lot to dislodge Labour allegiances, and under the 'One City' banner Rees has built a network across wide sections of the city. Judging by early election materials, the Green strategy – besides pushing their eco-credentials – seems to be to cast themselves as capable 'anti-politicians', with Rees in the role of stale party-political establishment.
Not having a record to defend makes this easier. But Rees has a compelling backstory and high profile to parry the challenge, and successes he can point to. These include a marked improvement on housing issues from the previous administration, inclusion and diversity, and important policies such as maintaining council tax exemptions for people on the lowest incomes. Still, opponents can highlight headline-grabbing missteps – dithering over the airport expansion, acting slowly on air pollution and failing children with special educational needs and disabilities.

In pursuit of disenchanted Labour voters, the Greens will also have to broaden their limited base, and be careful not to scare the city's business establishment types. They'll need a significant share of the votes cast in 2016 for independent ex-mayor George Ferguson, the Merchant Venturer and self-styled 'establishment rebel' who came a distant second to Rees after beating him in 2012.
The Lib Dems' Dr Caroline Gooch, a pharmaceutical industry consultant, and the Conservative Alastair Watson, are also chasing the 'anti-politician' mantle by pledging a referendum on abolishing the mayoral system should they win.
Time for a new (old) system?
Gooch is leading the charge of #scrapthemayor – sparked by a clamour about how democracy is being undermined by the mayoral model, not least by sidelining elected councillors from decision-making. While this was an issue under Ferguson, the fact that Labour councillors are speaking out against their own administration is fuelling the debate.
Political memories are notoriously short, but some may remember that breaking council gridlock was one argument for introducing the mayoral model. 'Get Things Done' seems to be Rees's mantra when faced with such criticisms – and he can rely on this having a strong appeal to some.
The Tories came third in 2016, with more than the Lib Dem and Green vote combined. Watson, a businessman and former councillor, is playing the old tunes, pledging to cut red tape and protect taxpayers' money, and highlighting the Bristol Energy fiasco that lost £50m of taxpayers' money. There doesn't seem to be a recognition that a well-placed bit of 'red tape' and scrutiny can guard against such wasteful, failed initiatives.
All Rees's challengers also face a fundamental hurdle: the 'not-Labour' vote will split at least three ways, before factoring in independent candidates like Sean Donnelly, the owner of Bedminster's Three Lions pub and Bristol City icon. But an optimistic Tory may hope to bring together previously disparate groups over touchstone issues. Besides traditional Conservatives, they could include parts of Labour's traditional white working-class base, and mopping up the votes from UKIP's 2016 showing, which was not far off the Lib Dem total of 8,000 in the city.
Such touchstones include the reaction to the riot and protests in March, and the fallout over the toppling of Colston, a single seismic event that put Bristol at the centre of the 'culture war' so gladly stoked by the government. Though he was in a tricky spot and had other things to take care of, in some quarters there's a perception that Rees tried to stand in the middle of the road regarding the statue's fate prior to it coming down. He took flak from multiple sides – that he hadn't done enough to remove Colston officially, or hadn't done enough to stop the toppling – including horrendous and ongoing racism.
Deciding factors
With issues like the so-called 'culture war' over identity, history and rights raging across the country, it's likely this year's local elections will be something of a referendum on what's happening nationally. Keir Starmer's visit to the region, and focus on the non-locally controlled NHS, seemed to imply they might be – and the Tories will hope for an electoral 'vaccine bounce' that helps smooth over their initially disastrous handling of the pandemic.

Mayors and local government as a whole have huge responsibility for vital issues such as adult social care, transport, housing and more. But it's not controversial to say that nuts-and-bolts policies won't be the deciding factor for most of us. Slippery concepts like trust, and appeal to a diverse electorate will be at least as important.
Whoever ends up in City Hall will know that standing in the middle of the road means you risk getting knocked down – but you also get to direct traffic in our famously congested city… but that's another story.