In Southville, a U-turn on parking problems is shaking up the local election race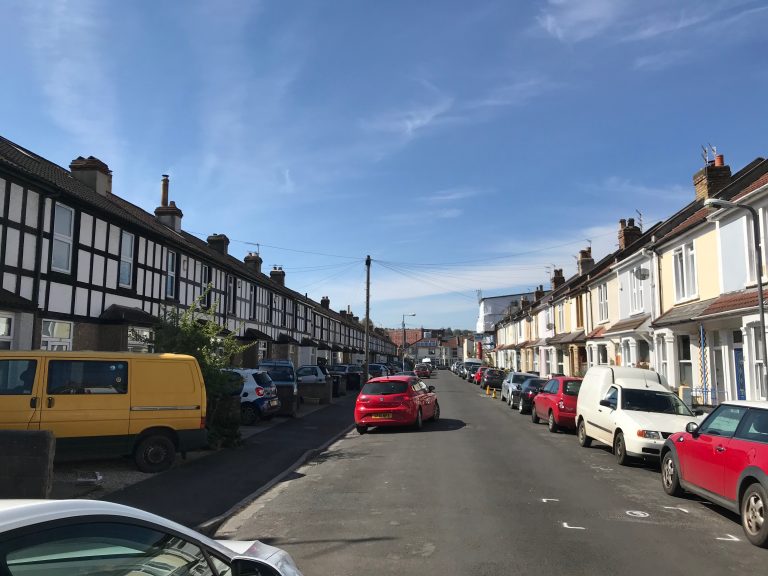 As the late-April sun warms the tangle of roads between the Hen and Chicken and Ashton Gate Stadium, it sparkles off rows of parked cars, casting shadow-patterns that stretch into the distance.
"I've lived here six years, and since the other side [of North Street] got its residents' parking zone (RPZ), this has become a second-car dumping ground," says Mark Woolhouse, 46, heading out from his home on Carrington Road. When there's not a pandemic on, "it's also a case of lots of people parking up, then cycling or walking into town", he adds.
This corner of Southville ward is the only part sitting south of North Street, and is the sole area west of Dean Lane not covered by an RPZ, where residents pay for parking spots, barring outsiders during daytime. Campaigners had long been dismayed by the Labour council's apparent refusal to revisit the issue, with no action taken after surveys showed a strong desire to extend the RPZ. 
Now a letter from Labour's two councillor candidates, delivered just 13 days before May's local elections, has announced a fresh RPZ consultation, which the pair promise to "push for as a matter of urgency" if elected. The tactics have enraged the Green Party, which holds both Southville's council seats.
After Labour's Marvin Rees became mayor in 2016, he announced that his predecessor George Ferguson's controversial RPZ programme would expand no further, although some tweaks have been made.
Here though, as in Bishopston in north Bristol, locals at the edge of an existing RPZ have been calling for its extension, because parking issues have been displaced into their streets.
Southville faces a range of issues, including the impact of looming new developments at the Western Harbour and around Bedminster Green, and how East Street can be improved without destroying its character. But with dissatisfaction also brewing around a 'liveable neighbourhood' scheme, and concerns Bristol's new clean air zone (CAZ) could divert more traffic through the middle of the ward, will traffic and parking play a decisive role?
'Manipulating survey results'
Residents face multiple traffic issues at the western end of North Street, including dangerous junction parking and the impact of match days and other events at Ashton Gate.
With local housing a mixture of tight Victorian terraces and later, more spaced-out homes, some with drives, difficulties are experienced unevenly. Nor are they confined to Southville ward but spill into neighbouring Bedminster, where both councillors are Labour.
The situation goes beyond just inconvenience, says Matt Gibbs, a local social researcher who has been campaigning for the RPZ extension. Emergency vehicles can struggle to get access, he says, while the neighbourhood's limited greenery has been cut further by people digging up gardens to create driveways.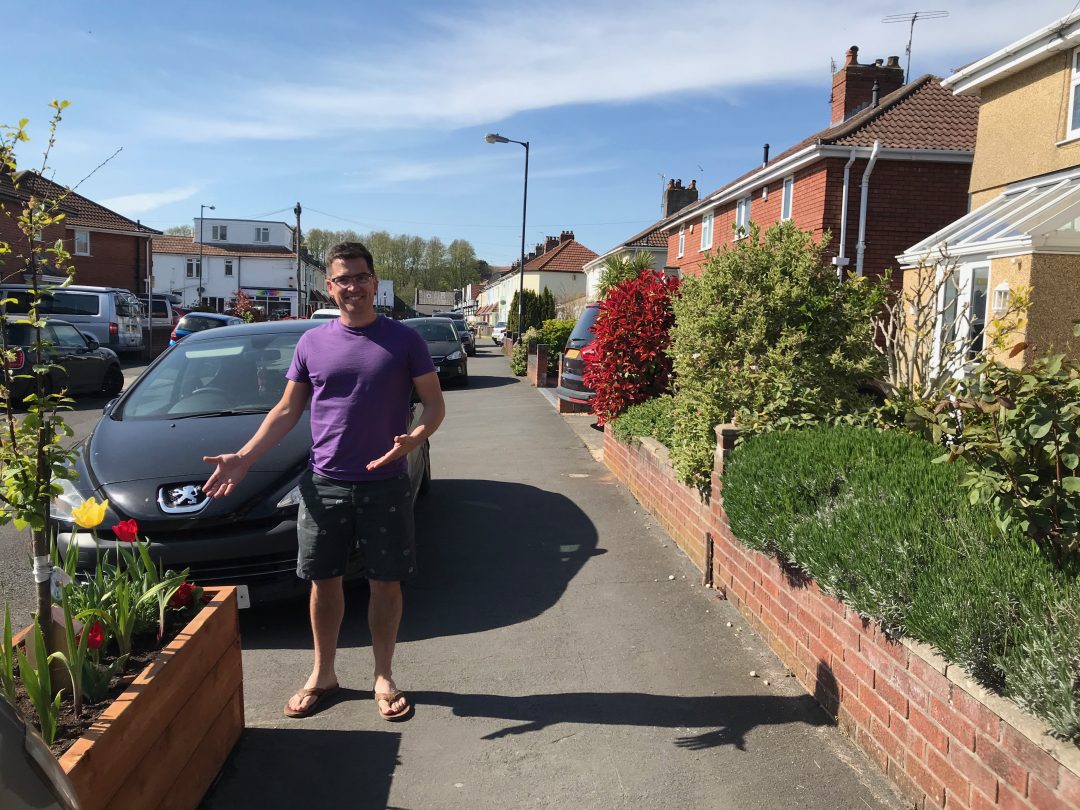 Faced with intensifying problems after Bristol's largest RPZ came in around North Street in 2015, Southville's Green and Bedminster's Labour councillors banded together and commissioned Gibbs's rateBS3 firm to survey residents. In curtailing RPZs, Rees had included the caveat that they could be expanded if "overwhelming" local appetite could be demonstrated.
The survey of more than 1,200 residents in 2019 revealed support for an RPZ extension – rising to 74% around Ashton. But Rees dismissed the report, saying it didn't "conclusively show [the] level of support in [the] area".
Nonetheless, the council then conducted a similar exercise, the results of which were released in July 2020. Support for a new RPZ peaked at 87% around the terraces just south of North Street, while in the adjacent semi-detached streets, still within Southville ward, it was 75%. Two neighbouring groups of streets, in Bedminster ward, also recorded majority support.
Again though, the local authority declined to take action, with a letter from transport cabinet member Kye Dudd claiming the response rate was too low to demonstrate "overwhelming" support for a new RPZ – something Gibbs disputes.
"What got my goat was the apparent undermining of the integrity of my profession, taking and manipulating survey results," he says. Gibbs describes Dudd and Rees's decision-making as a "closed shop" that ignores local councillors who "really care".
'The issues we care about are being used as a political game'
While Dudd's letter left the door ajar for future engagement with residents on the RPZ question, there was no further contact until last week's letter.
In it, prospective Labour candidates Lisa Durston and Tom Phipps say that, based on local door-knocking, they "believe there is clear and overwhelming support for a new RPZ between North Street and Duckmoor Road [which forms part of Southville's ward boundary]". 
"We have made representations to Cllr Kye Dudd, and can announce that the council is committing to bring forward proposals for an RPZ in this area, the details of which will be consulted on in the coming months," the letter says. One reason the Greens are so angry is that during the pre-election period, local authorities are forbidden to make announcements which could swing votes from one party to another.
The letter continues: "If elected, we will push for the detailed proposals for the RPZ to be consulted on as a matter of urgency and […] work hard to see [it] through to implementation."
The Cable asked Kye Dudd about the timing of the letter and whether he now also believes there is "clear and overwhelming support" for the RPZ, but has yet to receive a response. Dudd told Bristol Live this week the new announcement does not mark a U-turn from his previous position.
Gibbs and others we speak to say they have serious misgivings about the substance of the pledge and whether Durston and Phipps can hold a new Labour administration to account. But the letter is weighing on people's minds as polling day approaches.
"I feel the issues we care about are being used as a political game," says local resident Mark Woolhouse. "Do I believe Dudd has changed his mind? No." But he adds that Labour's promise still "might sway me in the voting booth".
Around the corner on Friezewood Road, Lucy Silverthorne, 45, says she thinks about moving every six months because the parking is so bad, and has "heard it all before" from politicians. Still, she adds: "I was keen to vote Green, but then saw Labour's pledge – now I'm in two minds."
Liveable neighbourhoods and the clean air zone
Over in the existing RPZ, parking concerns have largely been put to bed. But as election day approaches, traffic issues are still a priority for some residents.
As part of 'liveable neighbourhood' proposals to reduce congestion and rat-running, the council recently ran a consultation, which closed on 18 April, to partly close Greville Road near North Street to through traffic or to make it one-way. 
Residents on several neighbouring roads, which are narrower and already one-way, say the plans do not appear to have considered – as with the RPZ – their potential knock-on effects.
"In my view the broad consensus is disappointment that the council didn't consult more widely [ahead of working up proposals], and came up with options that don't serve the wider neighbourhood," says Andy Luke, 42, who lives on neighbouring Exeter Road.
"I am really supportive of liveable neighbourhoods – the more space for bikes and pedestrians the better – but the current proposals could create one liveable street and a less liveable neighbourhood," he adds.
Here, where there have been no last-minute attempts to attract votes, some residents were openly hostile to Marvin Rees and Labour, while others thought they deserved one more chance.
"The council needs to show its officers are communicating and engaging, to find solutions that don't put communities at loggerheads with each other," says Luke.
On either side of North Street, residents agree that an inclusive approach will be all the more important, given that the CAZ, which will charge some polluting vehicles £9 to enter central Bristol, is set to come into force in October. 
With Coronation Road on Southville's northern border included in the zone, there are inevitable fears as to where the excess traffic will divert to.
"If we don't get our RPZ, will we become a massive car park full of dirty diesels?" asks Gibbs, who adds the CAZ hasn't become an issue at the forefront of people's minds yet.
What candidates say
Green candidates Christine Townsend and Tony Dyer, who are running to replace sitting councillors Stephen Clarke and Charlie Bolton, issued a statement this week saying that residents who had been campaigning for an extension to the Southville RPZ "have every right to be suspicious" of Labour's last-minute announcement on the subject.
"Two weeks before an election, the Labour group have woken up to the fact that this is a huge issue in the area," they said. "We think residents should beware because promises during an election period are easy to make and, sadly, often even easier to break, once the votes have been counted.
"We agree with residents who tell us it is difficult to believe that after years of dismissing and undermining campaigners and elected local councillors, that the Labour-run council will suddenly do a complete U-turn," it added.
Dyer and Townsend said they would, if elected, continue to support residents, not just in the RPZ extension zone, but elsewhere in the ward experiencing traffic issues. 
They pledged to campaign for Long Ashton Park and Ride to be opened on matchdays at Ashton Gate, and said they were listening to concerns from businesses on the impact new restrictions might have, as well the potential effects on traffic flows of the clean air zone.
Labour's candidates did not respond to requests for comment from the Cable. Aside from the pledges made in the letter to residents regarding the potential new RPZ, Durston and Phipps' Facebook page addresses Bristol City Council's recent liveable neighbourhood consultation at Greville Road.
"We support measures that reduce rat-running and promote sustainable travel but are liaising with local residents about concerns about the impact this may have on neighbouring roads," they said.
"We have submitted a response calling for Bristol City Council to take a more holistic approach to creating liveable neighbourhoods to ensure displaced traffic is not just moved onto neighbouring roads."