Housing hustings underlines scale of crisis facing next Bristol mayor, leaving more questions than answers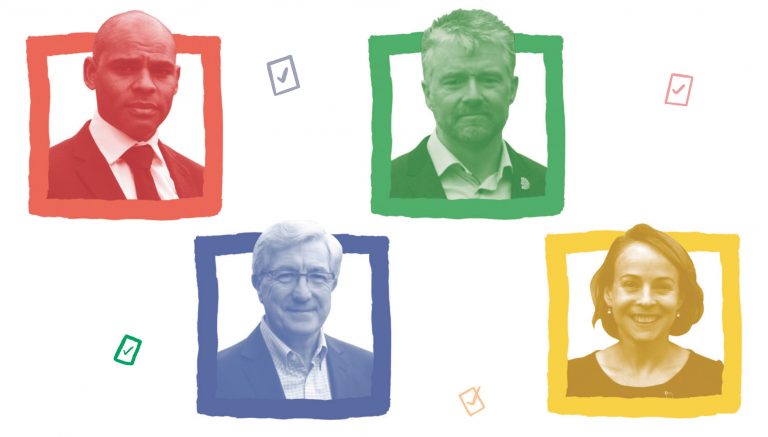 Bristol mayoral candidates faced a tricky 90 minutes last week at a housing-focused hustings that highlighted the limits of their abilities, and in some cases their knowledge, around fixing the city's housing crisis.
A key moment came when Green Party candidate Sandy Hore-Ruthven, who along with current Labour mayor Marvin Rees has set concrete targets for affordable housebuilding, admitted that achieving them would at best "help a bit".
There are now more than 13,000 people on the council's waiting list in Bristol. More than 700 households are in temporary accommodation awaiting a housing offer. 
Hore-Ruthven has pledged 2,000 new council homes by 2030, while Rees promises to oversee the building of 1,000 affordable homes a year – including those developed by housing associations – by 2024.
"We can't sugar-coat [that this] is not something we can resolve tomorrow, next year, probably even this decade," Hore-Ruthven said on Thursday.
The debate was organised by community union, ACORN, and charity, Shelter. Broadly focused on 'fixing our broken housing system', it covered issues around renters' rights and green retrofitting of homes, as well as building affordable housing.
Participants, who alongside Rees and Hore-Ruthven included Conservative hopeful Alastair Watson and Nicholas Coombes, a Lib Dem candidate for Clifton, standing in for mayoral contender Caroline Gooch, largely agreed on the scale of Bristol's housing problems.
But members of the Bristol Fair Renting Campaign and ACORN, who put questions to candidates, were sometimes left frustrated by a perceived lack of commitment and ambition in their proposed solutions.
Renters' rights
All candidates agreed Bristol's private rented housing market is out of control. Hore-Ruthven directly committed to lobbying the government to introduce rent controls, a measure that is also in Labour's manifesto, but which Watson and Coombes said they opposed. All candidates argued supplying more affordable housing is a better long-term solution than controlling rents.
Asked about their commitment to scrapping no-fault 'Section 21' evictions, something the government has promised but not yet delivered, Watson admitted he did not know what they were, while others said they must go. Candidates agreed landlord licensing should be expanded and that more needs to be done on enforcing private rental housing standards – with Coombes calling for "a new national regulator for landlords with more than 25 properties". But most said the effects of austerity would continue to limit their scope to take effective action.
On tackling discrimination by letting agents on prospective tenants, Rees again brought up a lack of council resources, but said the issue was a priority for the city's Homes Board, on which ACORN sits.
Hore-Ruthven said he would "of course" take a zero-tolerance approach to a problem he "sees all the time" affecting young people in his day job as chief of the Creative Youth Network charity. Meanwhile, Watson again said he was unsure of the legal ins and outs, while expressing support, and Coombes returned to housing supply as the only way of tackling the power imbalance between tenants and landlords.
Council housebuilding
As part of a series of pre-election demands, ACORN has been pushing candidates to commit to building 1,000 council homes a year by 2025. Candidates were asked to do so, or admit their targets for new homes are inadequate.
Rees expanded on his administration's current plan to directly build 571 council homes over the next five years. He claimed the number of new council homes by 2025 will in fact be about 1,000, once those bought from other developers  via 'Section 106' agreements are included. He did not specify how many of those homes will be for social rent. "Getting to 1,000 [new council homes] a year is not possible unless some drastic [government policy changes] happen," Rees said.
Hore-Ruthven, whose plans for 2,000 council homes for social rent by 2030 are modelled on those of Rees's former cabinet member Paul Smith, likewise said the council does not have the money to do more without a change in government approach. Meanwhile, Coombes refused to provide a figure and Watson again answered "I don't know," saying he would need to speak to officers if elected.
Given Bristol's vast housing waiting list, and candidates' earlier emphasis on supply as the main way out of the housing crisis, the answers did not impress audience members, some of whom called them "contradictory" and "hypocritical".
Green retrofitting
Asked about setting targets for retrofitting homes, another ACORN demand that relates both to Bristol's 2030 net-zero pledge and tackling fuel poverty, candidates again said this would depend on central government funding.
Coombes highlighted the need for government to provide schemes – such as the recently scrapped green homes grant – that help homeowners, including landlords, to make their homes more energy-efficient, a point that was well-received.
Rees said that, as things stand, the council would look to retrofit at least 500 homes a year, but did not specify whether these would be council-only. He also hinted at the council's plans to demolish and replace, rather than retrofit some of its less energy-efficient homes, complaining that "the tower blocks in Barton Hill are a massive challenge to us".
Hore-Ruthven, whose manifesto commits to insulating all council homes by 2030 – something he has since acknowledged will require government cash if council reserves are to be preserved – agreed tackling privately-owned ones would also require massive investment from Westminster.
Housing first
The housing first approach sees homeless people, especially rough sleepers, offered a secure roof over their heads before being asked to tackle other issues such as substance use or mental ill-health. It has been trialled on a limited basis in Bristol – would candidates commit to expanding it?
Watson gave one of the most enthusiastic responses, saying he was "very taken" with the concept and that it would be a "priority for funding". Hore-Ruthven went further, pledging to scrap the current model in favour of a housing-first approach, while stressing that he believed preventing homelessness was even more important. Neither of the other candidates directly answered the question.
Ongoing questions on Rees campaign claims
In the lead up to the debate, the Cable asked the mayor's campaign team for more detail on his campaign pledges and the claims he has made about his record on housing since being elected in 2016.
Bristol Labour's manifesto repeats a commitment, made before the pandemic delayed elections last year, that Rees will oversee the building of at least 2,000 homes a year by 2024, with 1,000 affordable.
We asked for more information as to where in the city affordable homes will be built, who will build them, and whether they will be for social rent, affordable rent or shared ownership.
The latter question is important regarding another part of Labour's pledge – that its affordable housebuilding programme will mean fewer households are stuck in temporary accommodation. The council's own housebuilding plans allow for 30% of homes to be for shared ownership, meaning they are of little use to households who have been homeless.
The mayor's campaign did not answer these specific questions, instead providing a brief statement that largely repeated points made in Labour's manifesto and elsewhere.
The statement reiterated Rees's debate claim that 1,000 new council homes could be achievable by 2025, saying there is a "pipeline for 950 council homes".
It added that Goram Homes, the arms-length housing company set up by the council, could potentially deliver about 400 more affordable homes. "We have set up our own housing company, with a pipeline of 1,200 homes in the next five years, one third of which will be affordable or council homes," the statement said.
"In 2016, we pledged to build 2,000 homes a year, with 800 affordable by 2020 and were on track until first Brexit and then Covid impacted those plans," it added. "Marvin has now pledged to [build] 2,000 homes [with] 1,000 affordable by 2024. Post-Covid, we will accelerate our plans to reach this stretching target."
It added that by 2022, Rees would "set out an ambitious future council housebuilding programme, an effective repair and modernisation programme for council houses and tackle the need to retrofit homes".
Last week the Local Democracy Reporting Service also pressed the mayor's campaign on another of its claims, that Rees has overseen a tripling in affordable housebuilding. In 2016, Rees ran on a pledge to be building 800 affordable homes a year by 2020 – a target the council acknowledged last September would not be met.
The mayor's campaign responded that the 'tripling' claim referred to an increase since 2015-16, the last full year of his predecessor George Ferguson, when the council recorded 173 new affordable new homes – its lowest total in two decades.
Rees's office said 530 new affordable homes will be delivered this year – if accurate, a substantial increase on predictions made by officers in September, when a total of between 391 and 489 was projected. Government statistics confirming the true figure are only likely to be published in the summer, after the mayoral elections.