What am I voting for on 6 May? Bristol's local elections explained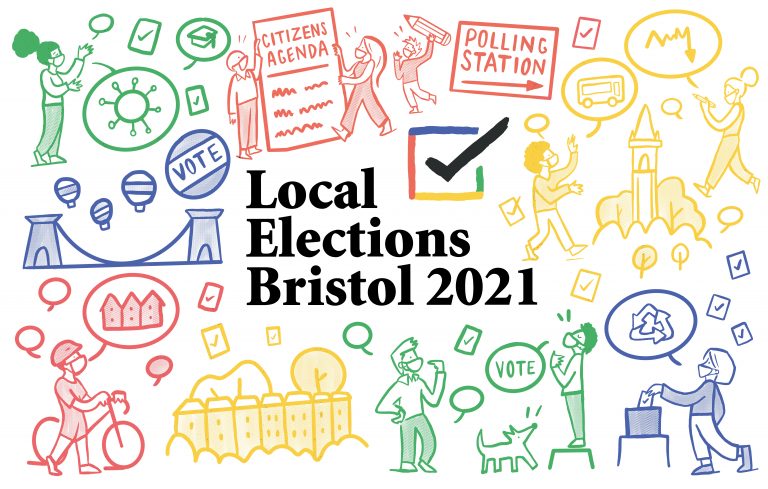 Illustration: Laurence Ware
What are you voting for?
There are four types of election taking place on 6 May. Normally, you might have one or two ballot papers to fill in, but this bumper year is due to coronavirus-related postponements last May.
These are the people who will govern the city for the next four years – don't miss out on your chance to choose who they are!
1. Mayor of Bristol
The Mayor of Bristol is the leader of Bristol City Council and the most powerful person in our local government.
The city council is the level of government that organises the care of vulnerable adults and children, as well as council housing, parks, sports and leisure centres, cycle lanes, pavements and roads, public transport, and bins and recycling.
Your mayor sets the plan for the city, including how to spend Bristol's budget of nearly £400m (around £850 per head). The mayor suggests rises or cuts to council tax, within the limits set by the UK Government. The mayor can also decide to delegate responsibility for certain areas to councillors, creating what is known as a 'cabinet' of councillors in leadership positions.
The mayor is paid nearly £80,000 per year. The role was created in 2012 following a referendum in which only one in four Bristolians voted. The first mayor was George Ferguson, who was independent from political parties. In 2016, Marvin Rees won as the Labour Party candidate.
This mayoral setup in Bristol is unusual; most councils in England only have elected councillors. There continues to be a debate about whether the mayor role should exist. The advantages? A single leader may carry a clearer vision for the city, give Bristol a more significant profile and make it clear 'who's in charge'. The downsides? Your local ward councillors may be sidelined and too much power may be concentrated in one person.
Read this analysis of the mayoral race, and in-depth interviews with the candidates on Bristol Unpacked Podcast
2. Local councillors to Bristol City Council
The area covered by Bristol City Council is divided into smaller areas called wards. As well as one mayor for the whole area of Bristol, you are also represented in Bristol City Council by one, two or three local councillors, depending on how many people live in your ward.
Local councillors oversee the work of the mayor and council staff. They approve the mayor's budget and plan for the city, and any changes to council tax. They can raise questions on your behalf and try to help solve local problems.
Councillors receive a 'basic allowance' of around £14,000 per year. A councillor's allowance may increase if they are given a specific city-wide responsibility by the mayor, such as for housing or transport.
You can find out which ward you are in, and who your candidates are, on the Cable's local elections series page. Alternatively, this independent website also provides a lookup tool for information about your candidates.
3. The Police and Crime Commissioner for Avon and Somerset
Your police and crime commissioner oversees the police that serve Bristol (and beyond). They can hire and fire the day-to-day head of the police, set the service's £330m budget (or £200 per head) and set the amount that you pay for the police alongside your council tax.
Every police area in England and Wales has an elected commissioner. Created in 2012, it was hoped that the role would improve relationships and accountability between the police and communities.
The commissioner is paid £86,000. Sue Mountstevens, an independent candidate, won in 2012 and 2016. She is not standing again.
Learn about your candidates for police and crime commissioner via the Cable's local elections series page and via the official website.
4. Mayor of West of England Combined Authority
Your combined authority mayor, sometimes called the 'metro mayor', sets a small annual budget of around £30m (or about £27 per head). They work on things that concern all three local authority areas, such as linking up public transport, economic development or housing plans.
The 'West of England' refers to the local authority areas of Bristol, Bath and North East Somerset, and South Gloucestershire. This role was created in 2017, following a deal between those local authorities and central government.
The combined authority mayor is paid £65,000. This will be the second ever vote for the role. Tim Bowles, the Conservative Party's candidate won in 2017. He is not standing again.
Learn about your candidates for combined authority mayor via the Cable's election pages and via the official booklet.
How to vote in these elections
You must be registered to vote. The deadline is 23:59 on Monday 19 April. If you're not 100% sure whether you're registered, better safe than sorry: fill in the form at here.
You can vote by post or in-person:
To vote by post, you need to register for a postal vote before 5pm on Tuesday 20 April. Do this via bristol.gov.uk.
To vote in-person, go to your polling station at any time from 7am to 10pm on 6 May. You should wear a mask and bring your own pen or pencil, if possible.
Follow the instructions on your ballot papers carefully.
What are the key issues and who do we think will win?
The Cable is asking readers what they most care about in these elections in our Citizens' Agenda. Affordable housing, addressing the climate crisis and improving public transport have already emerged as top issues, and you can still have your say here.
As to who's likely to win, opinion polls can give us a clue as to who is likely to win at an election, but these are normally too expensive for use in local elections. You can get an impression of likely winners from previous election results, but ultimately, we won't know who's won until the results are counted in the days after the elections.
Joe Mitchell is a freelance researcher and campaigner.