'Public toilet closures are not an inconvenience, they're an equality issue'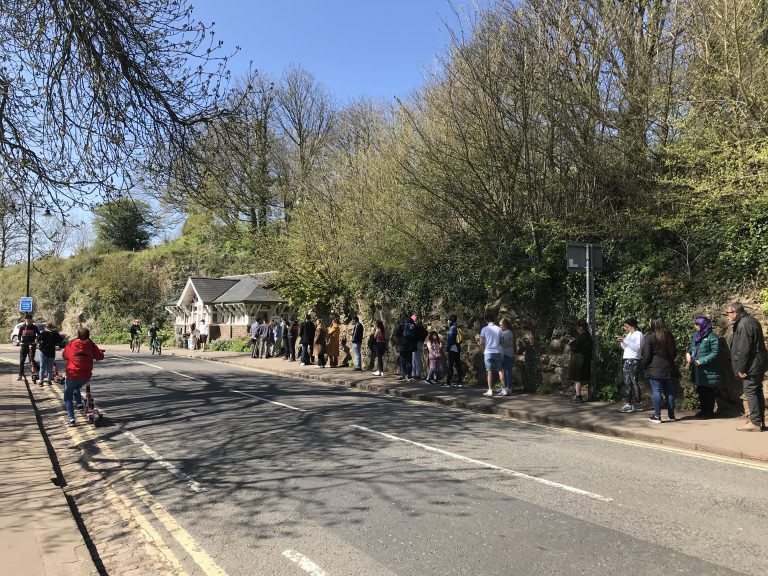 A huge queue outside the Clifton Village toilets (Photo: Chloë Maughan)
Throughout successive lockdowns, people have had to take their social lives outside in a bid to reduce the spread of coronavirus. In the wake of cafe closures and bans on indoor meetings between households, face-to-face meetings have become limited to walks and hangouts on park benches. An unintended consequence of this exodus outdoors has seen Bristolians facing a shortage of public loos.
Toilet access has been an issue of national concern over the last 12 months, causing frustration across the country. After the first lockdown, when many local authorities closed public toilets, an investigation by The Guardian found that a lack of toilet access was leading to high anxiety, and in some cases led to people being left effectively 'housebound'. Last month, reports also surfaced about Amazon delivery workers resorting to urinating in bottles due to a shortage of bathrooms compounded by the pandemic. While many public loos have reopened since July last year, the lack of open cafes, bars and facilities in public buildings because of lockdown has still left us without enough toilets. 
In 2018, in a bid to reduce spending the council closed 18 public toilets across the city, replacing them with a Community Toilet Scheme. The scheme would see public facilities replaced with businesses opening up their toilets to people across the city, while council provision would be closed in locations including Eastville Park, Castle Park and Greville Smyth Park. At the time, the council was criticised for this move, with campaigners arguing that the closures would disproportionately affect disabled people. Concerns were raised about the failure of the scheme to determine minimum distances to the nearest public restroom or to set opening hours. 
But throughout successive UK lockdowns, many of these businesses have been closed and the Bristol Community Toilet Scheme has been temporarily suspended. The council reopened the few public toilets remaining in city parks during the third lockdown, but not nearly enough.
'We understand this may be inconvenient'
Over the duration of the third lockdown, Bristol City Council has issued reminders to the public urging them to plan their activities around toilet closures: "During lockdown many public and business toilets in Bristol are closed to reduce the spread of COVID-19. We understand this may be inconvenient, but we urge you to consider the closure of toilets when you leave home for specific reasons, such as to shop or exercise"
But for many, toilet closures are not just an "inconvenience" – they're an equalities issue. A lack of toilet access is limiting the extent to which some groups can enjoy public space and social life. 
I've experienced this firsthand. I suffer from Irritable Bowel Syndrome (IBS), a chronic condition affecting the digestive system, that is thought to affect between 10-20% of the UK population. IBS is characterised by sudden and unpredictable flare-ups, which can include symptoms such as diarrhoea, sudden urges to pee, and bowel incontinence. For the millions of people like me who live with this chronic condition, a lack of access to toilets is, therefore, not an "inconvenience" but a disability issue. And it's not just IBS sufferers who are affected. There are millions of people living across the UK with bladder and bowel problems who have to plan their activities around toilet access. This includes people with conditions like Crohn's disease, ulcerative colitis, and urinary incontinence. The latter of these conditions disproportionately affects women, people who are pregnant and the elderly.
There are other communities who are let down by a lack of toilet access too. Homeless people are left with nowhere to go. Parents with young children are left without changing facilities. People who menstruate are left without spaces to apply or change sanitary wear.
And over the last year, Bristol City Council has failed us. The council has failed to offer appropriate alternative provision to meet the needs of our community, leaving it upon us to "plan" for situations that are unpredictable, instead of making reasonable adjustments to enable us to participate in public life.
Over the last 12 months, I have been forced to turn down opportunities to meet friends when I have not been able to identify a loo nearby. I have deliberately dehydrated myself ahead of walks with my partner, and I have been forced to stay hyper local, with the distance I can roam determined by toilet access. This is particularly limiting when for most of the last year the only legally permitted way to meet friends has been outdoors. It means that restroom access is tied to issues around social isolation and mental health.
Though the council has recently unveiled new temporary toilet provision at the Harbourside, which will help prevent people being caught short in that part of the city centre, this pales in comparison to the number of areas that saw their public toilets closed in 2018 and have seen themselves without toilet provision throughout successive lockdowns. Additional facilities are welcome, but the cost of this provision, at £133,633 for an initial two months, also raises significant questions about value for money when it's for just two sites, compared to the 18 sites that were closed to create an annual saving of £440,000. 
Over the coming months, more and more of society will open up outdoors. Since 29 March, Bristol residents have once again been able to enjoy meeting with five friends outside. Outdoor sports have resumed. But without access to appropriate toilet provision, some communities will still be left locked inside.