Retired riot cop breaks rank to say Police and Crime Bill must be stopped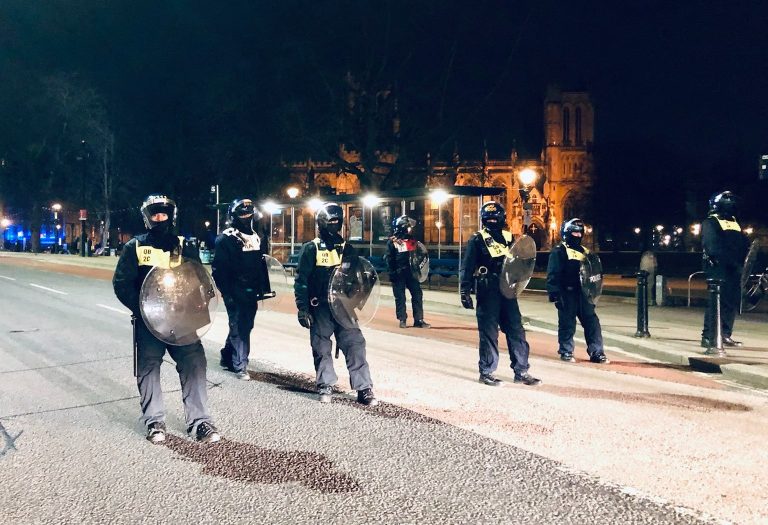 Photo: Alon Aviram
A retired taskforce officer from Avon and Somerset Police has told the Cable he fears that the Police, Crime, Sentencing and Courts Bill [PCSC] could erode civil liberties and make violent protests more common. This follows a similar warning made by a former Durham police chief who said Britain risks moving towards "paramilitary policing".
Speaking on the condition of anonymity, Steven* claims that Avon and Somerset Police should also apologise for its handling of the recent protests against the PCSC Bill. "Police are once again finding themselves on the wrong side of history," he says.
The former officer is a veteran of public disorder policing. He cut his teeth in the force as a fresh recruit during the 1986 clashes in St Pauls, when 600 police raided the Black & White Café during Operation Delivery. He dealt with nights of unrest on council estates in and around Bristol during the 1980s and early 1990s, and policed football games when "turnstiles were launched at opposing fans" at Bristol City and "mass civil disturbance at the football was quite a common thing".
During his four years handling public disorder in Avon and Somerset Police, "not a month went by where we weren't wearing the [riot] equipment at some stage".
But he says the police's use of force against the PCSC Bill protesters, including hitting them with riot shields and batons, was disproportionate. Some local politicians have since called for an inquiry into how events unfolded.
The police were woefully underprepared to handle the initial demonstration, which resulted in Bridewell police station's entrance being smashed, and two police vehicles being torched, Steven claims. The fact that the ASP requested, on closed police Facebook groups, for officers trained in public order to assist during the first demonstration on the 21 March, shows that the force was "caught unaware". But he says these mistakes should not set a precedent for the heavy-handed policing of future demonstrations in the city.
Drawing on his own experience of policing football matches, Steven quips: "You didn't beat the Sheffield fans because you'd lost the fight the week before against the Cardiff City fans!"
'Paramilitary Policing'
The retired officer now fears that the PCSC Bill risks creating more flashpoints for public disorder, like the recent events in Bristol, and could inadvertently create more tension between police and local communities.
Steven is not the only ex-cop to break rank and criticise the PCSC Bill. Former Durham Chief Constable Michael Barton recently told the Guardian of his 'deep concern' at the proposed law. Barton claimed that the legislation undermines the principle of policing by consent, and could result in "paramilitary" policing.
Lawyers have also expressed alarm at the Bill's far reaching provisions, saying it signals a "major assault on the right to protest", with extended powers to prosecute activists. The legislation could be used to "disproportionately target anti-racist, Black-led protests and quell their freedom of expression", according to members of Garden Court Chambers Protest Law team.
The proposed law includes an offence of "intentionally or recklessly causing public nuisance", which carries a maximum sentence of 10 years. Police will be able to impose a start and finish time and set noise limits on protests. And protesters can also be handed prison sentences of up to 10 years for damaging statues.
"If you're young and Black in an inner city," says Steven, and "you can't protest against stop and search or deaths in custody… If [you] can't protest peacefully, why not do something else?
"If I smack you with a shield and smack you with a truncheon and arrest and charge you and you potentially get 10 years, well, if you're going to do that for peaceful protest, you might as well have an unpeaceful protest," the former taskforce officer adds.
'Hooliganism and thuggery'
In her October 2020 Tory Party conference speech, Home Secretary Priti Patel said she was working with police chiefs to ensure forces had "the tools, support and the powers they need", after stating that the Extinction Rebellion and Black Lives Matter movements were responsible for "hooliganism and thuggery".
The PCSC Bill has delivered on that promise, and the politicisation of public order policing is both short-sighted and dangerous, says Steven, as he dwells on the lessons learned from the historic policing of campaigners during the HIV crisis and struggle for gay rights.
"We are now at a stage where police will paint their cars with rainbow designs." But the police will now admit they were "somewhat aggressive towards" campaigners, and accept that without protesters having "raised these issues… we wouldn't be as accepting a society as we are now.
"The environment issue is exactly the same as where the LGBTQ+ situation was 30 years ago," he adds. Like the people who blocked roads during the HIV crisis, Extinction Rebellion protesters are holding up city centres to "highlight the corruption of the oil industry… will police cars be painted green in future?"
The trouble, he finishes, is that the police risk clamping down on the right to protest for "what we might find an injustice in five years' time". We must not forget, Steve adds, that "without the history of protest, we would be in a country where women wouldn't have the vote".
*Name has been changed