Rising hate crime: A key concern for voters in PCC election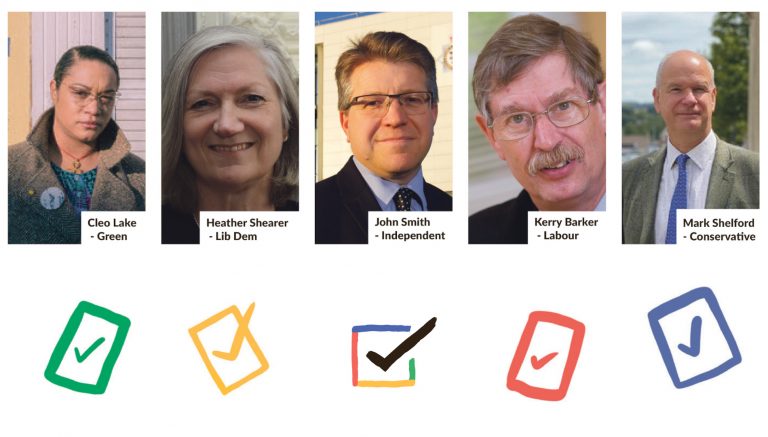 Five candidates will vie for the role of Police and Crime Commissioner on May 6th. They are Labour's Kerry Barker, Liberal Democrat Heather Shearer, Conservative Mark Shelford, Green Cleo Lake and Independent John Smith.
The PCC oversees Avon and Somerset police force – setting the force's policing priorities and budget and being accountable to public scrutiny.
The role of the PCC is regarded by some as more symbolic than meaningful. However, this year it will definitely draw more public attention. The controversial Police, Crime, Sentencing and Courts Bill, which grants more powers to police, sparked outrage and demonstrations across the country. Bristol found itself at the epicentre of the debate, as protests gripped the city with dramatic clashes between police and protestors. 
The issue of hate crime and its policing, meanwhile, continues to be a key concern for voters. The Cable asked the candidates about their plans to tackle rising hate crime in the force area.
Candidates' set up their stalls
From January to August 2020, the number of racially-motivated hate crimes reported to Avon and Somerset Police increased by 20% compared to the same period in 2019. In total, the force registered 2,599 hate crimes, up from 2,310 during the same period in 2019. Whoever becomes PCC will not only inherit this challenge, but also the label of "institutional racism" gained after the force failed to prevent the murder of 40-year-old Iranian Bijan Ebrahimi in a racist attack in 2013. The tasering of Ras Judah and the handling of the fallout is another blemish on the police's record which damaged community relations and still has a bearing today. 
Promising a "zero-tolerance, active approach" to hate crime, independent candidate John Smith promises to "work with partners from across society, such as SARI, schools, local charities, and others". His appointment to the role of deputy police and crime commissioner, with the backing of police chief Andy Marsh, caused controversy last year when a scrutiny panel said it had "blurred the boundaries" of the democratic process.
For Kerry Barker, part of the problem is getting police officers (and the general public) to recognise hate crime and misogyny. "Police officers, like the rest of us, need to learn about prejudices that affect others, and to modify what [police] say and how [they] behave accordingly. Educating officers and members of the public is a key priority for me."
Green Councillor and former Lord Mayor Cleo Lake, running under the slogan "with communities, for communities", tells us she has seen first hand the "fractured" relationship between communities and the police. Hate crime will be a priority for her; in particular she'd like to "build a bridge to GRT communities" who have been singled out in the Police, Crime, Sentencing and Courts Bill. 
There is distrust of the police, and the wider judicial system, in many communities of colour, heightened by racial disparities in custodial sentencing, and stop and search. How do candidates plan to build trust and engage affected communities?
"I believe that visibly holding police to account is an important way of changing this distrust. When the police are seen to be held to account, people's trust in them can return," says John Smith, pledging to develop existing accountability and transparency mechanisms, "including public scrutiny panels, so local people can review police use of force, stop and search, and feed back their views to officers."
Barker puts it down to recruitment: "we need to improve the recruitment of members of BAME communities to become police officers and lawyers, barristers and solicitors. Our communities need to see their members as police officers." Barker, who has 50 years' experience of criminal justice, and has been a criminal barrister in Bristol since 1991, says this applies to the law as much as it does policing.
Lake, who would be the first PCC of colour, if elected, agrees that representation matters, but also "advocating for institutional and culture change" – something she championed as Chair of the Avon and Fire Rescue Service, successfully passing a motion on reparations in Bristol City Council, and working with the police as the Chair of St. Paul's Carnival. Following the Police, Crime, Sentencing and Courts Bill protests, Lake has been adamant in her calls for an inquiry into policing.
Black Lives Matter: A watershed moment
The toppling of the statue of slave trader, Edward Colston, at Black Lives Matter protests last June, was seen as a watershed moment in Bristol; the policing of the protests divided opinion. Chief Constable Andy Marsh told his officers not to intervene, saying he wanted to avoid a "very violent confrontation".
All candidates, bar one, were in agreement that this nuanced approach was suitable. Criticism came only from Mark Shelford: "No community is safe if a mob is able to take the law into its own hands, whatever the issue," he said. Shelford is a former Tory councillor for Bath with over thirty years experience as a soldier.
The city is reeling from the protests against the bill, with images of burnt shells of police vans and baton-bruised protestors seared in people's minds. The next PCC has their work cut out, with the rift between police and sections of the public growing further by the day.