'The new Bristol and WECA mayors need to prioritise walking and cycling'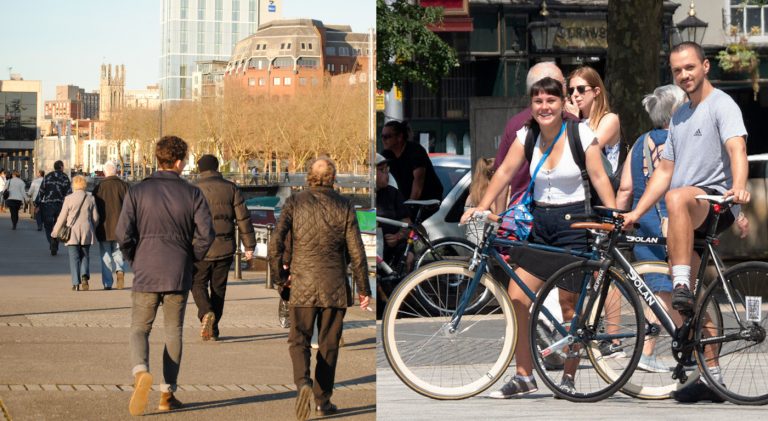 For a long time, walking and cycling have been the poor relations of the transport world, with huge sums spent on motorised transport and very little on these healthier, more sustainable alternatives. But the 2021 elections stand to be the chance we need to accelerate active travel into the prominence it deserves.
The Covid-19 pandemic has caused a shift in attitudes towards cycling and walking, so much so that Bristol Cable's Citizen's Agenda shows active travel as one of the top issues for the next Bristol mayor to address.
Bristol Cycling Campaign and Bristol Walking Alliance are making sure that this opportunity for change is not missed. We have demands for candidates for Bristol and WECA mayors.
'A clear appetite for more cycling' but feeling unsafe on the roads puts people off

Since 1991, Bristol Cycling Campaign has had an uphill struggle, organising cyclists and lobbying decision-makers, working towards our goal of a vibrant and inclusive cycling culture in Bristol.
Former mayor George Ferguson made grand promises of cycle lanes and pedestrianisation that were never fully delivered. More recently, Marvin Rees has backed Metrobus and the mass transit system, and has seemingly been cautious about being seen as pro-cycling. Across administrations, then, cycling has always remained something of a nice-to-have. 
So what do we need the next Bristol and WECA (West of England Combined Authority) mayors to do?
Bristol Cycling is asking Bristol mayoral candidates to commit to a five-point manifesto that sets a goal of doubling cycling rates in the city by 2024, this would mean an extra 30 million journeys per year.
Surveys show a clear appetite for more cycling, with two-thirds of Bristolians agreeing that more cycling would be beneficial for the city. Those surveys also show that the chief reason so many people avoid cycling today is safety concerns relating to cycling on busy roads.
To overcome these fears, we need infrastructure.
Bristol Cycling Campaign wants the new Mayor of Bristol to:
Our manifesto would see the Local Cycling and Walking Infrastructure Plan (LCWIP) – published by WECA in 2020 – implemented, and the expansion of other cycling-friendly developments such as six new Liveable Neighbourhoods, and School Streets to give children the freedom to cycle or walk to school.
The manifesto also commits the next mayor to installing 1,000 bike hangars across the city. Lockable hangars, especially on residential streets, allow cyclists to securely park their bike on the street, rather than squash it into a hallway or shed, or be forced to leave it at risk of theft.
For WECA mayoral candidates, Bristol Cycling has partnered with Walk Ride Bath to produce a three-point manifesto.
We want the new WECA mayor to:
Create an active travel challenge fund, committing £90m until 2030
Commit WECA to use national cycle infrastructure design standards, upgrading the main road network managed and maintained by WECA to these standards, implementing the Local Cycling and Walking Infrastructure Plan to these standards and delivering housing developments to these standards.
Appoint an Active Travel Commissioner.
'We need walking infrastructure and a focus on sustainable travel'
Walking is important to just about everyone. Transport strategies recognise this importance in theory, but in practice there has been little action to create an environment for pedestrians that is welcoming, safe, convenient and inclusive. That is the goal of the Bristol Walking Alliance (BWA), a consortium of organisations and individuals set up in 2015.
The BWA campaigns on issues that directly affect pedestrians, such as crossings and obstructions, and on wider issues such as air quality. We comment on planning and transport proposals and lobby for more funding. We have regular meetings with Bristol City Council politicians and officers. We have recently been invited to join Bristol's One City Transport Board.
We have put five election asks to the mayoral candidates for WECA and five to the Bristol candidates.
Our top ask of all candidates is that they should: "Acknowledge and promote walking as a distinct and important mode of travel that requires the level of commitment and funding shown by Manchester and other cities."
Bristol Walking Alliance wants the new Mayor of Bristol to:
Identify and improve key pedestrian routes
Remove obstructions to walking, with a London-style ban on pavement parking
Extend the School Streets programme (where motorised traffic is suspended at the beginning and end of the school day) to all primary schools on suitable roads
Create Liveable (low traffic) Neighbourhoods, with two pilots in two years and four a year after that.
BWA's asks for the new WECA mayor to: 
Be open and transparent, with a regular communication channel to BWA and others
Align transport policy with climate emission and air quality aims, by funding a major programme of Local Cycling and Walking Infrastructure Plan (LCWIP) schemes and building fewer roads
Put sustainable travel and placemaking at the heart of spatial strategy, including adoption of a 15 minute walkable neighbourhood principle
Implement its Green Infrastructure Strategy, giving priority to a network of green, attractive walking routes within cities and out to the countryside.
We are seeking a general commitment that they will make walking "safe, accessible and the first choice for local journeys and, combined with public transport, for longer journeys", as envisaged in the 2019 Bristol Transport Strategy.
This year's local elections could be the moment when active travel becomes the central political issue that it deserves to be. This is your chance to have your say and let the candidates know how strongly you want to see active travel become a central mayoral priority for the next four years and beyond.
If you would like to continue to advocate for active travel, you can read more about Bristol Cycling and Bristol Walking Alliance online.
Susan Carter is a member of Bristol Walking Alliance and James Ward is a member of Bristol Cycling Campaign.