Conservative Mark Shelford beats Labour candidate in Police and Crime Commissioner election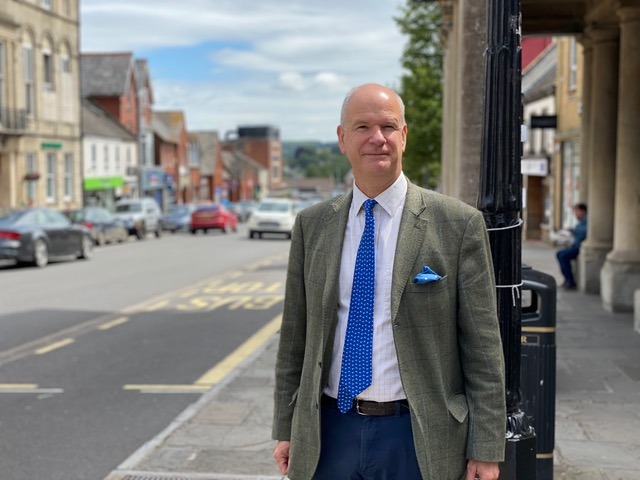 Conservative Mark Shelford has been elected as Avon and Somerset's new Police and Crime Commissioner, after defeating Labour's Kerry Barker in the second round.
The Police and Crime Commissioner (PCC) sets the strategic direction for the police force, has a say over its budget, and can hire and fire the chief constable.
In a tight race, Shelford received 52% of the vote across Bristol, Bath, Somerset and South Gloucestershire, after second preference votes had been counted, beating Barker by 15,000 votes.
In the first round, Mark Shelford received 34.7% of votes, with Barker in second place on 23.7%.
Green party candidate Cleo Lake came third with 16.4%, Lib Dem Heather Shearer was in fourth place with 13.4%, and independent candidate John Smith came last on 11.8%.
In the second round, Barker got double the number of second preference votes that Shelford did – 52,798 compared with 24,331 – but this wasn't enough to catch the Conservative candidate. These second preference votes came from people who voted for Lake, Shearer and Smith.
Mark Shelford did best in rural areas, but in the first round in Bristol, Kerry Barker won the most votes (45,973), followed by Cleo Lake on 37,141. Turnout was 30.7%, higher than 26% in 2016.
Green candidate Cleo Lake said on Twitter: "We got 3rd place. Which is a respectable result. Thank you to everyone for your support and votes. I will write a reflective speech in due course. It was important to stand and be counted regardless. Glad I bothered."
The outgoing PCC is independent Sue Mountstevens, who was first elected as PCC in 2012, before winning a second term in 2016. Chief Constable Andy Marsh recently announced he would be stepping down from the role in June this year, after being first appointed in 2016.
Shelford, a former soldier, supports the Police and Crime Bill, and said protestors have no right to disrupt other people going about their lives. He has called for a "no-holds-barred" inquiry into the violence during the recent Bristol protests, and also described the protestors who pulled down the Edward Colston statue last year as a "mob".
He told the Local Democracy Reporting Service that voters don't care about the accusations against prime minister Boris Johnson of lying about who paid to renovate his Downing Street flat.
Shelford has said he would go back to the "Peelian principles of preventing crime as a priority, rather than just trying to catch criminals". He also said he would cut red tape, and focus on victim support, business security, rural crime, sexual violence, fraud and cyber crime.
Campaigners have recently called for action by Avon and Somerset on financial crime. The Conservative PCC for Thames Valley, Anthony Stansfeld, who is also a high-profile campaigner against economic crime, said recently: "Nowhere is action on fraud needed more than in Bristol." Shelford told the Cable his goal was to put Avon and Somerset at the forefront of national anti-fraud policing.
Barker has 50 years' experience in the criminal justice system, specialising in abuse cases, including prosecuting staff at Winterbourne View hospital, after a BBC Panorama investigation exposed the abuse of people with learning disabilities at the facility near Bristol.
In contrast to Shelford, he told the Local Democracy Reporting Service the Police and Crime Bill's attempts to clamp down on protest were "nonsensical", and praised how police in Bristol handled the Black Lives Matter protests last year, and the recent Sarah Everard vigil.
He had promised to invest in local policing, restore specialist investigation teams, and stop the closure of police stations. He said the police are overburdened with issues like mental health, when they should focus on preventing and solving crimes.
Challenges facing Avon and Somerset
Last year, Avon and Somerset's police and crime panel found "clear failings" in transparency and due diligence when Mountstevens appointed John Smith, who had worked in her department, as the deputy PCC in 2020. Mountstevens said the process had been "open, fair and transparent", but received criticism for asking Andy Marsh to write a letter in support of the appointment.
The force has come under scrutiny in the last year, after their hands-off tactics during the protests where the statue of Edward Colston was torn down and dumped in Bristol's harbour, were criticised by home secretary Priti Patel. Patel reportedly demanded an explanation from Marsh as to why officers did not stop campaigners tearing down the statue, and made clear she wanted the people who removed the statue to face criminal prosecution.
In March, politicians and candidates from across parties called for an independent inquiry into how Avon and Somerset used force against demonstrators during the Bristol protests against the Police and Crime Bill.
Desmond Brown, the independent chair of the Avon and Somerset Lammy Group, recently told the Cable the PCC election was an important moment for tackling institutional racism in the police and wider criminal justice system.
He said there needs to be a review by the PCC of how stop and search is used. "It has long been thought of by communities as an oppressive tool, and from the data we found out, we can actually concur with some of that." He added the use of stop and search is often led by officers' bias, not intelligence.
On knife crime, Brown said: "We can't enforce our way out of this serious violence problem with our young people. It's deeper; it's involved in adverse childhood experience, poverty, lack of opportunity, and if we're actually going to succeed in this, we need to stop looking at the enforcement side and kicking the can down the road, and start looking at how we can make these people's lives more valuable to them, but also that we value them as well."
Check our local election page to get the full breakdown of results when they are announced over the weekend.